2017 ROTC Retrospective: Fort Gruber Ranger Challenge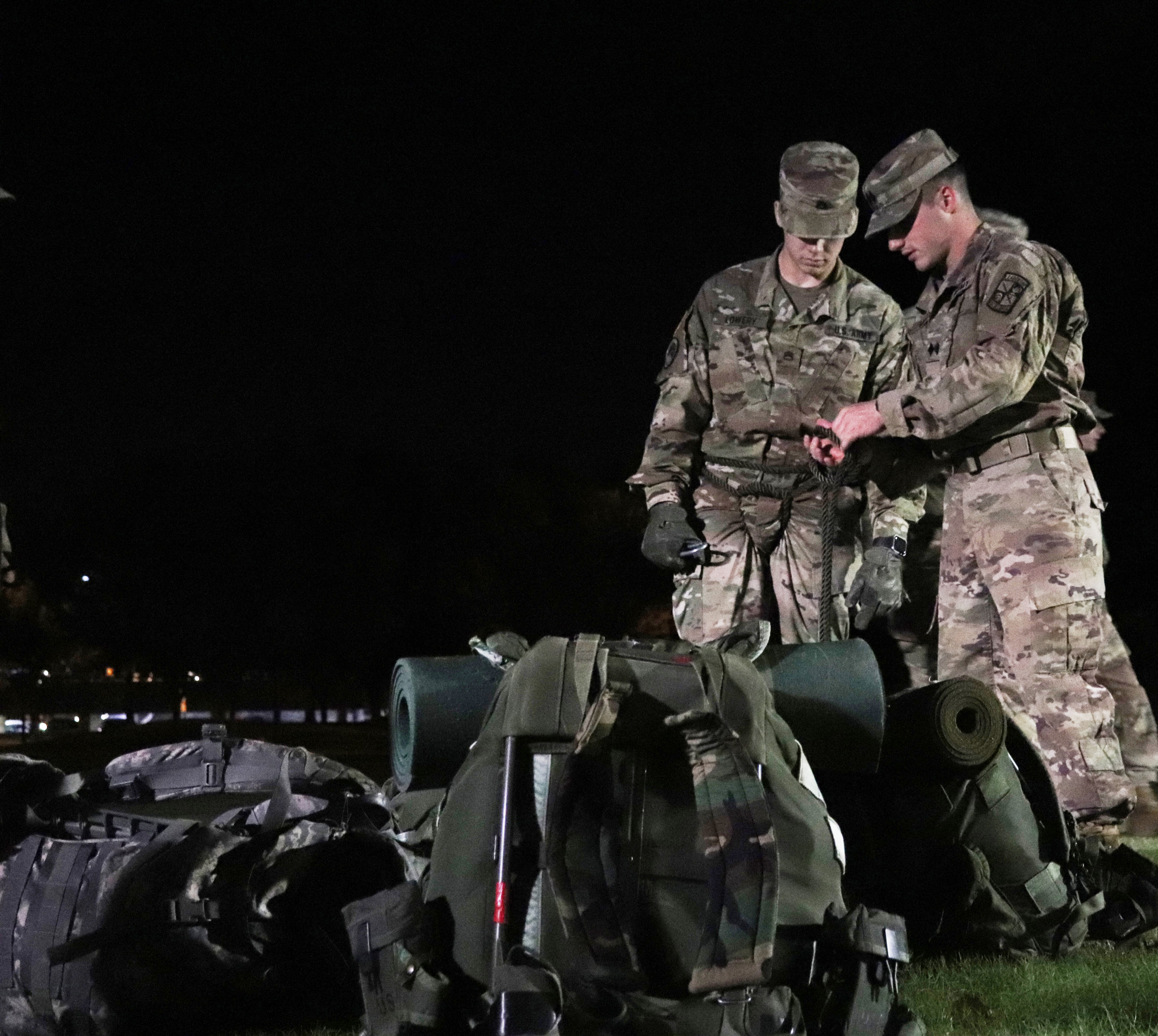 AnneMarie Altman
Staff Writer
This fall, OU hosted the 2017 ROTC Ranger Challenge at Fort Gruber in Oklahoma.
Cameron's ROTC competed against other ROTC programs in Oklahoma, along with programs from Arkansas.
The Ranger Challenge tests the cadets' physical abilities as well as their ability to work together efficiently and effectively.
To prepare for the challenge, Cameron's ROTC cadets participated in weekly physical training (PT) from 5:30-7 a.m. to build up stamina.
Working with 35-pound rucksacks, the cadets conditioned their bodies and minds for the physically demanding challenge they would face at Fort Gruber.
The team also spent time working on skills and techniques needed to perform different tasks successfully.
The tasks included a rope bridge, an obstacle course and tactical combat casualty care.
Military science (MS) 4 cadet Nick Meaux, a returning competitor in the Ranger Challenge, said the amount of freshman cadets that participated this year surprised him.
"In the mornings, we had formation of about 25 people who wanted to compete on the team," he said. "And of those 25, about 10 of them were MS 1 cadets trying to prove themselves worthy enough to be on the team."
ROTC team captains chose only nine cadets to compete in the challenge; however, the group included one female alternate, one male alternate, two coaches and three cadre.
One of the biggest obstacles the cadets faced was navigating Fort Gruber's dense grass and vegetation to get to different geographical points.
Meaux said it was a challenge his team faced and overcame.
"The points were easy to find," he said, "but just getting to them was difficult. What we did to overcome this was to route plan better on our way to the next point and choose paths that offered less resistance but still good cover to get where we needed to go."
Meaux said in particular, three new cadets, Audrey Shifflet, Jazzlyn Portalatin and Sean Lowery, impressed him.
"Cadet Shifflet, a freshman female here at Cameron, made it as one of the primary team members," he said. "She hung with the group throughout every training day and at the competition.
"Early in the day, Cadet Portalatin rolled her ankle, but she still managed to drive on and perform through the pain, which no one asked her to do. She just did it through her own strong will.
"Meaux said on the second day of the challenge, when one of the primary team members went down, Lowery filled the position.
"I cannot stress how prepared Cadet Lowery was for this," he said, "and how easy he made it seem to just fill the spot to become a functioning member of the team."
The cadets' training paid off at Fort Gruber, where the team won two Guidon Streamers and placed first in communication set-up and operation. They also received first in the unexploded ordinance and improvised explosive devices course.
Lowery said he is proud of what his team accomplished at the Ranger Challenge.
"I felt that we executed well as a whole," he said, "and overcame the unexpected obstacles that were thrown at us as well.
"Although we didn't win first overall, we came in first in a couple of events and were able to bring home a couple of streamers. I look forward to next year's Challenge."
You may also like...