Volleyball Falters on Road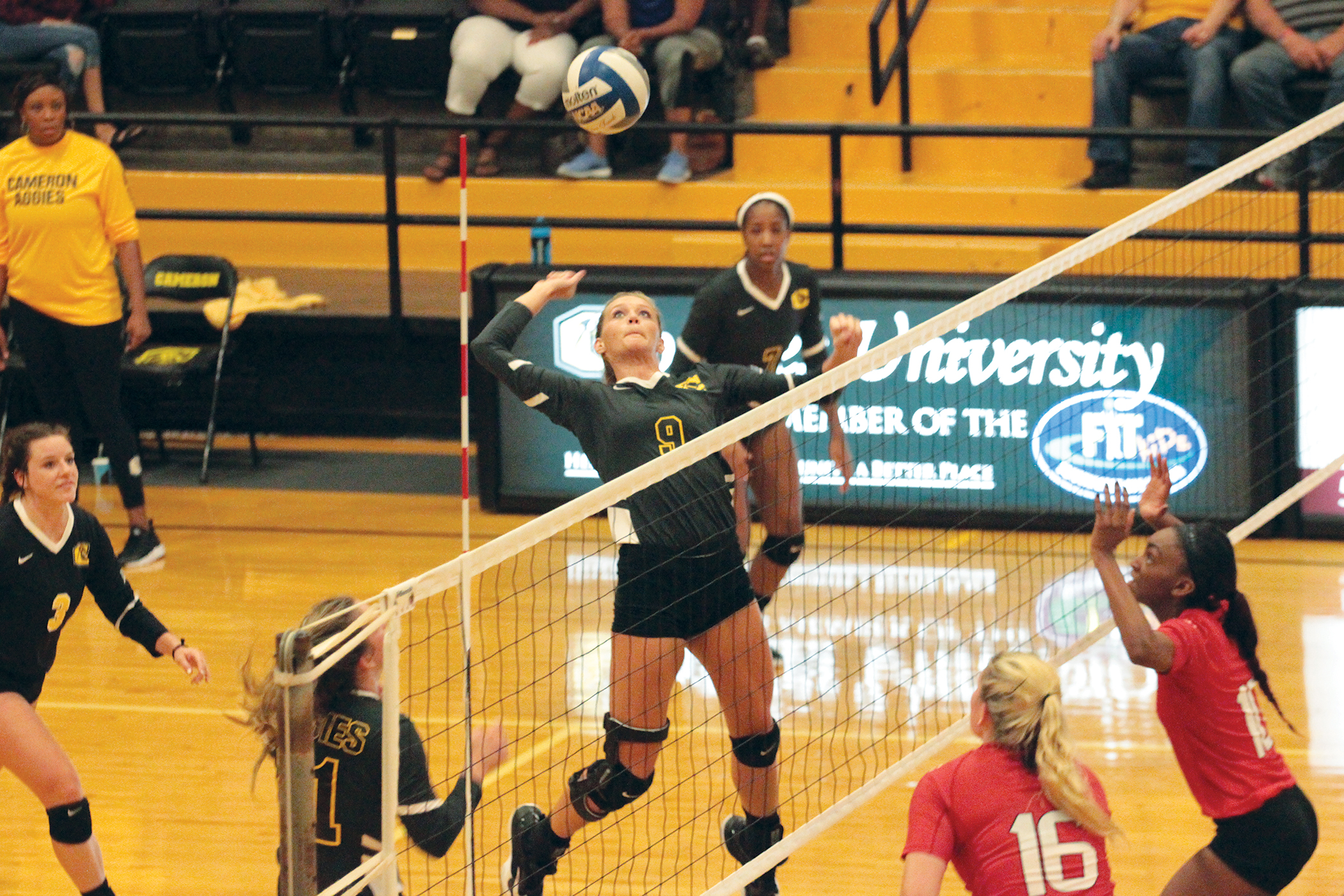 On the Offensive: Junior Brandy Carr goes for an attack during a scrimmage. Carr recorded seven blocks during the Aggie's weekend matches.
Krista Pylant
Sports Editor
@KristaPylant8
The Aggies fell in a pair of road matches against AVCA nationally ranked Tarleton State and Angelo State on Oct. 6-7 in Texas.
Cameron started the road contests by falling in straight sets (25-17, 27-25, 25-10) to No. 15 Tarleton State in their eighth Lone Star Conference match of the season.
The Aggies struggled offensively, hitting below .100 with junior Ashleigh McFatridge leading CU with six kills, while juniors Brittany Lawson and Brandy Carr pitched in five kills each.
Comparatively, the TexAnns hit above .300 with LSC Preseason Player of the Year Hailey Roberts leading TSU with 13 kills matched by teammate Adriana Darthuy's 13 kill effort.
CU's senior setter Brook Conley had 26 of the team's 28 assists, while Brittnee Altic had a team best 13 digs and two service aces.
Cameron recorded just three blocks with Carr supplying two of them.
Other statistical leaders for the TexAnns included Jordyn Keamo and Blanca Izquierdo who combined for 38 assists, and Amber Strange had five blocks and seven kills.
Cameron started the match with a quick start, coming out of the gates with an 8-3 run in set one, but TSU came storming back and used a 9-1 stretch to take a two point lead.
From there, the home team controlled the match, finishing out the set on a 13-3 run to win it 25-17.
CU had an efficient first set, hitting .240 on the attack, but the TexAnns bested them with seven more kills and an attack percentage of .312.
Set two was close from the start, as Tarleton State took an early lead of 9-5 but never lead by more than four throughout the rest of the set.
The Aggies tied the set multiple times, but the biggest came when they used a three point run to tie it at 24 points.
An attack error by TSU gave CU the 25-24 advantage, but three straight kills by Hailey Roberts won the set for the Purple and White 27-25.
The third set was all TexAnns as they quickly built a 10-2 lead and never looked back, using a .269 attack percentage to win the set 2510 and the match 3-0.
The following day Cameron lost 3-1 (9-25, 1525, 25-21, 21-25) to No. 16 Angelo State.
While the Rambelles nearly doubled the Aggies in kills (62 to 33), and did double the Aggies in service aces (12 to 6), CU came up big in the blocking game, recording 10 to ASU's two blocks.
McFatridge and Carr contributed five blocks each to lead the Aggies.
Junior Paige Dixon led the offense with 11 kills while sophomore Ania Keene added six and McFatridge five.
Conley had 19 assists, Altic led with 14 digs, and Lawson contributed ten digs.
ASU had four players record double digits in kills and three players achieved double-doubles in the match.
Anna Graham had a teamhigh 18 kills, Brianna Sotello had 15, and Morgan Seaton and Ali Davidson each added 11 kills.
Meghan Parker made all but three of the Rambelles' 60 assists.
Sotello and Davidson recorded a double-double in kills and digs, while Parker got hers in assists and digs.
Cameron's offense struggled early hitting below .100 in the first two sets to fall 9-25 in set one and 15-25 in set two. ASU pounded 17 kills in the first set and 15 in the second set.
However, the Aggies prevented the sweep by leading for the entire third set taking it 25-21 while holding the Rambelles to just a .060 hitting clip.
Set four saw 13 ties and nine lead changes. Cameron was behind 22-21 when ASU put down a kill and the Aggies committed two straight errors for the 25-21 set and match loss.
CU is now 5-12 overall and 2-6 in conference play. Next, the Aggies will make the 550 mile journey to take on Texas A&M-Kingsville on Oct. 13.
The Javelinas are 11-8 overall and 4-4 in the league.
You may also like...