'Handmaid's Tale' Wing Big at Emmys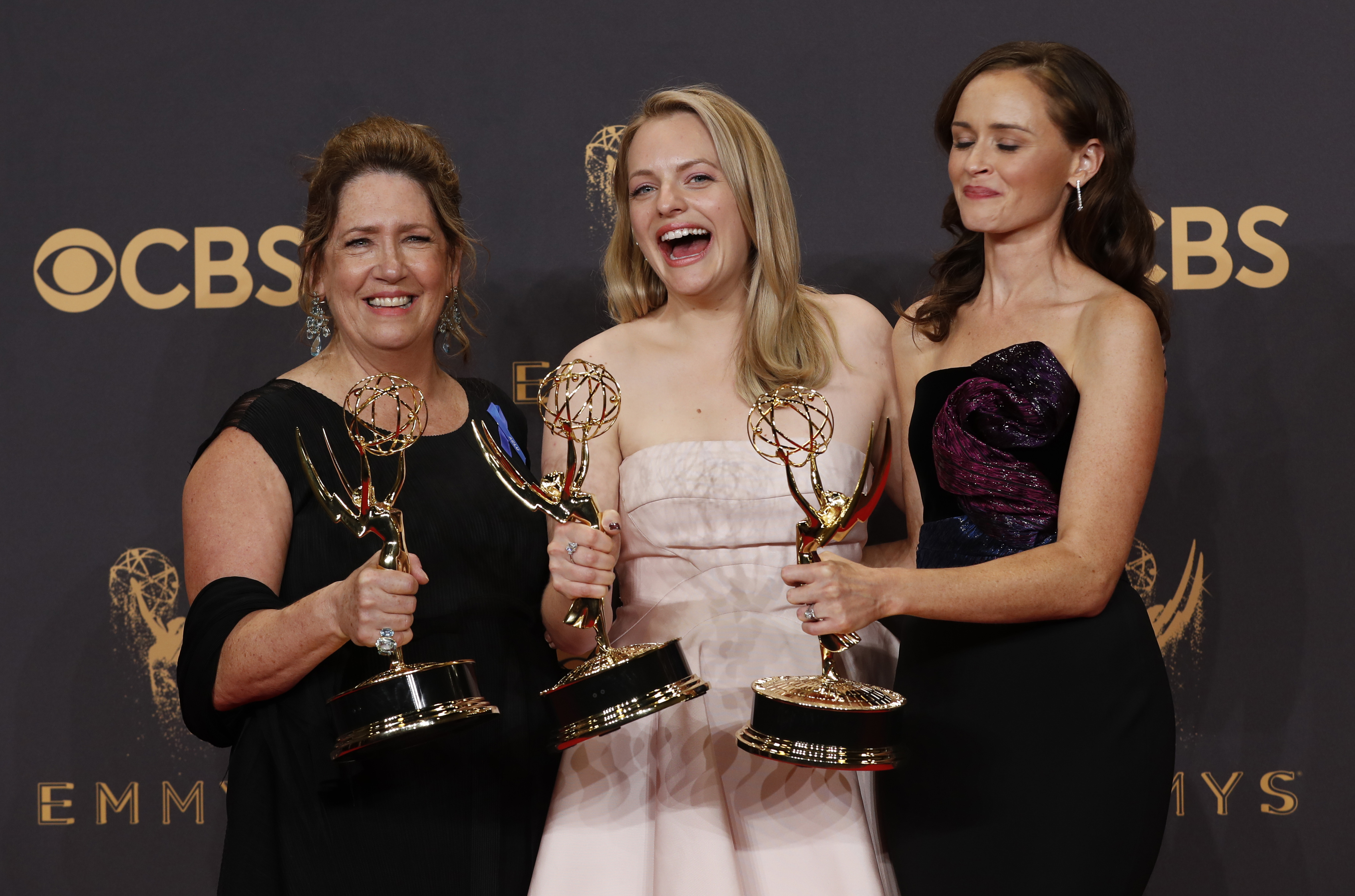 Big winners: Actresses Ann Dowd, Elisabeth Moss and Alexis Bledel of "The Handmaid's Tale" win big during the 69th Emmy Awards, which aired at 8 p.m. on Sept. 17 from the Microsoft Theater in Los Angeles. "The Handmaid's Tale" won for Outstanding Drama Series, Outstanding Directing and other awards.
Madison Lyda
Staff Writer
On Sept. 17, CBS broadcasted the 69th Annual Emmys with numerous pokes at common gossip and politics.
The ceremony began with the grand entrance of the host, Stephen Colbert, prancing the stage with an opening monologue riddled with humorous jabs and earnest political references to Donald Trump.
Colbert is known to be eccentric and uncomfortably humorous in the light of media.
"But if we're honest with ourselves," Colbert said, "we know that the biggest TV star of the last year is Donald Trump. Yeah. No, you may not like it, but he's the biggest star."
Crammed full of representation, diversity, social commentary and record-smashing achievements, the night was one to remember.
Stephen Colbert transitioned the audience to awards and achievements through bouts of sincerity and vigorous social repose.
The show celebrated artists from all ethnic regions and backgrounds on their achievements and general excellence, luring a dominating crowd larger than ever before, to tune in to the night's events.
With a simple glance at the list of nominees and take-home winners, there isn't much to groan about.
Reed Morano the director of "The Handmaid's Tale," won Best Director of a Dramatic Television Series, an achievement yet to be awarded to a woman.
Lena Waithe, an African-American woman and writer for the popular hit television show "Big Little Lies," won Best Comedy Writer of 2017.
Both women presented speeches that captured the essence of their victory: thanking family, significant others and women everywhere.
Waithe gave special thanks to her LGBTQIA family.
"I see each and every one of you," Waithe said. "The things that make us different, those are our superpowers – every day when you walk out the door and put on your imaginary cape and go out there and conquer the world, because the world would not be as beautiful as it is if we weren't in it."
Other notable achievements from the night included two Emmy awards for an episode from the new hit Netflix original series "San Junipero."
African-American comedian and songwriter Donald Glover received two awards, one, for Comedy Acting and Directing, and another, the Riz Ahmed for Outstanding Lead Actor in a Limited Series, for his performance in "Big Little Lies."
Although the evening was lighthearted, artists such as Nicole Kidman accented the show with undoubtable seriousness.
Kidman won the Best Actress award for her performance in "Big Little Lies" and gave a speech that addressed the actualities of domestic violence in a brief and raw fashion.
"It is a complicated, insidious disease," Kidman said. "It exists far more than we allow ourselves to know. It is filled with shame and secrecy. And by you acknowledging me with this award, it shines a light on it even more. So, thank you, thank you, thank you."
As Colbert brought the night to a close, the audience cheered graciously.
The Emmys brought a record number of awards granted to African-American talent and to LGBTQ+ points of interest.
You may also like...