Disability Awareness Fair: Insight, Service and Support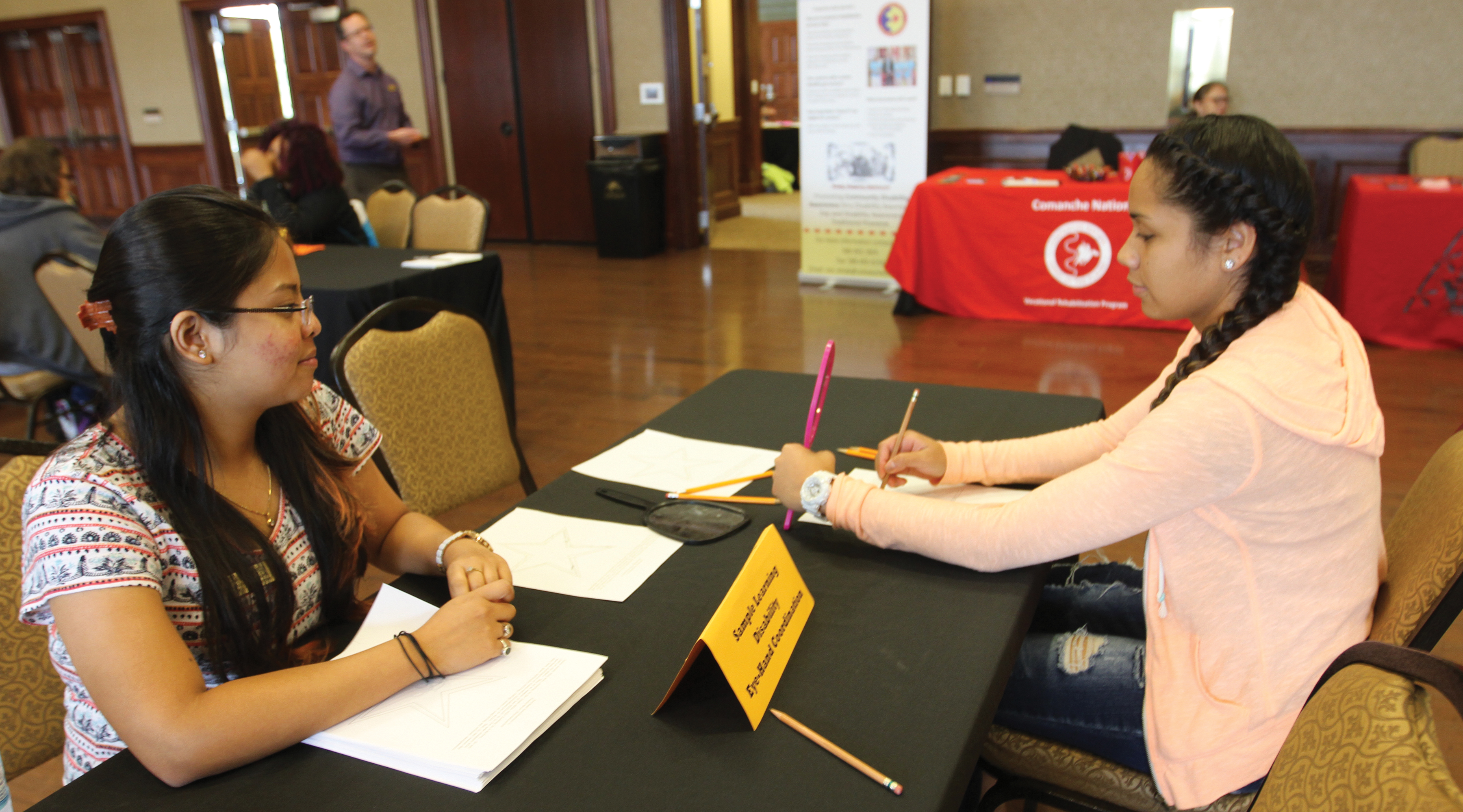 Seeing is believing: Business graduate student Astha Shrestha looks on as (right) Cameron Allied Health Sciences junior VictoriaLemoe Esera experiences what learning might be like with an eye-hand coordination disability. The Cameron Department of Student Development hosted the tenth annual Disability Awareness Fair to raise awareness about disability resources on campus.
Stacie Larsen
Managing Editor
@SLarsenWriting
From 1-3 p.m., on Oct. 3, in the MCC, the Cameron Department of Student Development hosted the tenth annual Disability Awareness Fair, open to faculty, staff, students and members of the community.
Director of Student Development Jennifer Pruchnicki said one purpose of having the fair was to raise public awareness about the different disability resources and services available not only on campus, but also in the community.
"We open it up to the community," Pruchnicki said, "because they might be interested or have a family or friend who might be interested in the different services for people with a disability that they might not have been aware of.
"From a campus perspective, we wanted to let others know that we have services available for students with a disability who need an accommodation. They can come to our office and apply for the services."
Pruchnicki said many agencies supported the fair's efforts, including the Department of Rehabilitation Services, Goodwill, Comanche Nation of Oklahoma and a variety of support groups, including Cameron University's National Alliance on Mental Illness on campus organization (CU-NAMI).
Another reason for having the fair, Pruchnicki said, was to shed light on different types of disabilities affecting students on campus.
"It's easy when you can see someone with a disability," she said, "but I think there are a lot of those who are out there with what we call 'silent' or 'blind' disabilities. You don't see it, so you never know if someone has a disability."
In order to help attendees get a glimpse of what it would be like to live with a disability, Pruchnicki said there were a variety of inter-active exercises that showcased disabilities such as visual, hearing and learning impairments, including a "Visual Impairment Challenge," "Lip Reading Challenge," and "Sample Learning Disability Eye-Hand Coordination" challenge.
Another reason for the exercises, Pruchnicki said, was to help give insight to why a student with a disability might receive certain accommodations such as extra time on tests.
"It's not a question about whether it's fair or unfair," she said. "It's that it takes a little bit longer to process the information, so it equalizes that opportunity to learn what is being taught in the classroom.
"Accommodations on the college level doesn't guarantee success, but it is a tool. It's an opportunity for students to demonstrate that 'I got this. I understand it, or I don't understand it. I didn't study, and I'm not going to do well.'"
Among the exercises, the fair also featured a matching celebrity game with pictures of celebrities who have lived with disabilities, such as Tom Cruise and Woody Harrelson.
"Tom Cruise has been vocal about dyslexia," Pruchnicki said, "and how he works with his scripts. It may take him a little longer to process the information, but he makes millions and millions of dollars as an actor and reading for a living. He has to read all those scripts, and he can do it.
"The celebrity matching game I think is a way to showcase that a disability doesn't limit you—you can do fantastic things. You just focus on your abilities and use your strengths in a way that incorporates passion in your career, so you can be successful."
Pruchnicki also added that this is her tenth year hosting the event.
On a personal level, she said it has been a way for her to spread the word about disabilities and support those who struggle with one on a daily basis.
"My dad is a disabled Veteran," she said, "and I think that a lot of times when it comes to disabilities, it's not going to be if you get a disability, it's when you get a disability. At some point, all of us will be impacted.
"I want students with a disability to know that's not something that should shy them away for pursuing their dreams," she said.
"They shouldn't get discouraged because there are resources and services in place to help you be successful."
Freshman guidance specialist for Student Support Services and faculty advisor for CU-NAMI Kathleen Dutton said that CU-NAMI is a group on campus that focuses on spreading awareness on mental illnesses like Post Traumatic Stress Disorder.
Furthermore, they aim to reach and support those students who may be suffering from mental illnesses.
"We want them to know it's okay," Dutton said. "They don't have to be afraid. It doesn't have to be a secret."
Dutton also said it is important for Aggies to educate themselves about the different mental illnesses they might encounter on campus.
"We can't just automatically assume that we know everything," she said.
Dutton said it often takes time to understand where people are coming from and why they do what they do.
For more information about disability services, contact Prunichicki in the Department of Student Development at (580) 581-2209 or jpruchnicki@cameron.edu.
You may also like...