Alice Falls into America-Land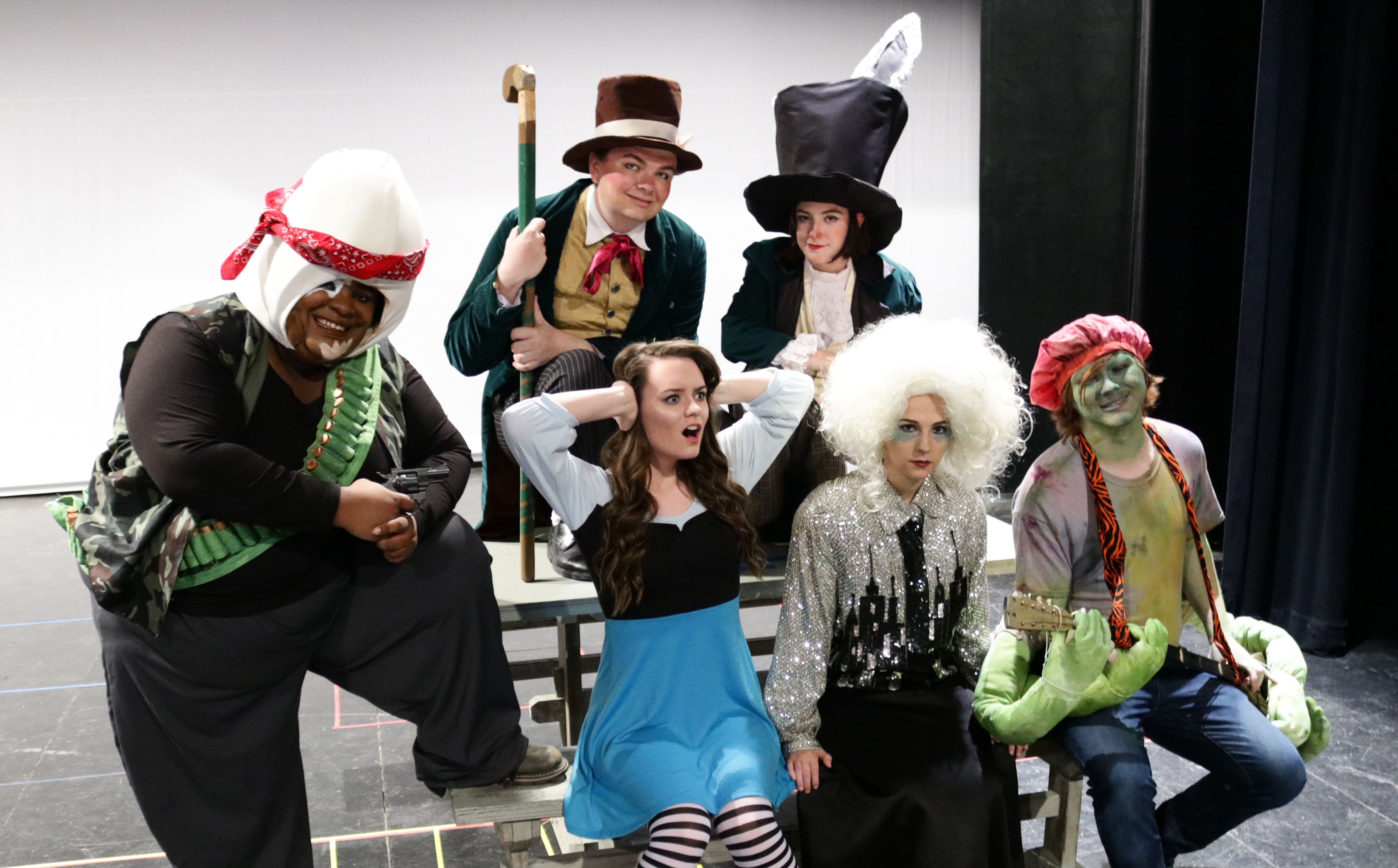 Curious and Curiouser: Humpty Dumpty (Kelsey Hood), Mad Hatter (Samuel Brewer), March Hare (Abigail Rinestine), Alice (Joy Christie), White Queen (Samantha Eddy) and Caterpillar (Cole Nowlin) starred in the CU production of "Alice in America-Land or Through the Big Screen & What Alice Found There."
Sarae Ticeahkie
Student Life Editor
@SylviaSpeaks
Celebrating "American Identities in the 21st Century," Cameron's Department of Art, Music and Theater Arts presented a playful performance of Dennis Snee's "Alice in America-Land or Through the Big Screen & What Alice Found There," on Sept. 27, 29-Oct. 1.
The play is based off fantasy novels "Alice in Wonderland" (1865) and "Through the Looking Glass" (1871) by Lewis Carroll with an interesting twist.
The comedy fantasy focuses on modern day issues dealing with the media, government and a general products corporation.
The cast wore detailed, colorful costumes that resembled characters from Carroll's books, while each actor gave their character(s)a specific demeanor that set those characters apart from the source material.
Sophomore Theatre Arts major and leading role (Alice) Joy Christie loves theatre and acting.
"It's fun to portray different characters, just being on the stage gives me a sense of euphoria," she said. "It's really fun to see everyone grow as actors, to see their characters get more and more developed."
The play begins with Alice travelling through a television set that takes her to an alternate land where she meets and interacts with unusual characters who are modernized to fit current events.
As she ventures through America-Land, she learns of the devastating American issues and can't decide if she wants to go home or let her curiosity take over.
The play portrays the way general products corporations make outrageous claims just so consumers will buy their products.
For example, the opening scene begins with Alice searching for her cat and the TV comes on and speaks of specific cat food that has outrageous claims.
The comedic aspect of the corporation continues when Alice drinks an elixir to fit through a small door, which did not work — and Alice was left unsatisfied.
As she continues through America-Land, she meets a caterpillar (Cole Nowlin) who speaks on self-love.
The Cheshire Cat (Ciara Smith) is hungry for news and information.
The White Rabbit (Morgan Herschberger) was once a mouse but changed her appearance through animal testing.
From start to finish, different perspectives are used to focus on current issues while still using a comedic approach to keep the play interesting.
Christie said she likes that the characters can be modernized and speak about political issues happening in America.
"I think it's real cool to bring that to life on stage," she said. "It's kind of fun to put it in a comical way like that and make the audience understand that all this stuff is going on around them. Make them more aware."
Each character had specific pieces to their costumes making it easy to identify who they were.
From the wings of the DODO (Payton Williams) to the hat on the Hatter's (Samuel Brewer) head, each costume told a story of its own.
Humpty Dumpty (Kelsey Hood) speaks about gun control from a painted brick wall featuring detail that makes the wall look believable.
The character continuously pulls out guns from behind the wall, which maintains the comedy aspect of the play but touches heavily on the significant issue at hand.
Although characters create context for the modern day issues at the center of the play, the costumes and scenery work were well designed.
Each scene was staged and lit with an appealing look.
The play ends with Alice waking up and realizing it was all a dream, but Alice remembers America-Land and what she found there.
You may also like...