Aggies Prevail in Four-Set Thriller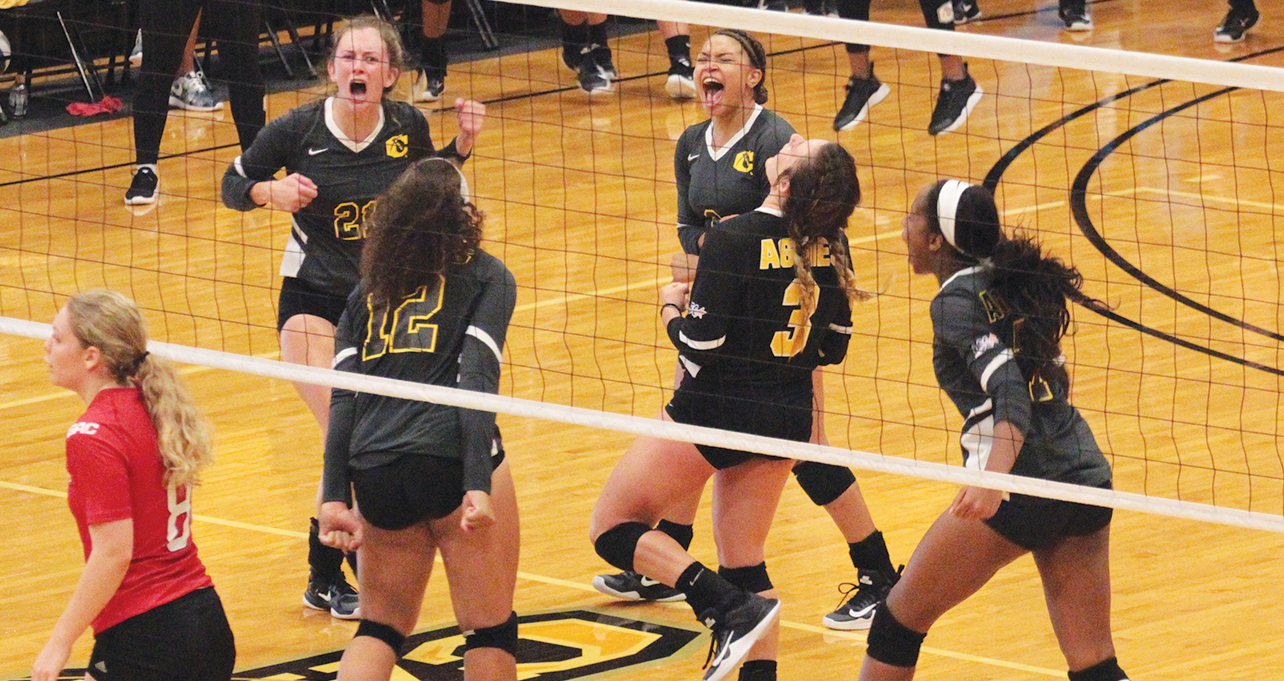 For the Win: Aggies Brook Conley, Bristol Lewis, Brittnee Altic, Brittany Lawson and Ania Keene celebrate after taking a key set during a scrimmage. The Aggie volleyball team defeated non-conference opponent East Central 3-1 on Oct. 3 in the Aggie Gym during which Conley and Lawson each tallied a double-double for the Black and Gold.
Krista Pylant
Sports Editor
@KristaPylant8
The Cameron volleyball team concluded their sixth match home stand with a 3-1 (25-20, 25-18, 14-25, 27-25) victory over East Central on Oct. 3 in the Aggie Gym.
The Aggies took sets one and two, but the Tigers prevented the sweep with a third set win before CU clinched the match.
The win brings the Black and Gold to 5-10 overall and ECU to a 4-14 record.
Junior Brittany Lawson and senior Brook Conley each highlighted the Aggies with a double-double.
Lawson led the Aggie offense by pounding a career-high 16 kills paired with 12 digs for her first double-double of the season and second total in the Black and Gold uniform.
Meanwhile, Conley achieved her ninth doubledouble of the season, recording 41 assists and 17 digs.
Other top Aggie performers included junior Ashleigh McFatridge with 11 kills, junior Brandy Carr with five blocks and junior Brittnee Altic with 19 digs.
Senior Alex Campbell led ECU with 14 kills, and senior Madeline Mayer had four blocks.
Senior Diana Etienne was one kill shy of a double-double with nine kills and 18 digs.
The opening set saw three lead changes as the Aggies took back the charge on two Tiger errors and a Lawson kill for the 20-18 advantage.
CU went on a 5-2 run to win the first set 25-20.
In set two, the match tied three times early before CU chained six points together, four of which came from kills by Lawson, to grab a 10-4 lead.
The Aggies reached set point at 24-15 where the Tigers held them for three points until Ania Keene put down the set winning kill, 25-18.
CU led 9-8 early in the third set, but six straight errors saw ECU take a 14-9 lead.
The Tigers would maintain their lead from there to prevent the sweep with a 25-14 win.
Set four looked in favor of the Tigers as they led 21-15 late in the match, but the Aggies powered back on a 9-2 run for a 24-23 advantage.
ECU prevented Cameron from breaking set point for two turns before McFatridge knocked down a kill, and a Tiger attack error ended the match, 27-25 in favor of CU.
The Aggies will be on the road for their next four matches starting Oct. 6-7 in Texas.
The Aggies will have their work cut out for them as they take on two nationally ranked conference opponents in No. 15 Tarleton State and No. 16 Angelo State.
The CU volleyball program has not tallied a win against either of these teams since 2007.
TSU faces the Aggies boasting a six match streak behind offensive power hitter Hailey Roberts who is fourth in the nation in total kills at 277.
ASU has the league's best hitting clip at .255, and they are led by Brianna Sotello who tallies 3.96 kills per set.
You may also like...