Aggies in Every Shade: CU Celebrates Diversity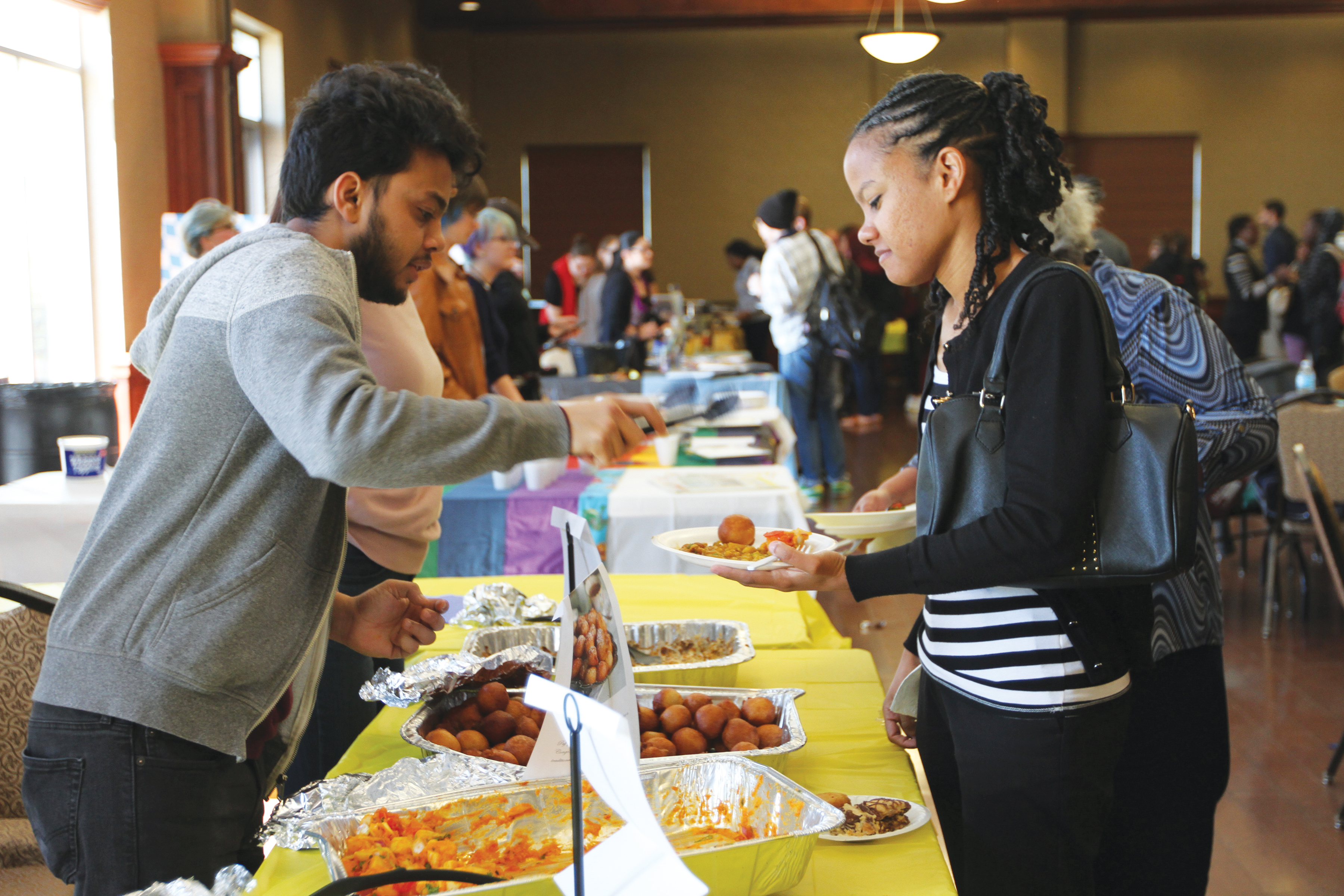 Stacie Larsen
Managing Editor
@SLarsenWriting
From 12-2 p.m., on Oct. 10, in the MCC, Cameron University's Office of Student Development hosted its annual Diversity Celebration, "Aggies in Every Shade," open to faculty, staff, students and members of the community.
Student Success Coordinator for Student Development and faculty adviser for Cameron Diversity Diplomats Olivia Polynice said the purpose for the event was to celebrate different cultures on campus.
"I think it's one of the hallmarks of the University, itself," she said. "We are diverse. We actually love to empower our students who are from different cultures, regardless of whether you're from here or another country."
Polynice said Diversity Celebration attendees came in every shade.
"It's not just our [Cameron] students who are diverse, or who come from different cultures," she said. "It's also our staff and our faculty, and that as a whole, our University is just this really cool melting pot."
The event featured food, educational facts, interactive activities and performances presented by student organizations, academic departments and the Cameron Campus Ministry.
Polynice said despite the different types of food served at the event, each organization or group shared one common ingredient: chocolate.
"The chocolate was not just American chocolate," she said. "It was representative of the culture that they were from."
Polynice also said, last year, each organization or group added an educational component to their cultural presentations, which carried into this year's festivities as well.
"The goal is not to eat just good food but to understand what that means in that culture and why it's important," Polynice said.
The celebration extended beyond just geographical diversity.
"We didn't just have people from different countries, but we also had social and religious groups to talk about their organization and what they stand for and why this is important to them," Polynice said.
This year, Polynice said each organization or group offered attendees the opportunity to participate in activities focused on their cultural beliefs, including yodeling lessons and Salsa dancing.
In addition, Diversity Diplomat member Sammer Shahid devoted her time and talent toward giving attendees henna tattoos of their choosing.
The event also featured a variety of native dances performed by two Samoan students, Helena Taisau and VictoriaLemoe Esera, and a piano performance by Cameron Campus Ministry member Peter Macias.
Polynice said, by hosting the event, she hopes to leave a lasting impression on those who attend.
"I hope that students not only come just to have good food," she said, "but also take something away from it and are able to impact the next person that they meet based on what they learn."
When planning the event, Polynice said the faculty within the Office of Student Development collaborated with members of Cameron's Diversity Diplomats organization.
Senior English major and Diversity Diplomat Public Relations Officer Becky Harris helped organize the event by communicating with participating organizations.
Harris said being involved with both the organization and event has helped her embrace diversity within her own cultural background.
"I'm half-black and half-Korean," she said. "One thing that growing up that was a really big struggle for me was that diversity inside of me.
"Being able to be in a setting like the Diversity Celebration meant a lot to me because I got to see other students be very proud and have an environment where they could be proud to be who they are."
Harris said she thinks the celebration is important because it empowers students to be open about their diversity despite judgements or pressures from the outside world.
"I always like to look at Cameron as a school that is diverse because we have international students," she said. "We have students from different backgrounds, but sadly … I still see a lot of people who don't accept different cultures or … they don't want to learn about them.
"One thing I hope people learn is that students like us aren't going to stop celebrating our diversity despite other students not wanting to accept it."
For more information about Diversity Diplomats, contact Olivia Polynice at opolynic@cameron.edu.
You may also like...