Aggies Go 2-1 in Home Stand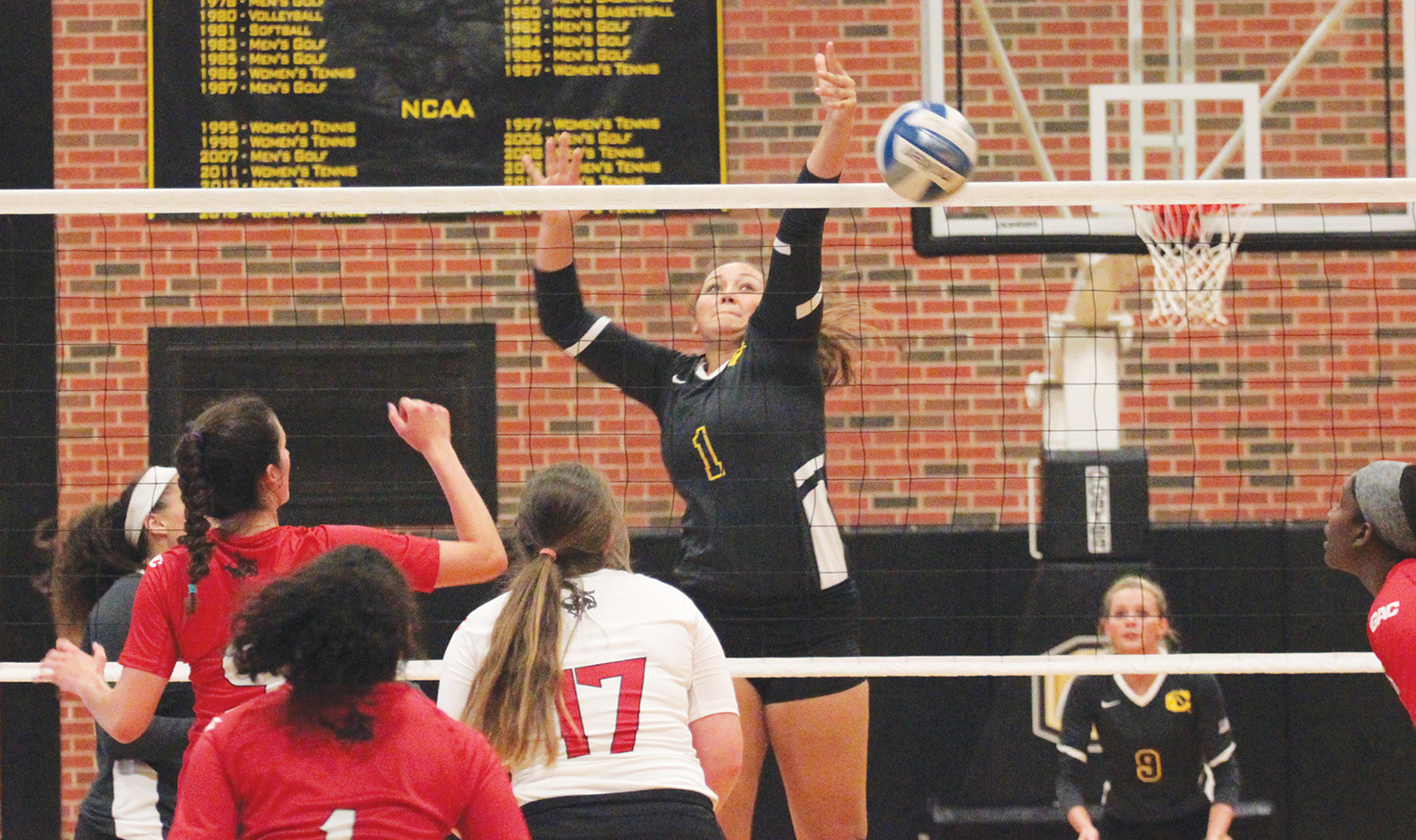 Come out Swinging: Junior Ashleigh McFatridge attacks the ball during a scrimmage. Against Western New Mexico, McFatridge notched 14 kills with no errors in 16 swings for a .875 efforts, the best hitting percentage by an Aggie netter since Sept. 3, 2011.
Krista Pylant
Sports Editor
@KristaPylant8
The Cameron volleyball team claimed two of three matches to start a six match home stand Sept. 22-26 in the Aggie Gym.
The Aggies started the stretch by falling to Eastern New Mexico 1-3 (25-17, 21-25, 20-25, 16-25) but triumphed against Western New Mexico 3-1 (25-18, 21-25, 25-22, 25-18) and Midwestern State 3-1 (25-23, 25-14, 23-25, 25-20).
The WNMU and MSU matches gave CU back-to-back Lone Star Conference wins, their first of the season, to boost them to 2-3 in the league and 4-8 overall.
Prior to the victories, the Aggies dropped three straight league contests to UT Permian Basin, West Texas A&M and finally ENMU on their home court.
Despite opening the match with a strong first set win, the Aggies could not maintain their momentum to fall in the next three sets in the loss to ENMU on Sept. 22.
Cameron only posted a .078 attacking percentage while the Greyhounds hit .207 in the match.
The Greyhounds outmatched the Aggies by 19 kills after recording 56 total with Brooklyn Biel leading with 13 kills and Sarah Tuioti-Mariner with 12 kills.
Paige Dixon paced CU with a team high 13 kills and Ashleigh McFatridge seven kills.
Brook Conley achieved her fifth doubledouble of the year with 30 assists and 11 digs.
Britnee Altic powered a season-high six service aces and led the team with 15 digs.
Brandy Carr had six blocks for the second consecutive match in a row. ENMU's Biel posted a season high ten blocks over the Aggies.
Cameron had a strong showing in the first set, stringing together a lead-taking ten point run. The Aggies won 25-17 behind a .226 hitting percentage and four Altic aces.
However, ENMU's offense set the stage for a comeback by taking set two 25-21 after posting a match high .310 attack clip with 16 kills. They also took set three 25-20 with 16 kills.
The Aggies dipped further down in the fourth set, making just three kills with a negative attack percentage to fall 25-16 for their third loss in a row.
Head coach Tatiana Booth said the Aggies' biggest struggle during their league woes was their mentality.
"No one is out right beating us, it's more that we're beating ourselves," Booth said. "That's the switch we have to make. What's tough about this conference is you play one night then the next night, so you have to get over that hump and keep moving.
"We need to build our mentality and start getting some conference wins under our belt."
Indeed, that is what the Aggies did to cruise to two victories in a row.
McFatridge shined in the Aggie's contest with WNMU on Sept. 23 as the junior middle blocker notched 14 kills with no errors in 16 swings for a .875 effort, the best hitting clip by an Aggie netter since 2011 when Sarah Corbett hit .800 against Texas College.
The 14 kills was also season-high for McFatridge who also added four blocks of CU's eight total.
Booth said McFatridge Brittany Lawson played crucial roles in the victory.
"We came in with an open mind and with grit and determination," Booth said. "We had people coming in clutch for us; Brittany Lawson was great on defense. Ashleigh McFatridge came up to us and said 'I'm not getting enough balls', so we told her if you get balls put them down, and she had her best game of all her matches.
"As a team this is our breakthrough. We're ready to take off now from here after our next couple of home matches. We showed today what we're truly made of."
Lawson also committed no attack errors on eight kills and totaled 11 digs.
Dixon and Carr led the Aggies in kills with 15 each. Conley recorded her sixth double-double by pairing 49 assists and 18 digs. Brittnee Altic matched Conley for 18 digs.
Kaylie Lyle with 19 kills and Alanna Watt 17 kills led WNMU.
The first set saw a back and forth battle until the Aggies knotted the game at 16-all starting a 10-2 run for the 25-18 set one victory behind six kills from Dixon and two blocks by McFatridge. CU hit .424 in set one tallying 18 kills.
Set two was largely controlled by WNMU who posted their best hitting clip of the match at .261 holding the Ags to 13 kills while pounding 16 themselves to take the second set 25-21.
The Aggies brought energy to set three where both sides recorded an even 13 kills, but CU took advantage of a few Mustang errors to take the third set 25-22.
Cameron cruised past the Mustangs in the fourth set to take the match after winning 25-18 with just one error and 14 kills for their best hitting clip of the match at .520 claiming their first league victory of the year.
CU then claimed their second LSC victory in a row by defeating rival Midwestern State 3-1 on Sept. 26 in the Aggie Gym.
The Aggies edged the Mustangs with a .179 attack percentage to their .106 while posting 48 kills to MSU's 43. Both sides had nine team blocks.
Dixon led the Aggies with 15 kills and Bristol Lewis with nine. Lewis also had four block assists alongside Brandy Carr.
Conley had 33 assists and 13 digs for her seventh double-double of the season. Brittnee Altic had 15 digs, and Katrina Campbell added ten.
Cameron opened the match strong, leading by as much as nine points until a couple of late MSU runs closed the gap and tied the match at 23-all. However, the Aggies would put down back-to-back kills to take set one, 25-23.
In the second set, Cameron cruised to a 25-14 victory after MSU hit in the negative attacking percentage.
The Mustangs would turn around in set three to prevent the Aggie sweep by watching the Aggies hit at a negative clip. The set saw 12 ties but the Mustangs stayed the course to take set three, 25-23.
Although MSU nabbed the first point of set four, Cameron jumped on an eight point run. The closest MSU would close the gap was 21-19 when the Aggies committed three straight attack errors.
The Aggies ended the match in good fashion, chaining a 4-1 run behind three kills and a block to take the fourth set 25-20 while pounding a match high 17 kills.
You may also like...