VP Phillips to Focus on Definition of Student Success and Recruitment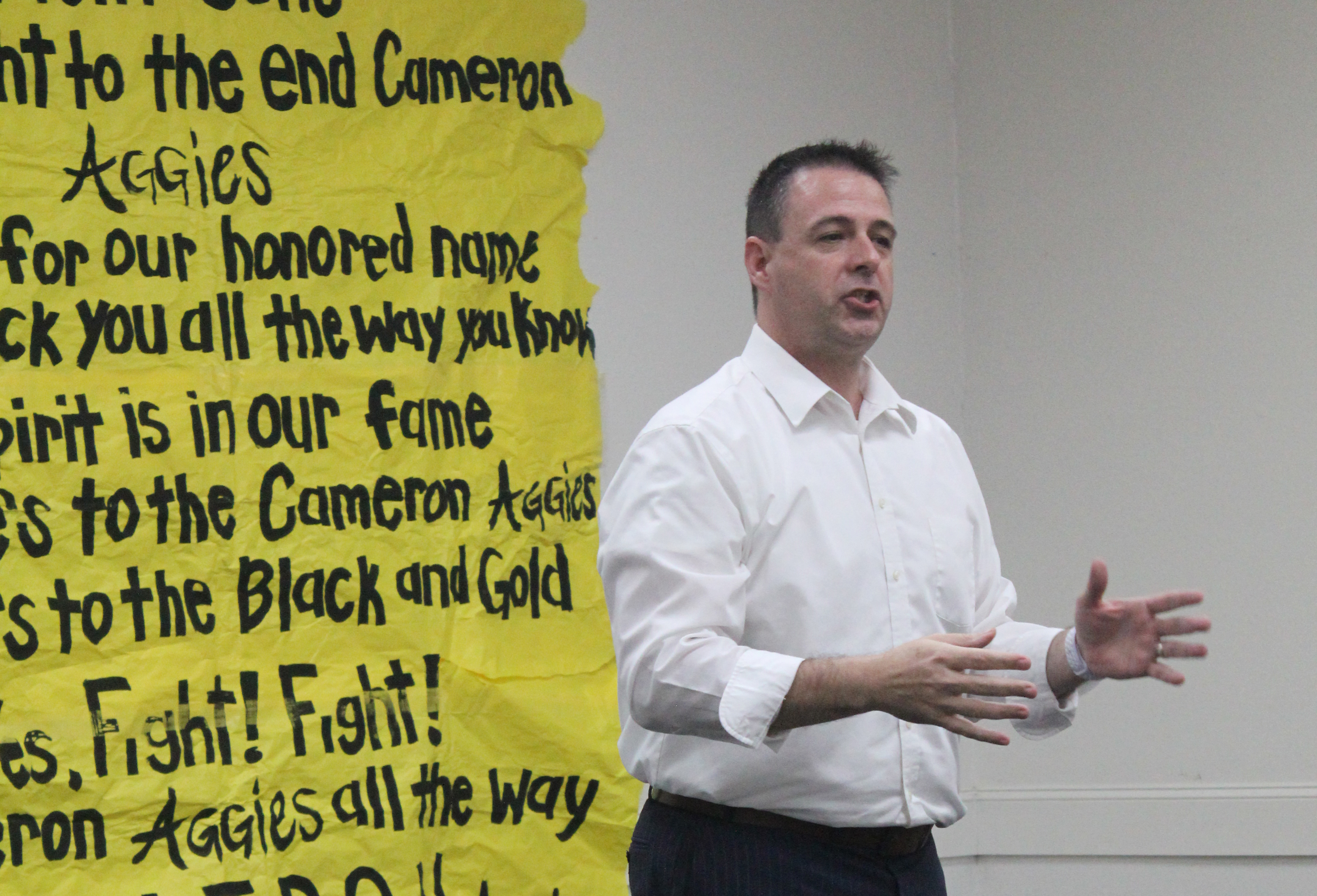 Welcome to CU: Cameron's new Vice President for Enrollment Management and Student Success Jerrett Phillips introduces himself to freshman students at Aggie Escape on Aug. 17. Phillips assumed the role this summer and plans to focus on new methods of recruitment.
Cheyenne Cole
Managing Editor
@cheyenneccole
Over the summer, Cameron University hired a new Vice President for Enrollment Management and Student Success.
New VP Jerrett Phillips started at Cameron on July 3, but as someone who's worked in higher education in Oklahoma for nearly 18 years, he noticed the university far before he applied for a position here.
Phillips said Cameron's growth, particularly over the past 15 years, is what attracted him to the school.
"Over the years," he said, "I've watched not only the physical changes on campus, but I've also looked online from a distance and looked at the strategic planning. I've looked at the transparency. I've looked at the desire to put students first and to make sure that they can be successful in what they do."
An Oklahoma native, Phillips attended Northeastern State University – only about a 30 minute drive from his birthplace in Locust Grove – and earned a bachelor's degree in criminal justice.
After graduating, Phillips applied for jobs with the FBI, the Secret Service, the U.S. Marshals Service and the Oklahoma Highway Patrol.
He eventually accepted a position as a state trooper but discovered it wasn't what he expected it to be and decided to resign.
"I looked around really to figure out what my life was going to be because you never want to graduate college with a degree and then not use that degree," he said, "so I kind of went through that same struggle students do now."
During that time, Phillips started working as an admissions counselor at Bacone College – a decision that changed the course of his career.
"I thought 'What better way to take a year to figure out what you want to do than to go around, present college as an option, talk about financial aid, help get people connected?'" He said. "[I] went down that road and fell in love with what I did."
Since then, Phillips has worked at Northeastern State University on both the main campus and the Broken Arrow campus.
He also worked at different campuses in the Louisiana State University system and completed a master's degree in human relations at the University of Oklahoma.
One aspect of Phillips' role at Cameron is "student success," a term he believes is not rigidly defined and is measured in both quantitative and qualitative data.
Quantitatively, the state and federal governments assess universities based on retention and graduation rates, but Phillips said it's up to Cameron's administration, faculty, staff and students to evaluate qualitative measurements through productive conversations.
"That's what I'm excited about," he said, "us working together to define what we think student success will be at Cameron. Operationally, we need to figure out what student success is and how we can work together to achieve it."
Another facet of Phillips' job is enrollment management. It's no secret that student enrollment decreased during the last several years, but he wants to remedy low enrollment numbers by using new recruitment methods and ensuring current students enroll on time.
"We'll be working this year to develop a strategic enrollment plan," he said, "which will be a campus-based plan, which will look at – are we recruiting in the right places? Are we offering the right types of courses in terms of face-to-face, online? Do we have the right majors?"
According to Phillips, one major enrollment issue is that when students do not enroll for courses in a timely manner, classes are cancelled or already full when those students go to enroll.
"Most students want to wait until the last minute and say 'You'll put me in a class because you need me,' which is true," he said, "but we really rather would put the student in the right class early on, then lock down their schedule, enjoy the summer and then start their coursework in the fall."
Phillips employs an open-door policy with students because he values transparency and effective communication.
"I want to weigh that [new methods] against what students think as well," he said. "It's very important that if students pay tuition and fees, [if] they want to come here for four years to get a degree, we should learn from them as much as they learn from us."
Later in the fall, he plans to create different opportunities, such as surveys, focus groups and listening sessions, for students to contribute their opinions about their college experiences.
"Organizationally," he said, "we all know that not everybody can make the decisions, but if everybody has the ability to give the feedback, the decisions are better."
You may also like...