Volleyball Falls 2-7 Overall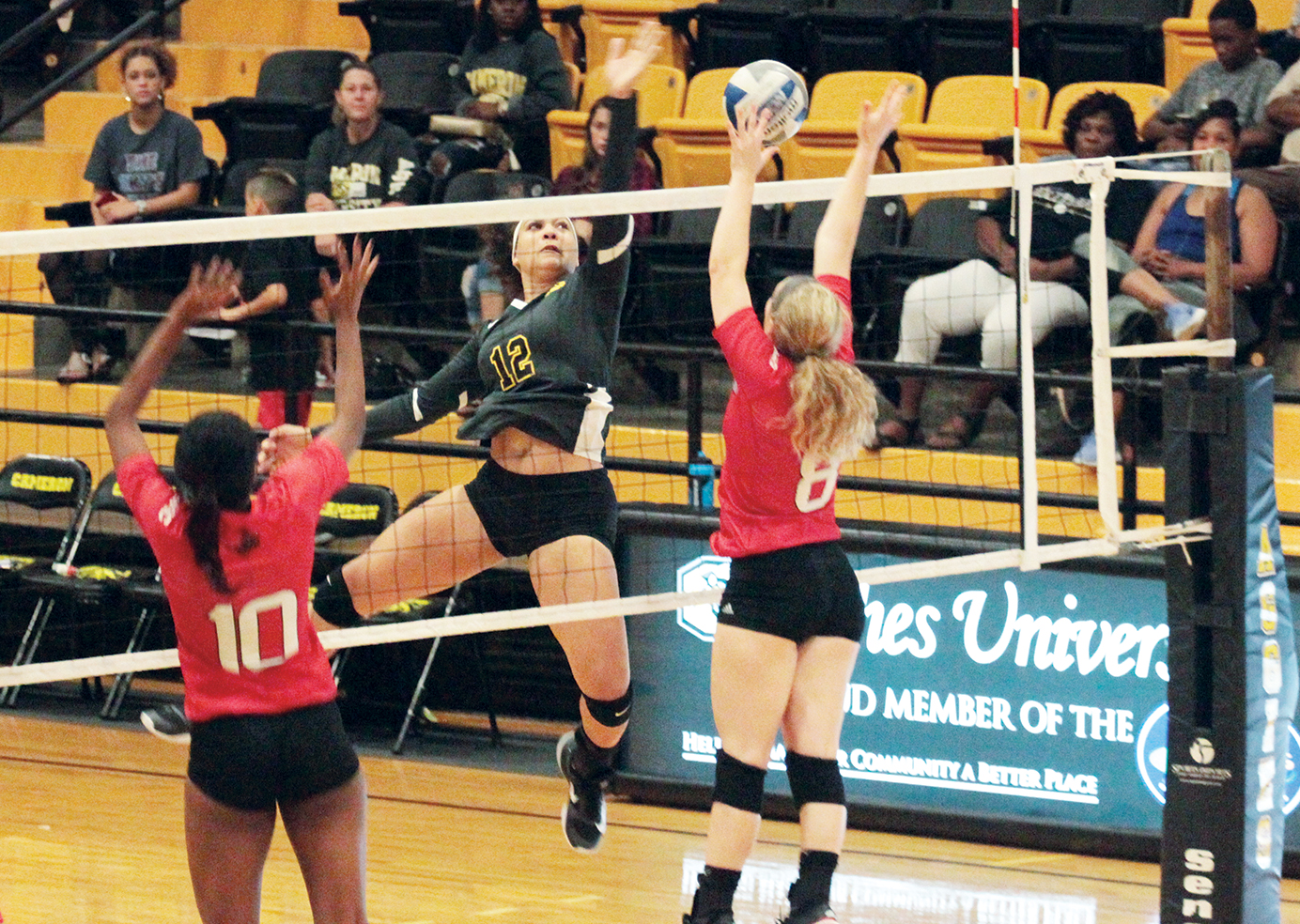 Black and Gold: Redshirt junior Bristol Lewis goes for an attack during an early season scrimmage. The Aggies opened conference play Sept. 15-16 in Texas against UT Permian Basin and West Texas A&M where they dropped both matches.
Krista Pylant
Sports Editor
@KristaPylant8
The Cameron volleyball team dropped two matches on the road during their league opening weekend Sept. 15-16 in Texas.
The Aggies fell 1-3 (21-25, 25-21, 25-27, 28-26) to UT Permian Basin and 0-3 (12-15, 22-25, 23-25) to West Texas A&M.
With the losses, CU moved to 2-7 overall and 0-2 in the Lone Star Conference (LSC).
Cameron started league play on Sept. 15 in Odessa, Texas against the UTPB Falcons.
The match featured a fourset battle, including two that went past set point.
The Falcons bested CU with 64 kills to the Aggies' 52 kills despite tallying five more total errors than the Black and Gold.
Cameron did excel at blocking, totaling nine with junior Brandy Carr who contributed six blocks of her own.
Junior Paige Dixon led all Aggie players with a career-high 19 kills as junior Ashleigh McFatridge added ten kills and freshman Amarachi Iwunze eight kills.
Senior Brook Conley acheived her fourth doubledouble of the year after recording 37 assists and 17 digs, leading the Aggies in both categories.
A rough start paved the way for a three-set loss to West Texas A&M in the Aggie volleyball team's second Lone Star Conference match of the season.
Cameron dropped the match 0-3 (12-25, 22-25, 23-25) for their third loss in straight sets this season.
The Lady Buffs are now 7-4 overall and 2-0 in the league after defeating Midwestern State 3-0 on Sept. 15.
Brittany Lawson led the Aggie offense with nine kills, and Dixon was one behind her with eight kills. McFatridge tied her career high in blocks totaling four.
Conley recorded a team high 24 assists while Britnee Altic led the team with 14 digs.
The Aggies struggled early as they were held to a negative attacking percentage to start the match.
CU dropped the opening set 12-25 after posting just five kills to the Lady Buffs' 15 kills.
However, Cameron attempted a comeback in set two, battling past a couple of five point WTAMU chains to gain their first lead of the match at 19-18.
The score tied twice and for a final time at 22-all before an Aggie error plus a Lady Buff ace and kill ended the set 22-25.
The third set saw the Aggies' largest lead of the match as they grabbed a six point advantage of 17-10 before WTAMU put together a couple of runs to tie it back at 20-all.
The set tied twice more to even at 23-all until backto-back Lady Buff blocks awarded them the set 25-23 and match.
WTAMU's Erin Clark led her team with 15 kills.
Next, Cameron will be looking for their first conference win as they host Eastern New Mexico and Western New Mexico to start a six match homestand Sept. 22-23 in the Aggie Gym.
ENMU is 3-8 overall and 1-1 in conference play. In their most recent match on Sept. 19, the Greyhounds fell 2-3 to New Mexico Highlands.
ENMU is hitting .136 and opponents are hitting .216 against them. They are last in the league in kills averaging 11.27 per set and blocks at 1.40 per set.
Sarah Tuioti-Mariner leads the Greyhound offense with 2.84 kills per set.
WNMU is 1-9 overall and 1-1 in the LSC with their lone victory coming against ENMU sweeping them on their home court.
The Mustangs hit league worst .131 hitting percentage and opponents hit .250 against them for bottom in the conference.
They average 11.43 kills per set while opponents average 13.60 against them.
The Mustangs struggle at the service line with just .69 aces per game.
However, outside hitter Kalie Lyle is the third best kill leader in the LSC with 3.70 kills per set.
This week Angelo State dropped from No. 5 to No. 11 in DII national rankings, and Tarleton State also dropped from a No. 14 spot to sit at No. 17.
West Texas A&M leads LSC standings at 3-0 and 8-4 overall.
You may also like...