The Whiskey of Our Discontent: Lansana Honors Gwendolyn Brooks on Centennial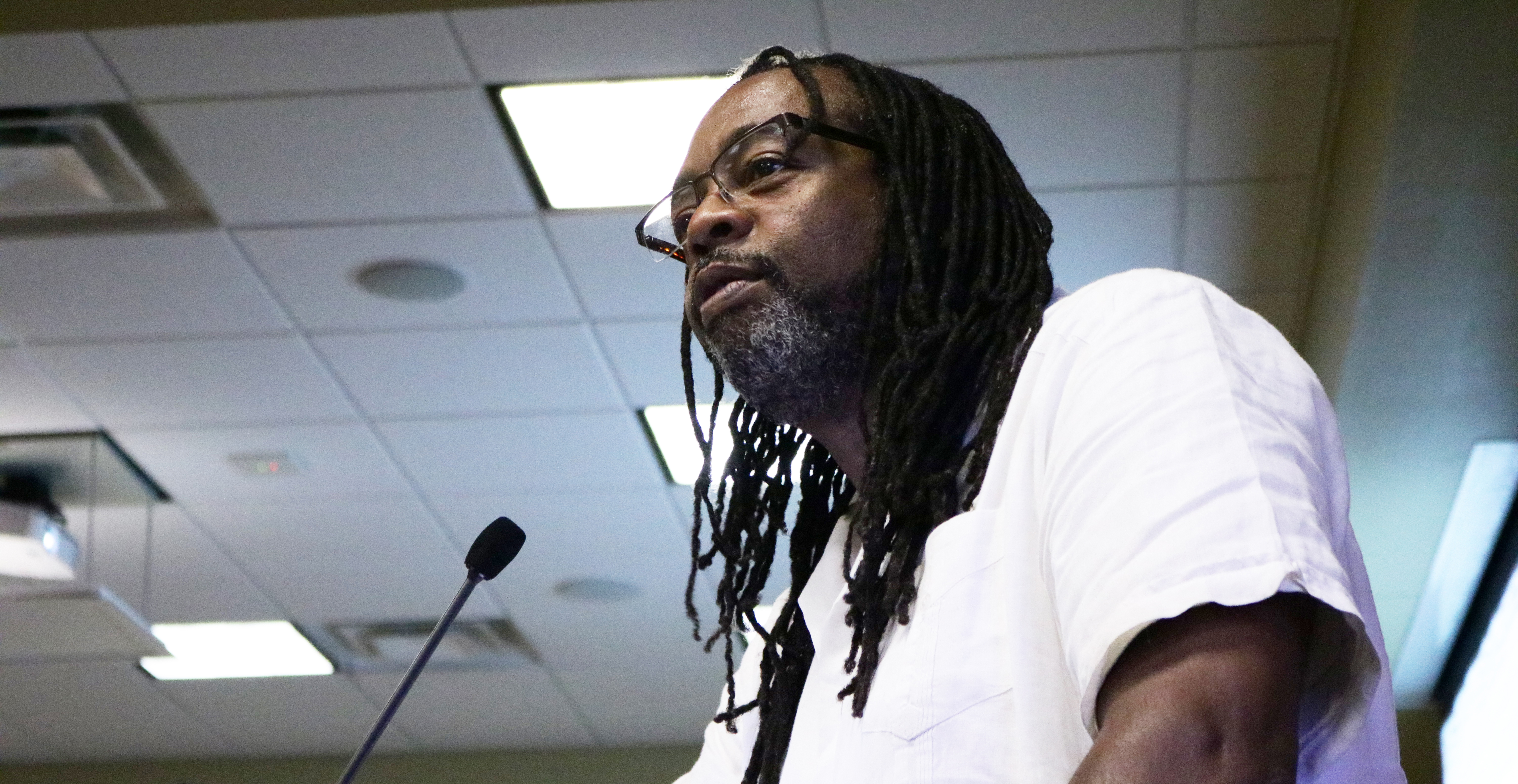 Cheyenne Cole
Managing Editor
@cheyenneccole
The Department of Communication hosted two events with awardwinning poet Quraysh Ali Lansana as a part of Academic Festival X.
Lansana lectured about Gwendolyn Brooks, the first black poet to win the Pulitzer Prize, at 6:30 p.m. on Sept. 14 in the CETES Conference Center.
At 6 p.m. on Sept. 15 in the MCC Ballroom, Lansana read poetry from his new anthology "The Whiskey of Our Discontent: Gwendolyn Brooks as Conscience and Change Agent" and previously published and forthcoming collections with Assistant Professor of Communication David Bublitz and poet Jill Hawkins.
A recipient of the Henry Blakely Award and a Chicago's Black Book Fair Poet of the Year winner, Lansana lectures across the country and is currently a faculty member at the School of the Art Institute of Chicago.
He is a published author and poet known for works including "The Walmart Republic," "mystic turf" and "Southside Rain," which explore racism in America in depth.
Lansana learned first-hand from Brooks at Chicago State University and was her last protégé before her death.
At the lecture, Lansana reflected on Brooks' funeral, an event that occurred during one of the worst blizzards in Chicago history, where he acted as a pallbearer.
"Carrying the weight of the casket of a woman who has carried me," he said, "not only for the 11 years of our personal bond, but from the Lawton library in 1988, from 'We Real Cool' in 1979 at Longfellow Elementary School in Enid, Oklahoma – I was carrying the casket of a woman who had changed my life, and it probably remains one of the heaviest things I've ever done."
Lansana describes Brooks in the classroom as "an ignitor of mind riots."
"She read everything," he said, "so she'd always bring newspaper clippings and have us write poems about these articles.
"She would throw a prompt on the table and sit back and look at us and just smile like she was a diabolical scientist or something and watch all our lightbulbs go off."
According to Lansana, Brooks taught him many valuable things about writing but also about life in general.
"Be present and observe and listen," he said. "[Those] certainly were the greatest gifts she may have blessed me with."
An Enid, Oklahoma native, Lansana cites his sixth grade teacher and artists like Stevie Wonder and Earth, Wind and Fire as some of his greatest influences.
As a child, Lansana absorbed media.
"I spent a lot of time with books," he said, "with television, with my imagination and dreaming words on the canvas of the Oklahoma sky."
Bublitz studied under Lansana at Oklahoma City University, where the two developed a mentor-mentee relationship that's still intact today.
When Cameron announced Academic Festival X, Bublitz said he proposed Lansana as a speaker for the event, believing his unique voice would contribute to the festival and its theme, "American Identities in the 21st Century."
"Quraysh writes about issues of social justice," he said. "He writes about his own experience. […] He writes about the black experience, especially black experiences as they pertain to the south and Chicago as well.
"I think it's important that that voice is heard, especially in a region where we may not hear as much of that voice as we should."
Bublitz said the contexts that Quraysh brings to the discussion are different than his own, which is why it's beneficial for his students to hear from Quraysh.
Bublitz's poetry is often inspired by his father's military service and how it affected their family.
"I think a lot of the best poems in the collection are ones in which I'm okay with the fact that I'm angry about certain things," he said. "Still – even as an adult – angry about certain things."
"I think that part of the truth of the work is acknowledging that anger and articulating that anger clearly."
By the end of the year, Lansana will have spoken at 100 lectures in celebration of Brooks 100th birthday.
He is also working in collaboration with PBS as the artistic director on a documentary called "Our Miss Brooks 100," in which contemporary authors discuss her influence on poetry.
"The Whiskey of Our Discontent: Gwendolyn Brooks as Conscience and Change Agent" is available now on Amazon.com.
You may also like...