Ortiz Wins First at Nationals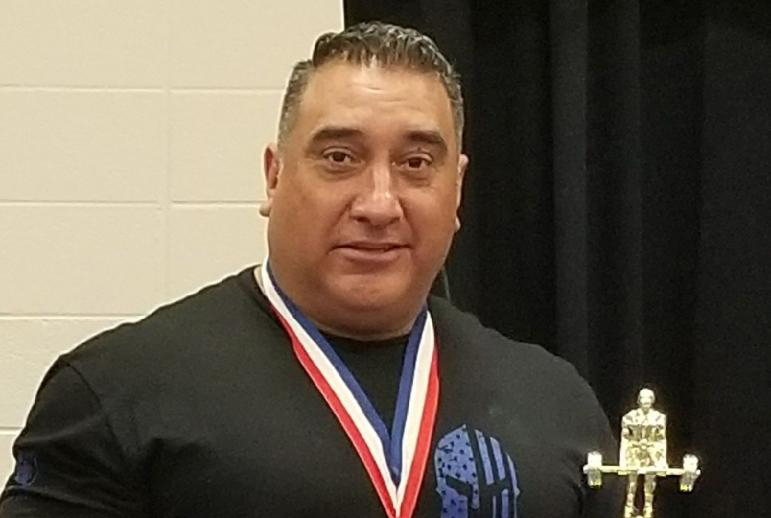 Drue Watkins
Staff Writer
Last July, Cameron Police Officer Ray Ortiz won first place in the Master Bench Press Contest at the Police/Fire Nationals Competition in Kansas, ultimately winning first in the overall competition.
He set the previous bench press record at the Nationals Competition and went into it again this year with the full intention of breaking it. He managed to do just that at 564 pounds, out-lifting the rest of the contestants.
Ortiz said being a part of the Nationals Competition is a challenging experience, yet nervousness and anxiousness do not affect him.
"After doing it this long, I'm just not [nervous]," he said with a smile. "But the anticipation to get up onto the stage… yeah."
He said the competition felt like just another routine day of lifting that let his extra experience solidify his position in the rankings.
However, Ortiz wasn't satisfied with settling at 564 pounds for this year; his aspirations are much higher.
"I'm looking at trying to hit 600 (pounds) before the end of the year," he said.
Despite being fifty-four years old, he still finds himself beating out younger people in open competitions and is a verified Natural Athlete Strength Association (NASA) Powerlifting Hall of Famer, putting him with some of the all-time greats.
The competition lasted two days and consisted of rigorous weightlifting that tested the mettle of its participants, all of whom were highly qualified.
Ortiz has been stationed at Cameron for the past five years and is a veteran of the National Competition with thirty years of weightlifting experience under his belt, holding various state and national records in two different weight classes.
"I don't try to do the same thing every time," he said. "I train a little different each time, and I know what I did up to this point, and then I know what I want to do going forward. My routines are just never the same."
He also had plenty of moral support, namely from one of his longtime friends and the current police Chief of Cameron University, John DeBoard.
"I always try to wish him good luck and mention how proud I am of him," DeBoard said. "The image he projects is just so positive, particularly during this time where a lot of police officers are struggling to get one."
DeBoard and Ortiz have known one another for roughly thirty years while they have both served for the Lawton Police Department.
For Ortiz, one of the most difficult aspects of the competition was the journey up to Kansas. Cameron University helped supply his venture through sponsorships that granted him funds to use on entry fees, hotels, travel fees and meals.
"Their help was great, because it gets costly," Ortiz said. "They really came through for me."
As a representative of both Cameron University and its police establishment at the Nationals Competition, Ortiz had a great deal of pressure on his already weighed-down shoulders. For him, it made things even more worth it.
However, the pressure made him proud to be an example of what Cameron could accomplish, mentioning that he had nothing but the highest of praises to give about the University over the course of his five years on campus.
"I love the people here, and I love the kids here. We always have a good time—it's great," he said.
Ortiz isn't, however, just a police officer and a national powerlifter; he's also a coach who runs a gym in Lawton called HIT, which stands for High-Intensity-Training.
"I coach a lot of guys—around twenty that are ranked currently. I've got a female that deadlifts over 450," he said. "She's one of my aces."
A lot of his time is spent at HIT gym, working with the studying weightlifters who he says are now at national-level competition.
"There are things that you're always learning," he said.
Ortiz also coaches and gives advice to local teenagers.
"He's a great mentor," DeBoard said. "Great with the kids."
Ortiz was proud to represent Cameron and thankful to the university for its support.
"I'd just like to thank my Chief and Cameron University for giving me the opportunity to represent Cameron," he said.
Ortiz's next meet, the Masters Nationals, comes up in November and will be held in Oklahoma City.
You may also like...