On the Red Carpet: The Fourth Annual French Film Festival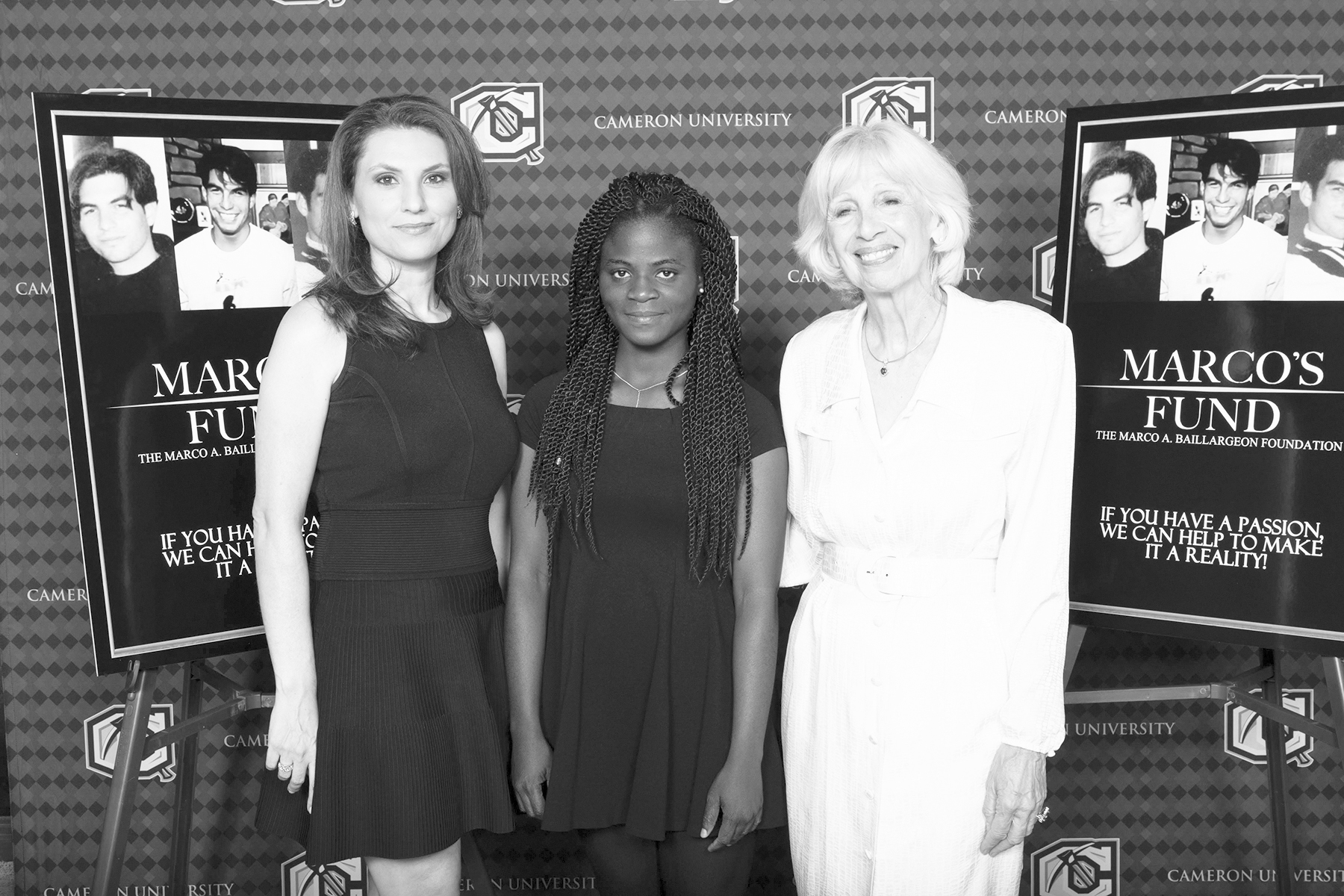 Lights! Camera! Smile!: (From left to right) Film director and co-creator of the Marco A. Baillargeon Foundation Tara Pirnia poses for a photo with this year's winner of Marco's Fund Grant, Gbemisola Dina, and French Club Advisor professor Marie Ginette Baillargeon.
Cheyenne Cole
Managing Editor
@cheyenneccole
Cameron University's International Film Club hosted the fourth annual French Film Festival at 6:30 p.m. on Aug. 24-26 in the university theatre.
A red carpet event kicked off the festival at 5:30 p.m. on opening night in the theatre lobby, where Green Acres Market provided French food tastings, Dillard's Lancôme offered free French makeup samples and film producer and director Tara Pirnia presented a Cameron student with a grant.
Known for productions like "Steve Jobs: iGenius," "Titanic: 100 Years On" and "Style Queens," Pirnia attended the event as a special guest to present senior business major Gbemisola Dina with an award from The Marco A. Baillargeon Foundation, also known as Marco's Fund.
Pirnia co-created the foundation in memory of festival organizer and Department of English and Foreign Languages Professor Dr. Marie-Ginette Baillargeon's late son, who inspired Pirnia to pursue a career in film – her passion.
Over two decades ago, Marco and Pirnia met one summer while lifeguarding and discovered both immigrated to the United States and studied at the University of Texas at Austin.
Pirnia said the two shared their future hopes and dreams with each other during that time.
"About a month in," she said, "then he found out I was in medicine – had nothing to do with the film industry. He said, 'You're obviously passionate about this. Why don't you go after it? Why don't you do it?'"
Shortly after, Pirnia applied for and began an internship at the ABC television network and moved to Los Angeles for her career, losing touch with Marco.
"I always thought," she said, "'Why didn't I ever run into him again? Why wasn't he ever on Facebook or back with Myspace or something like that?' I sat down one day in 2015, […] and I found him on ancestry.com – that he had passed away very young."
When she reached out to Marco's family, Pirnia offered to make a donation to a charity of their choice in memory of him.
However, she bonded almost instantly with his family, especially his mother. Together, they decided to establish The Marco A. Baillargeon Foundation.
Pirnia said Marco's Fund grants are awarded exclusively to students who are first- or secondgeneration immigrants to help them overcome the unique hindrances they encounter.
"As gorgeous as this country is with tons of opportunities," she said, "coming here as an immigrant is very difficult because you have to assimilate to the culture, and doing so, you're faced with a lot of obstacles no matter what your passion is."
According to Dr. Baillargeon, the Marco's Fund Committee reviewed many worthy candidates for the award, but ultimately chose Dina, who originates from Nigeria and works in the campus library, because she is a diligent student who deserved recognition.
"What we really liked about her is that she has grit," Dr. Baillargeon said. "In spite of a lot of difficulties, a lot of challenges, she's in there. She's working."
Local businesses including Green Acres Market, the Lawton Country Club, The Percolator and Cache Road Liquor and Wine promoted the festival by adding French items to their menus or stores, or in Dillard's case, offering free French makeup samples.
For Dr. Baillargeon, it is heart-warming to see the Lawton-Ft. Sill community embrace her native culture and the film festival each year.
"Being French is part of our heritage," Dr. Baillargeon said. "The separation of powers – the executive, the legislative, the judicial – that comes from French philosophy, French writings – Montesquieu.
"There is so much in this country that is French – much more than we realize, so to share this is to bring to the forefront something that is part of who we are as well."
You may also like...