Library unveils Digital Media Laboratory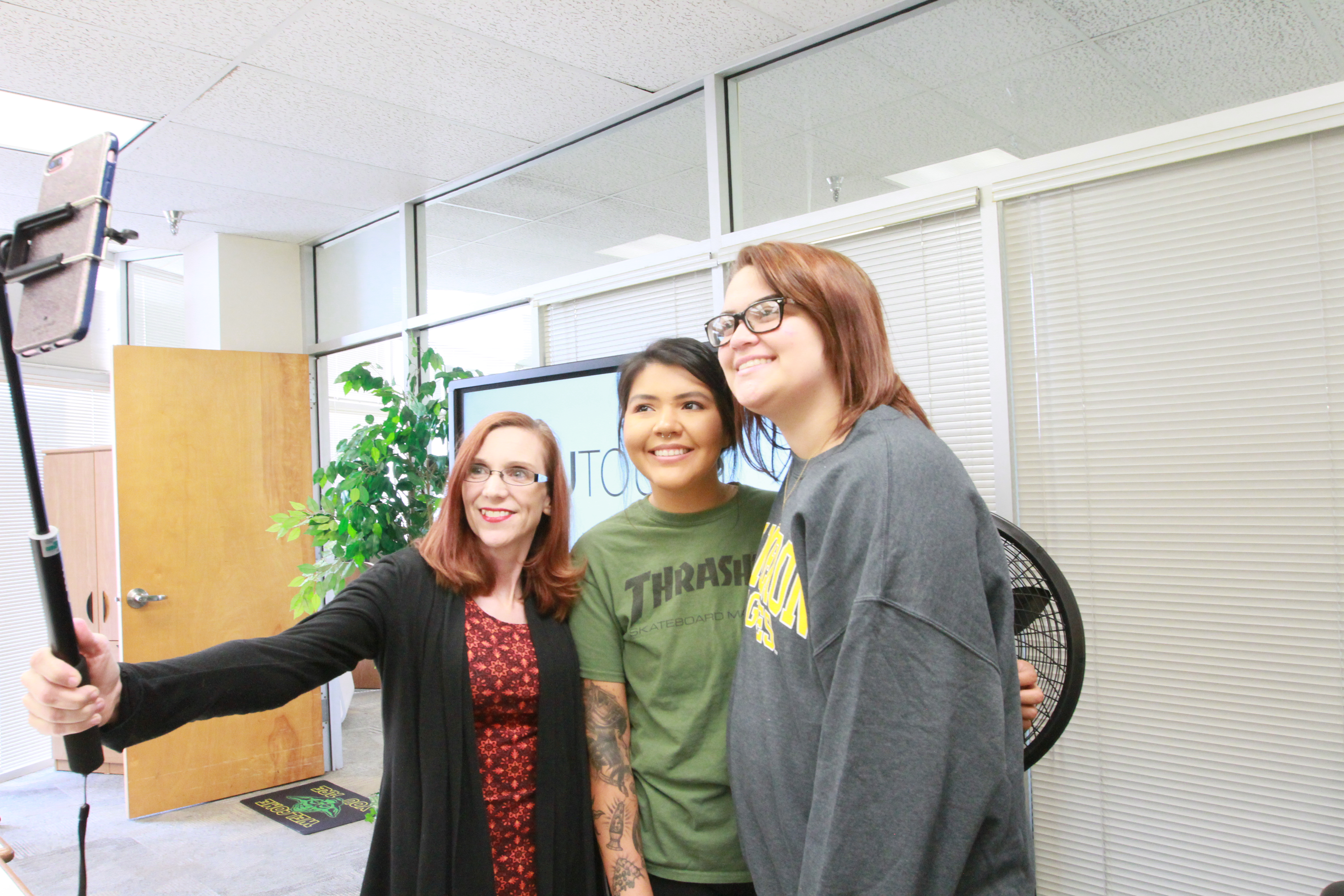 Taking Time for a Selfie: (left to right) CU Students Stacie Larsen, Sarae Ticeahkie and Madison Lyda pose for a quick picture in the Library's new Digital Media Laboratory (DML). The DML is a new multimedia workspace where students can collaborate for class assignments.
Robert King
A&E Editor
@wckdrjtk
After collecting input from surveys and ideas from library staff, Cameron University recently opened a Digital Media Laboratory (DML) on the first floor of the campus library.
The DML is a workspace where individuals or teams can collaborate on multimedia projects for class assignments, professional digital portfolios, capstone projects or for photo touch-ups in Adobe Photoshop.
Librarian James Scholz said the new lab is a place to work, have fun and be creative.
"I envision the DML as a place where students create content that serves their educational and professional needs," Scholz said.
The new lab features tools and equipment such as a smart board, which operates as a large tablet. Users have the ability to tether and fully operate their phones from the board with the same software desktop workstations use for multimedia projects.
The lab has four computer workstations, each with dualtouchscreen monitors and robust graphics processing capabilities through Adobe Creative Cloud, Autodesk Maya and other digital media freeware.
The staff is open to software requests as long as software is for digital media production purposes.
The newest technology featured in the lab is two MakerBot 3D printers available for use at the end of October.
Once the 3D printers are available, students and faculty can email their 3D printing requests to 3dprinting@cameron.edu.
After library staff members process a request, they will send an email when the 3D-printed object is ready to be picked up.
Anyone is welcome to observe the 3D printing process once the printers are active.
Students, faculty, staff and alumni can check out cameras, tripods, audio equipment, art tablets and light reflectors for photography or film for three days at a time, with the option to renew.
A green-screen room on the second floor is also available for reservation for up to four hours at a time.
While the lab is open and available to all Cameron students, faculty, staff and alumni, Kassidy Basham, a DML student assistant, said alumni must get a courtesy card from the circulation desk.
"While you (alumni) can't use the computers without an Aggie Access login," she said, "you can still check out the film and audio equipment or reserve the green screen room."
Scholz said lab space is first-come, first-serve.
"The only restriction is that if you're at a workstation working on a non digital media project and a line forms," he said, "you would be asked to give up your space to someone who needs the space for a digital media project."
The library is open from 7:30 a.m. to midnight Monday through Thursday, 7:30 a.m. to 6 p.m. on Friday, 10 a.m. to 6 p.m. on Saturday and 1 p.m. to 10 p.m. on Sunday.
Tags CU NewsRobert King
You may also like...