CU's First Annual Opportunity Fair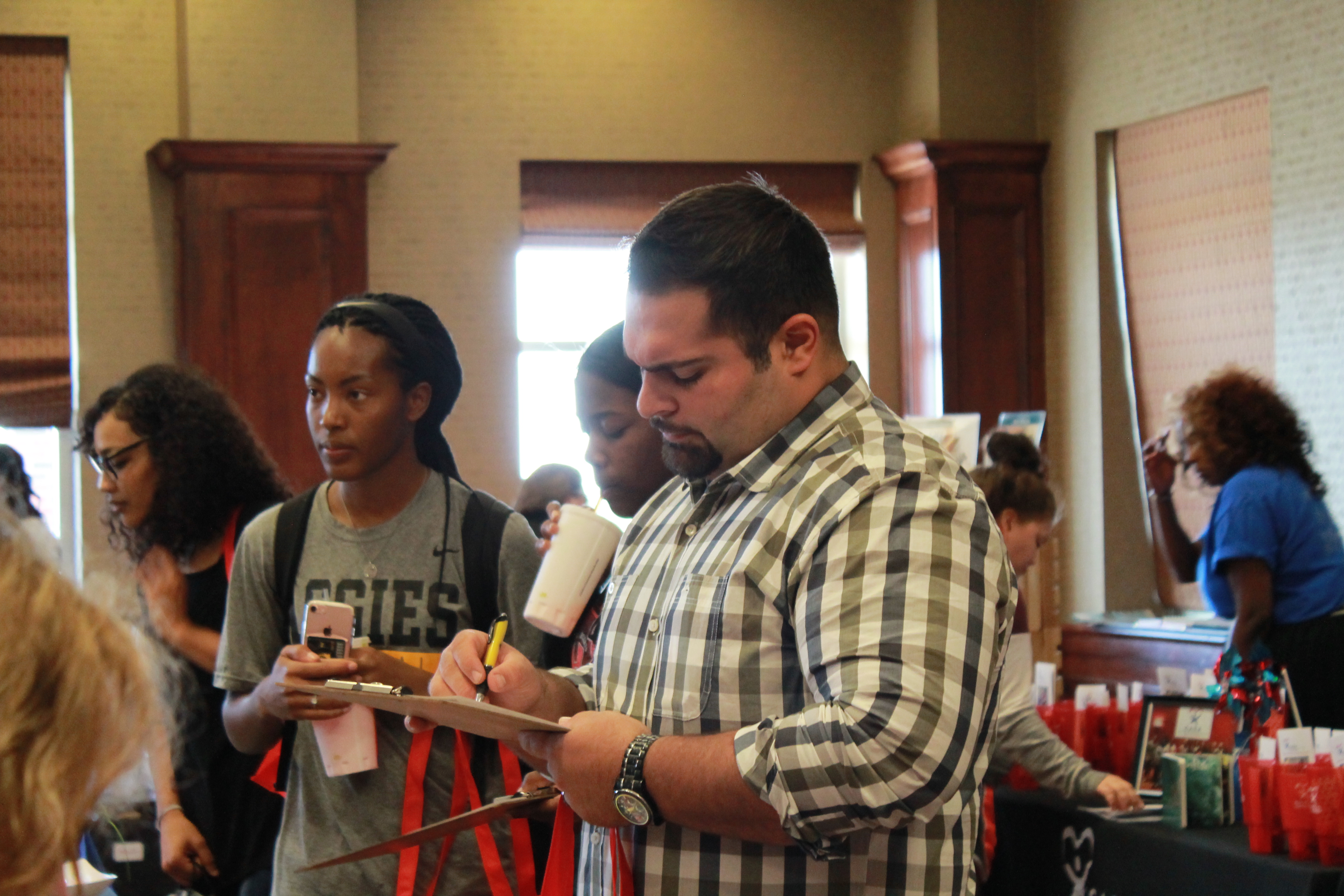 Searching for opportunities: CU students stop at individual booths to meet employers and fill out applications. Cameron Career Services hosted the Opportunity Fair in order to help students find suitable jobs and increase their chances of getting hired.
Robert King
A&E Editor
@wckdrjtk
Cameron held its first annual Opportunity Fair from 2-4 p.m. on Sept. 13 in the MCC Ballroom.
Career Services Coordinator Paula Merrifield said the Opportunity Fair was open for everyone who wanted to seek career opportunities.
"The CU Opportunity Fair is a chance for students and alumni, as well as community members, to come and meet some employers and non-profit agencies, maybe volunteer, get an internship or a part-time job." she said.
Merrifield added that the Opportunity Fair was formally known as the Part-time Job Fair, but she changed it this year.
Many different employers in the Lawton community were at the fair. Employers were seeking part-time employees and volunteers, while others were there to help students increase their chances of getting hired.
The Oklahoma Employment Security Commission (OESC) were one of the many employment agencies available at the fair. Veteran Employment Representative Tony Leon Brown said the OESC offers services such as resume writing, job development and outreach.
"We build resumes from start to finish," he said. "We also have a young adults program. We offer vocational rehabilitation. This is like a one-stop shop, anything that you need, if you need clothing, shelter or utilities paid; we have the resources for all of that."
Director of Marie Detty Youth and Family Services Dianne Owens attended the opportunity fair to hand out applications and provide information about programs offered by Marie Detty.
"We have part time positions available at our emergency youth shelter," Owens said. "Also at our domestic violence women's shelter."
Many CU Alumnis were also among the many employers at the fair representing the companies they work for.
One alumnus was Kaylee Jones, a Regional Marketing Coordinator for Affinitee Graphics. The company offers screen printing, embroidery and graphic designs.
Jones, who graduated from Cameron in 2015, said that their entire staff are either Cameron students or graduates.
Jones said college plays a big role in job opportunities.
"The owners graduated in 2014 and started this [Affinitee Graphics] while still in school," she said. "Matt and Katrina went to school for different things.
"Katrina went for art and Matt went for communications. Katrina decided to start her own business, and this has been the result.
Jones said that Affinitee Graphics was possible because of Cameron and is willing to collaborate and work with CU students.
"Honestly we love working with Cameron people," Jones said. "The university gave us so much.
It's so much of who we are and it's a large reason why Affinitee Graphics does exist…because of the people we met here, the opportunities we've had to work with people whenever we've returned."
The CU Human Resources department also had a booth at the fair in order to provide a list of work study jobs that are currently available on campus.
Student Employment Coordinator Debbi Kightlinger said work study jobs are often the best route for students. "They can work up to 20 hours a week," she said. "And the jobs never interfere with their class schedules."
You may also like...