CUNSA Establishes Scholarship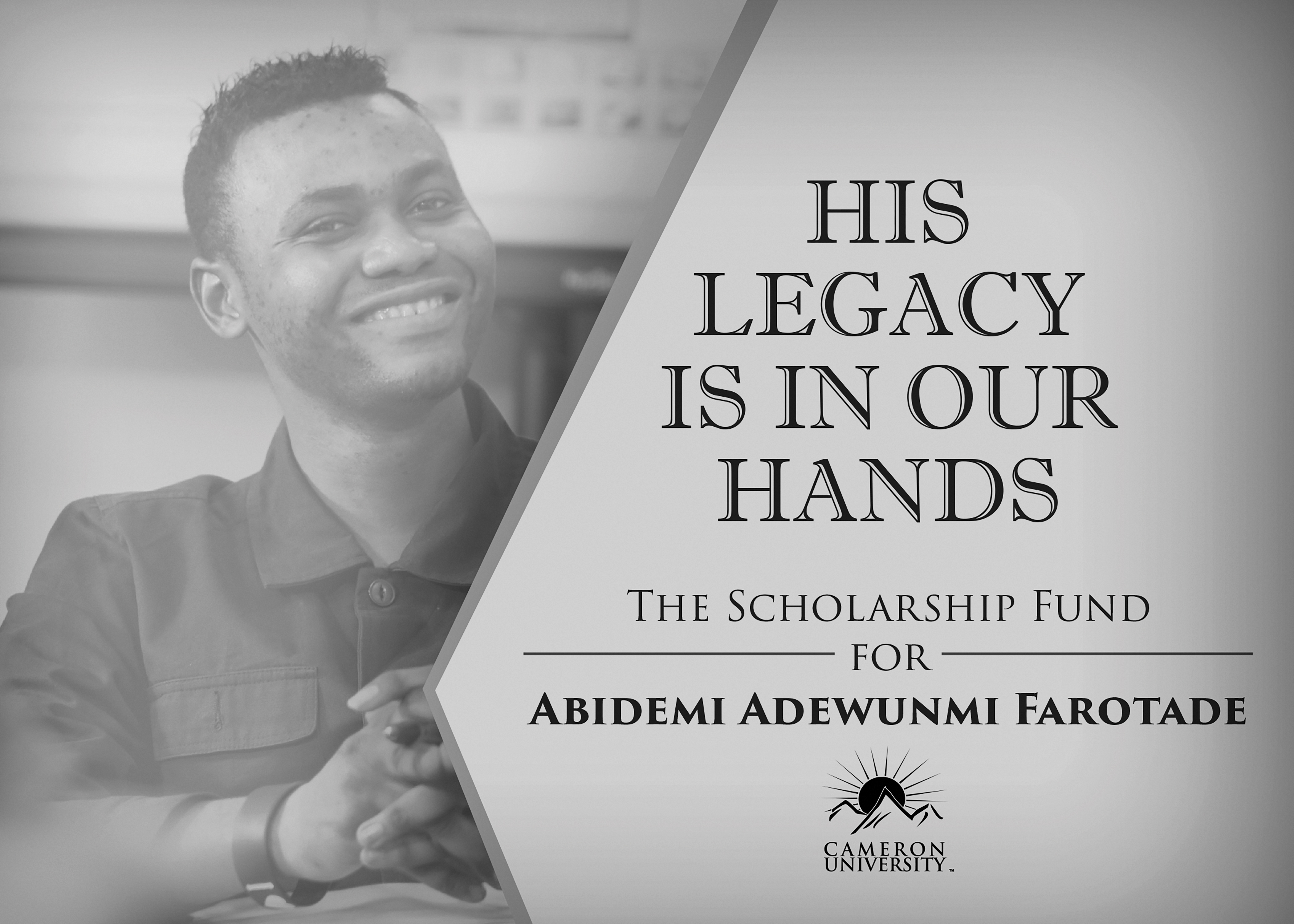 Academics: Scholarships fund poster for former student and member of the organization. Abidemi Adewunmi Farotade. In memory of Farotade, Cameron University's Nigerian Student Association is collecting donations to establish an endowed scholarship.
Cheyenne Cole
Managing Editor
@cheyenneccole
The Cameron University Nigerian Student Association is collecting donations to establish an endowed scholarship in memory of a former member of the organization.
In June, Abidemi Farotade, a Nigerian student who attended Cameron from fall 2014 through fall 2016, died at 22 years old.
Police found Farotade in front of the College Apartments, where he resided, suffering from gunshot wounds to the arm and chest.
Emergency Medical Services transported him to the Comanche County Memorial Hospital where he passed away.
Senior accounting major and CU Nigerian Student Association President Jolajesu Opaleye describes the Nigerian students' reaction to Farotade's death as fearful, sad and confusing.
"Shocking," she said. "Heartbreaking. We were all scared. We wondered why."
When Lester and Mary Seiger, Farotade's American "friendship family" assigned to him by Cameron and Baptist Collegiate Ministries, suggested creating a scholarship in his name, Opaleye said the organization saw it as an opportunity to celebrate his life rather than mourn it.
"I believe that with that [scholarship]," she said, "we can allow Abidemi's legacy to live on."
Ayokunmi Akintunde, a senior information technology student and former president of the club, remembers Farotade as a kindhearted, warm person.
"He would go out of his way to help," she said, "and he would say hi to everyone. He was a very good person. He was a people person."
Professor of Social Sciences Dr. Jonathan Odo and Academic Adviser in Student Support Services Tina Alley are co-advisers for the organization.
Alley said the Nigerian students felt an intense grief after Farotade's death.
"Along with the pain of losing a loved one," she said, "they were here in the United States without their family and the support of their family. I think that might've made it a little bit more difficult."
Opaleye said she hopes this scholarship will encourage international students.
"He was an international student that hoped to get a degree and go back home," she said. "That [his death] might've happened, but there is still hope."
According to Akintunde, the award will assist international students in continuing their education.
"One thing that's usually important to international students is funding for education," she said. "It's usually very expensive for someone coming from another country to the U.S."
An endowed scholarship requires at least $10,000 before the funds can be distributed. When the Farotade scholarship reaches that amount, an international student will be chosen to receive a $1,000 scholarship each year.
Those who wish to contribute can write a check made out to "The Cameron University Foundation" with a message on the memo line designating the donation to the Nigerian Student Association and send it to the Office of University Advancement.
For more information about donating to the scholarship, go to cameron.edu/cu_foundation/scholarships.
The CU Nigerian Student Association will host an Independence Day Celebration to commemorate Nigerian Independence Day at 6 p.m. on Sept. 30 in the MCC Ballroom.
The organization plans to auction off authentic Nigerian items at the event to raise funds for the scholarship.
Tickets cost $20 per person and $10 for CU students. To purchase tickets, call Opaleye at (435) 772-2773 or email officialcunsa@gmail.com.
Opaleye said, ultimately, the goal of the scholarship is "to know that Abidemi lives on in our hearts. It was a great loss. Great, great loss. He will never be forgotten for the kind of person he was."
You may also like...