CU Organization Introduces Students to Classics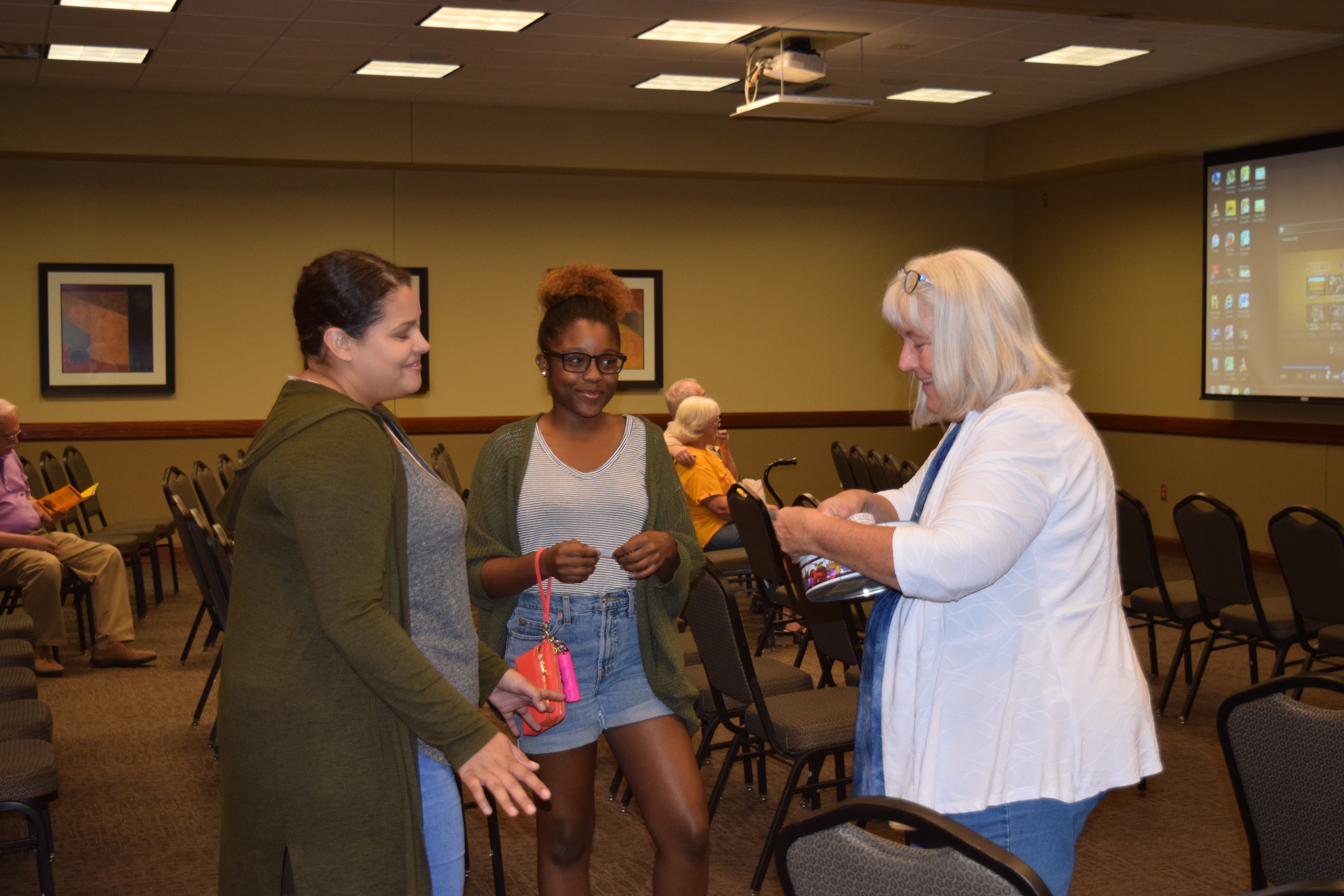 Getting a Prize: Senior Creative Writing major Molly Kelso (right) gives raffle prizes to Sophomore English major Danna Shackleford (left) and Sophomore English Edication major Djimon Jones (middle).
Sarae Ticeahkie
Student Life Editor
@SylviaSpeaks
The Magic Lantern Film Society presented the 36th Annual Classic Films Series screening, Mel Brook's "Blazing Saddles", Friday Sept 8.
A Western satire comedy starring Gene Wilder, Cleavon Little and Slim Pickens.
Brooks' western spoof is the third out of eight critically acclaimed movies scheduled to be screened for the 2017-2018 school year.
The 1974 film satirizes racism in the American West, where a small town is threatened to be destroyed by political power.
The hero of the movie being a black sheriff named Bart (Cleavon Little).
Magic Lantern brings classical films to campus and introduces students and faculty to movies that are both educational and enjoyable.
John Morris, Professor of English and Faculty Advisor of the Magic Lantern Film Society spoke about the issues in current events that relate to the western film.
"The satire in it is pointed and works really well," Morris said, "It satirizes racism which is obviously still current…history shows that cowboys were African American and you never saw them in movies."
All Magic Lantern films are DVD presentations and will be screened at 7:30 p.m. on Friday evenings.
The upcoming scheduled movies will screen in the CETES Conference Center, room A.
Morris said that free admission to a movie on Fridays can be the perfect date for couples, friends, or family members that may want to get out of the house for the evening.
The Office of Campus Life provides the event with a popcorn machine and some popcorn for popping.
Candy and cookies are also provided at no charge, but donations are accepted.
The officers get together and compile a list of movies selected or requested by students and members of the Society, based on specifics.
For example, it can be one foreign film, a black and white film as well as modern day films to get attention from a variety of movie junkies.
Every film that is shown is presented by members of the society, faculty advisors and funding from the new Cameron University Classic Films Account, Lectures and Concerts Committee, and one film this year was funded by Dr. Vaughn Underwood, Dean of Arts and Sciences.
Zoie Timothy, President of the Magic Lantern Film Society has been active in the organization for three years and hopes students become more open to the cinematic experience.
"We just want to help students realize that they do have value and they are really interesting" Timothy said, "…and see something different at least once this year."
Students interested in the film world or who enjoy watching movies that would like to join the Magic Lantern Film society should attend one of the movie nights and speak with a member or faculty advisor.
There are no dues and there are a minimal number of meetings.
The organization provides students the opportunity to gain knowledge and experience from every aspect of movies and the film industry.
"I gained experience with planning, picking movies to show" Timothy said, "so it is a helpful organization to be a part of if you go in that field".
Faculty advisors for the organization are Morris and Assistant Professor of English Dr. Dean Clemont who contributes to the society.
Morris has been active in the organization for 28 years and has a passion for films.
Professor Clemont contributes in many ways, one way being that he promotes films in his classes.
"We just hope people come and have a good time" Morris said, "I mean it's kind of hard not to".
For the month of October, The Magic Lantern Film Society will be screening a Halloween offering, the classic 1988 Tim Burton film "Beetlejuice" on Friday Oct 8.
For more information or to suggest movies for next year's screenings, visit the Magic Lantern Film Society's Facebook page, or email Professor John Morris at jmorris@cameron.edu.
Tags A&ESarae Ticeahkie
You may also like...