CU Donates to Hurricane Victims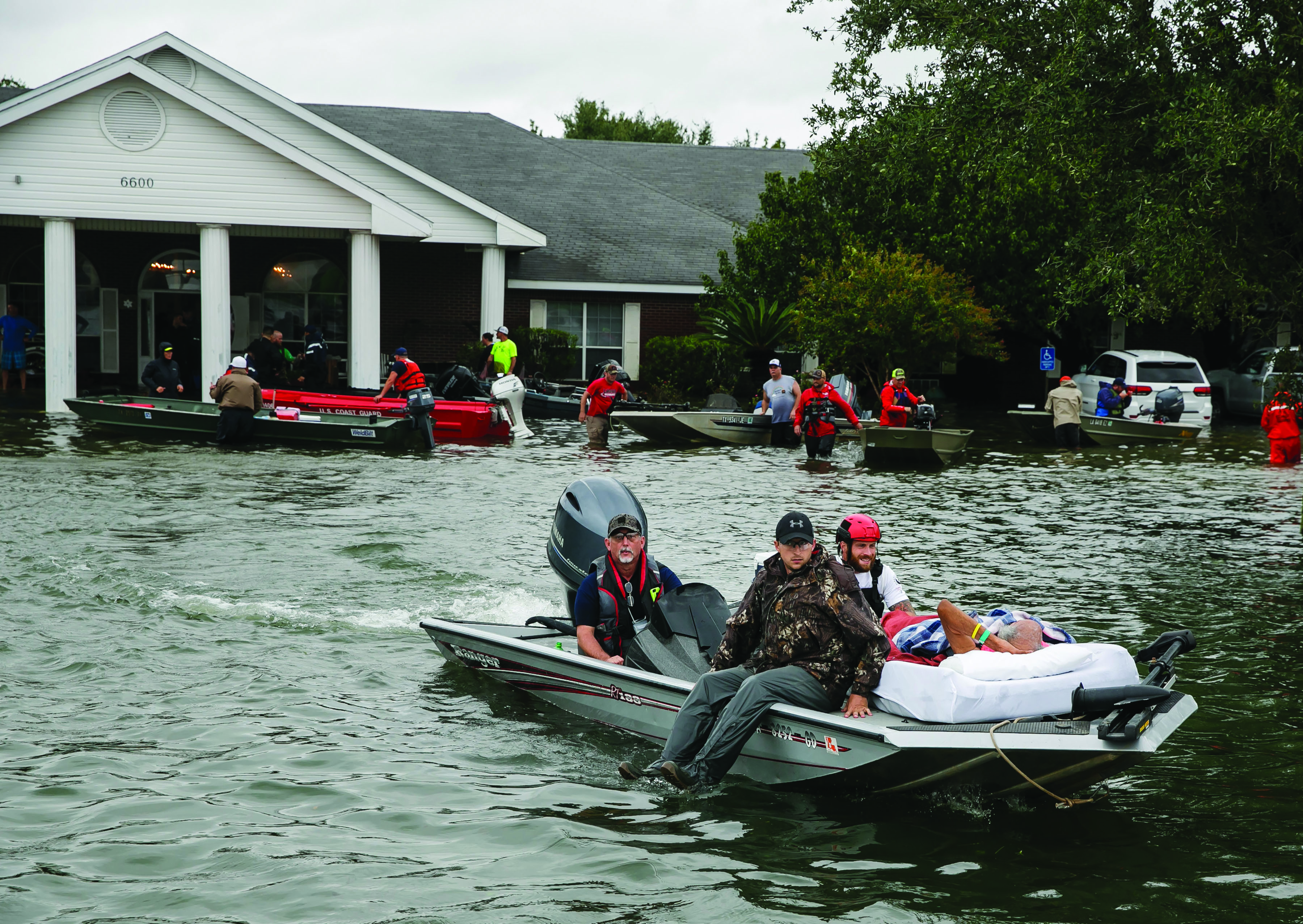 Devastation: Volunteers rescue patients from a Cypress Glen nursing home engulfed in floodwater in Port Arthur, Texas. The Cameron University Aggie Club and the Eta Omicron Chapter of Kappa Alpha Phi fraternity collected donations like hygiene products and sent them to Hurricane Harvey victims in Houston.
Drue Watkins
Staff Writer
In late August, Hurricane Harvey carved a path of destruction through Texas, affecting millions of people. But their cries for help have not gone unnoticed, garnering national attention and support, including that of Cameron University.
At the forefront of Cameron support for victims of the hurricane were The Cameron University Aggie Club and the Eta Omicron Chapter of Kappa Alpha Phi fraternity. The two groups focused on gathering and sending donations to the Houston area in loaded-down vehicles.
Donations included supplies such as hygiene products and basic clothing.
A prime organizer of the donation event and a member of the CU Aggie Club, Cameron student Haley Berry said everyone who donated has done a lot of good.
"The ultimate goal was to just feel like we've made an impact and accomplish helping those in need," Berry said.
Given the scope of the destruction, Berry said no act of kindness was too generous.
"To see the devastation, the families involved… it's much bigger than us," Berry said.
The donation organizer for Cameron's Kappa Alpha Phi chapter, Dominic Mucker, said it is a national responsibility to provide hope.
"Nobody wants to be stranded alone," Mucker said. "We, as a society, as a country, need to pull together and show love. This is a great way to do that."
Berry said, originally, the CU Aggie Club organized donations internally.
"We were posting on our Facebook page," Berry said. "But then it blew up, and we started getting contacted from all kinds of people— campus officials, other students, people from the community."
Mucker said it was incredible to see people from all walks of life contributing.
"People just want to help," Mucker said. "To see the state of our country with all its divisiveness, you know, but have stuff like this going on. It's just really good to see."
Berry said the hurricane hit close to home because her cousin lives near where the hurricane made landfall.
"She lives in the College Station Area," Berry said, "and I can tell you, I was praying a lot."
Rucker said he hopes Cameron and the Lawton community can lead by example.
"I think this is extremely impactful," Rucker said. "You know, we're a small university in a small city, and if we can do something like this, maybe it can inspire others, too. This is how you accomplish great things."
Berry said Cameron's contribution puts the school on the map as a giving, helping university.
"You know, most people say, 'Cameron University, where's that?'" Berry said. "Well, maybe now they can see."
You may also like...