Cameron Hosts Speech Camp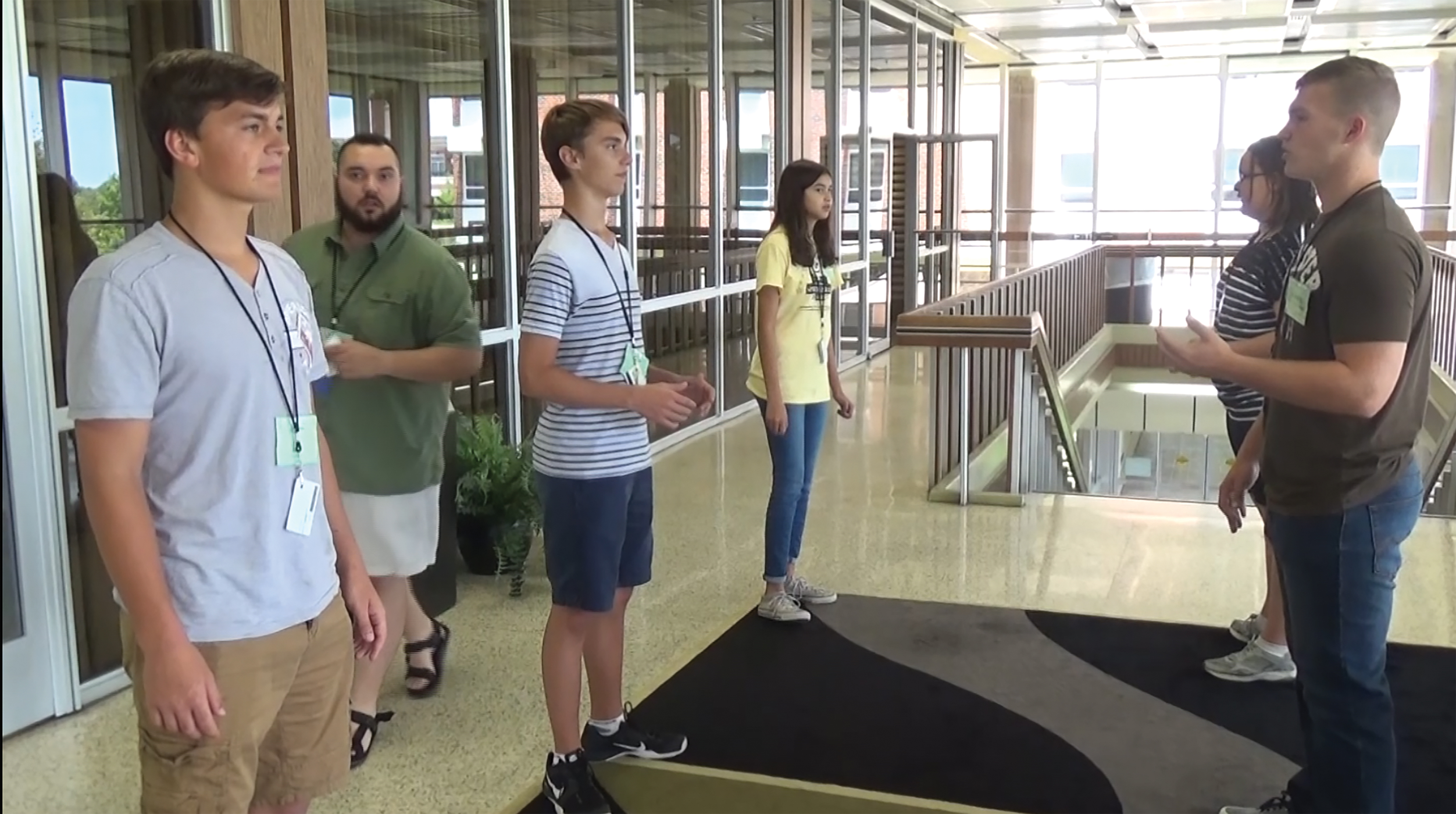 Stand and Be Heard: Camp attendees line up to present their speeches simultaneously while their coach encourages them to stay focused and maintain propure posture. Camp activities focused on strengthening students' speaking abilities and making them more competitive in speech tournaments.
Robert King
A&E Editor
@wckdrjtk
Cameron University's Communication Department and Forensics Team hosted their 43rd annual speech camp this past July, a year after the camp was cancelled in 2016. A total of one-hundred-and-fifty high school students attended.
Speech Camp is for junior high and high school students who compete in speech and debate competitions. Students in grades 6-12 come to the camp each summer to prepare for the upcoming competition year.
The concept of a speech camp is similar to an athletic camp. Students come to practice their crafts ahead of the upcoming season. Students arrive at camp in a variety of divisions such as individual events, congress and public forum debates.
Speech Camp in 2016 was cancelled due to budget cuts and cost increases. The cost of housing increased significantly. The price of the camp registration increased by $100, making it financially difficult for some students to attend camp. Due to the budget cuts schools in Oklahoma and Kansas could not pay for students to attend.
Director of Forensics and Speech Camp Sarah Collins said that with all of the budget cuts and increases there weren't enough students enrolled for the summer 2016 camp to occur without Cameron losing money. There are significant costs to hosting a residential camp such as housing, meal plans and materials, among other costs. Registration fees that students and their families pay to attend camp cover these fees.
For the camp to be held again in 2017, Collins and the administration worked really hard to develop ways to make a smaller population of students work.
Collins said that there were many places that were able to be cut in order to make another camp possible.
"We made some big changes to camp staff," she said. "We changed the number of people we hire for the camp, and some payroll details. We also advertised pretty hard, we started a little earlier then we usually do."
Collins said she is the one who organizes and plans each camp, which usually starts in the late autumn, when recruitment materials such as flyers are developed and sent out to high schools.
Collins also added that she makes all of the staffing decisions, as well as organizes the schedules, directories, and gets curriculum materials ready for attendees and coaches.
The biggest days for the camp staff is registration day, getting everyone checked in and settled into the dorms.
Once camp starts, Collins helps with the activities on the administrative side.
"The high school speech coaches come in and handle the actual curriculum," she said. "They get to do all the fun stuff, and I do the paperwork. Whenever they need things I step in and help."
Forty-five years ago, Tony Allison started speech camp at Cameron. The camp met a need for Oklahoma, Kansas and Texas students who wanted speech and debate, but did not have the resources nor the coaches.
Collins said that speech camp is the reason why she is in the speech and debate field.
"I went to the camp as a sophomore in high school," she said. "It really opened my world to advocacy and being able to speak confidently. I think it serves a good purpose for people who compete in speech and debate."
Tags CU NewsRobert King
You may also like...