Aggies Sweep USAO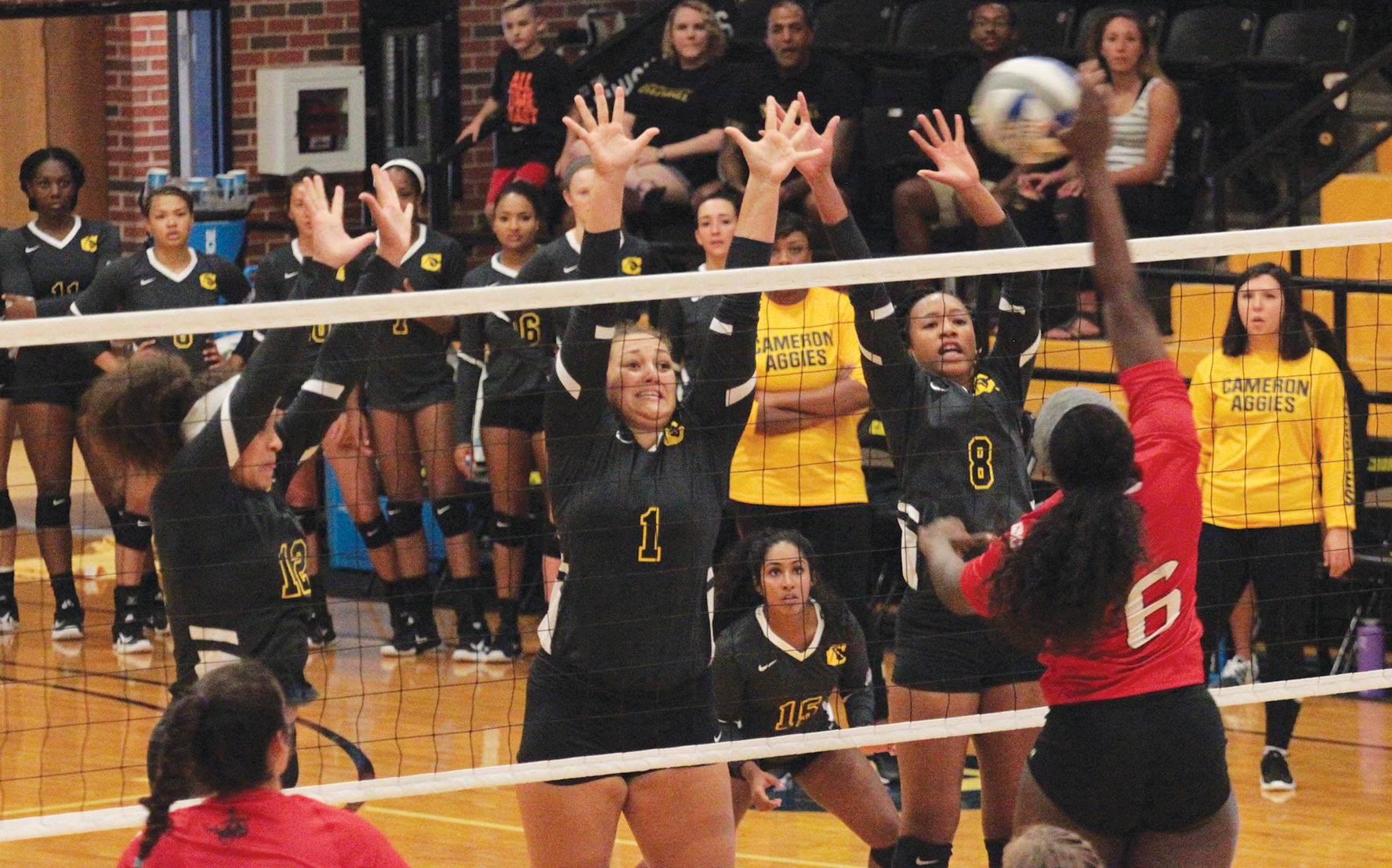 Juniors Bristol Lewis, Ashleigh McFatridge and Paige Dixon go for a block during a scrimmage in the Aggie Gym.
Krista Pylant
Sports Editor
@KristaPylant8
The Cameron volleyball team opened their home season with a 3-0 (25-5, 25-20, 25-22) victory over the University of Science and Arts to snap a four game skid on Sept. 12 in the Aggie Gym.
The Aggie's win brought CU to a 2-5 overall record before heading into Lone Star Conference, while USAO dropped to 1-6 overall.
Head coach Tatiana Booth said the win gave the Aggies a great confidence boost ahead of their LSC matches with West Texas A&M and UT Permian Basin.
"We definitely needed a win to get us back on the swing," Booth said. "I'm excited for conference and to see what we're going to do. Hopefully that win just keeps us rolling into strong league play."
Junior Paige Dixon led the Aggies offensively with 13 kills and said the match showed CU where they are at ahead of the weekend.
"We saw some things to work on going into conference, but I think this win will kind of push us and give us some momentum," Dixon said. "It's a good win, but we still have to come in and work on some things before we head off to Canyon [Texas].
Other statistical leaders included junior Brittany Lawson with nine kills and junior Ashleigh McFatridge with six kills and four total blocks.
Juniors Brandy Cafrr and Hailee Faustner assisted with two of those blocks.
Senior Brook Conley had a match high 22 assists and three aces but was four digs shy of achieving her fourth double-double in a row as she had just six digs.
Junior Britnee Altic also pitched in three aces paired with a team high 15 digs.
As a team, the Aggies hit .296, and USAO recorded a .060 attack percentage.
CU powered 15 more kills than the Drovers and also had eight team aces and seven total blocks while holding USAO to just one a piece.
Cameron controlled the first set as the Aggies posted a 25-5 win that included a 13-point run to close out the set.
USAO only knocked down one kill in the opening set while Cameron recorded nine and a .400 attack percentage.
The Drovers fared better in sets two and three, gaining the lead several times but never leading by more than three points.
After the Aggies posted a 25-20 set two win, the Drovers almost prevented the sweep late in set three as they tied the Aggies 22-all.
However, an attack error and two CU kills proved to be the Drovers' downfall marking their fifth loss is straight sets this season.
Senior Dana Stepankova led the Drovers with 11 kills, sophomore Olivia Seng with 20 assists and senior Lianna Guarjardo with ten digs.
Lawton native Passionett Breedlove added a kill and a solo block for the Drovers.
Next, Cameron will match-up with West Texas A&M and UT Permian Basin on the road beginning Sept. 15-16 to start LSC action.
It will be the Aggies' eighth overall meeting with the UTPB Falcons and 41st historical meeting with the WTAMU Lady Buffs.
Following the pair of road matches, the Aggies will return back to Lawton for a six match home stand starting with Eastern New Mexico.
You may also like...