Aggie Rec Center Offers Free Workout Classes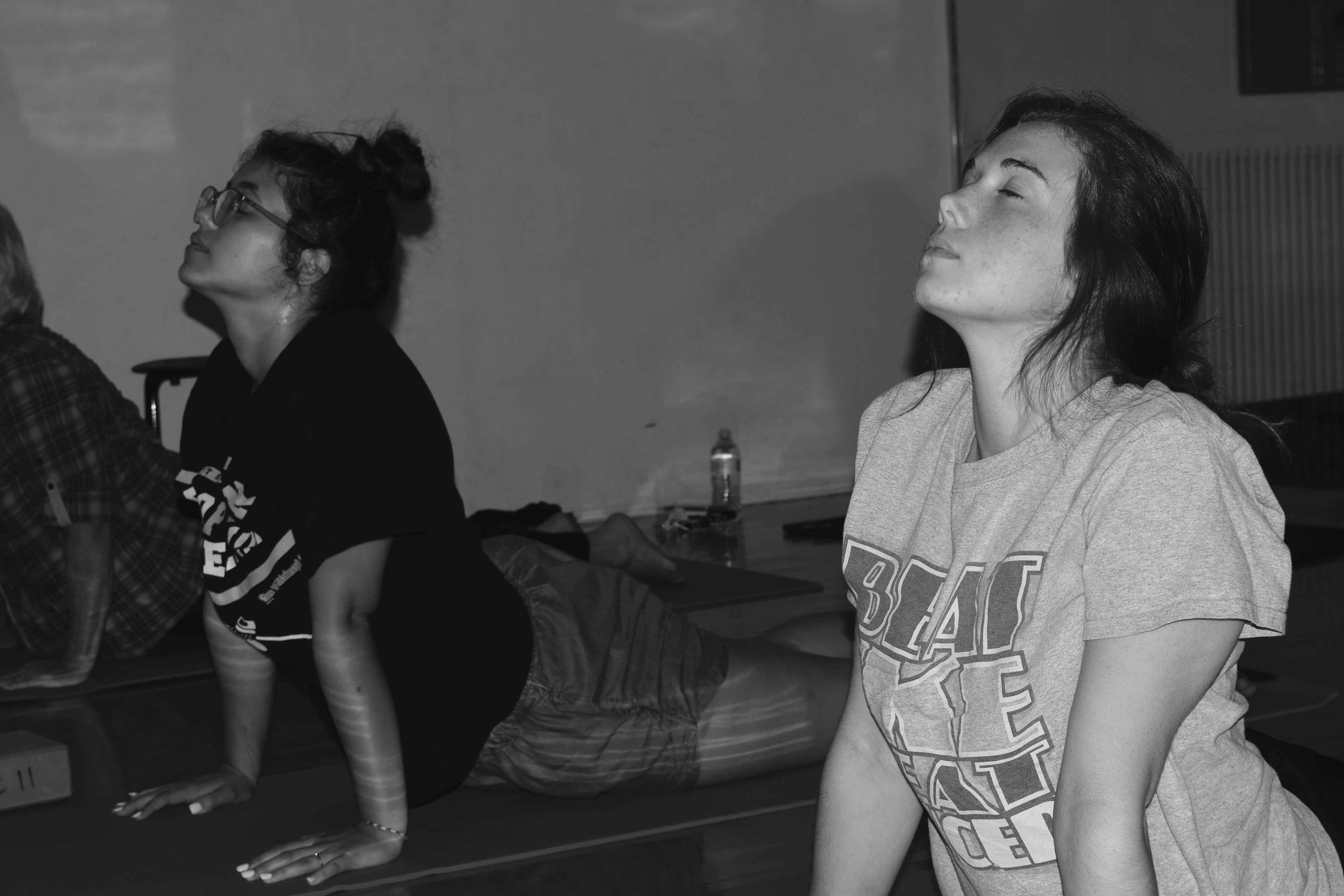 Namaste: Freshman Aisha Valle Quinones and Freshman Ashley Urbanski posing in the Cobra during "Yoga with Suzy."
Sarae Ticeahkie
Student Life Editor
@SylviaSpeaks
The Aggie Rec Center provides free workout services to Cameron students, professors and alumni. College classes can keep students busy, so the Rec Center offers many workout sessions at different times during the week.
Aggie Rec Center Instructor Suzy May said her Yoga class provides emotional, spiritual and physical strength.
"The class is designed to help individuals build calmness and learn to meditate," May said, "giving the body the ability to release stress."
May teaches a few classes throughout the week to help students develop feelings of well-being and openness.
"Yoga is a wonderful way to give a healthy gift to your body," May said.
Yoga takes place in the third racket-ball court and requires a yoga mat and block, which is provided by the Aggie Rec Center front desk in exchange for a Cameron ID.
May said prospective students should dress comfortably and remember to leave the world behind at the door.
"You don't know what's going on people's life," May said. "That's the goal, to empower them, to leave the world behind in a healthy way."
May also teaches a Spin class to help students improve their cardiovascular endurance through intervals of cardiovascular training on a stationary bicycle.
The class takes place at 9 a.m., Monday and Wednesday, at racket ball court one and begins with stretching exercises before and after the workout on the bicycle.
May said students are encouraged to pace themselves and work at a level they are comfortable with.
If students are wanting to get a similar, low-impact work out, then May said they should give Deep Water Aerobics a shot.
"Students normally don't hurt after the work out," May said. "The class emotionally makes you feel better".
May offers Deep Water Aerobics at 11:15 a.m. on Mondays and Wednesdays and said it is a good place to start if participants are just beginning their workouts.
"Water Aerobics is suggested for diabetes patients, people with any injury to the body or someone who is just looking to lose a few pounds" May said.
Students can wear comfortable clothing or bathing suits, and the Rec Center provides water noodles for students to use during the work out process.
No swim lessons are required for the class, and students can begin in the shallow end of the pool.
May was also excited to announce a new Interval and Cardio class at 4 p.m. on Tuesdays and Thursdays in racket ball court three. The class focuses on cardio, strengthening the body and overall health.
"Get your workout done in record time and build strength," May said, "by increasing cardio capacity with intervals of combined weights and cardio."
You may also like...