Whitman Cobb Releases New Book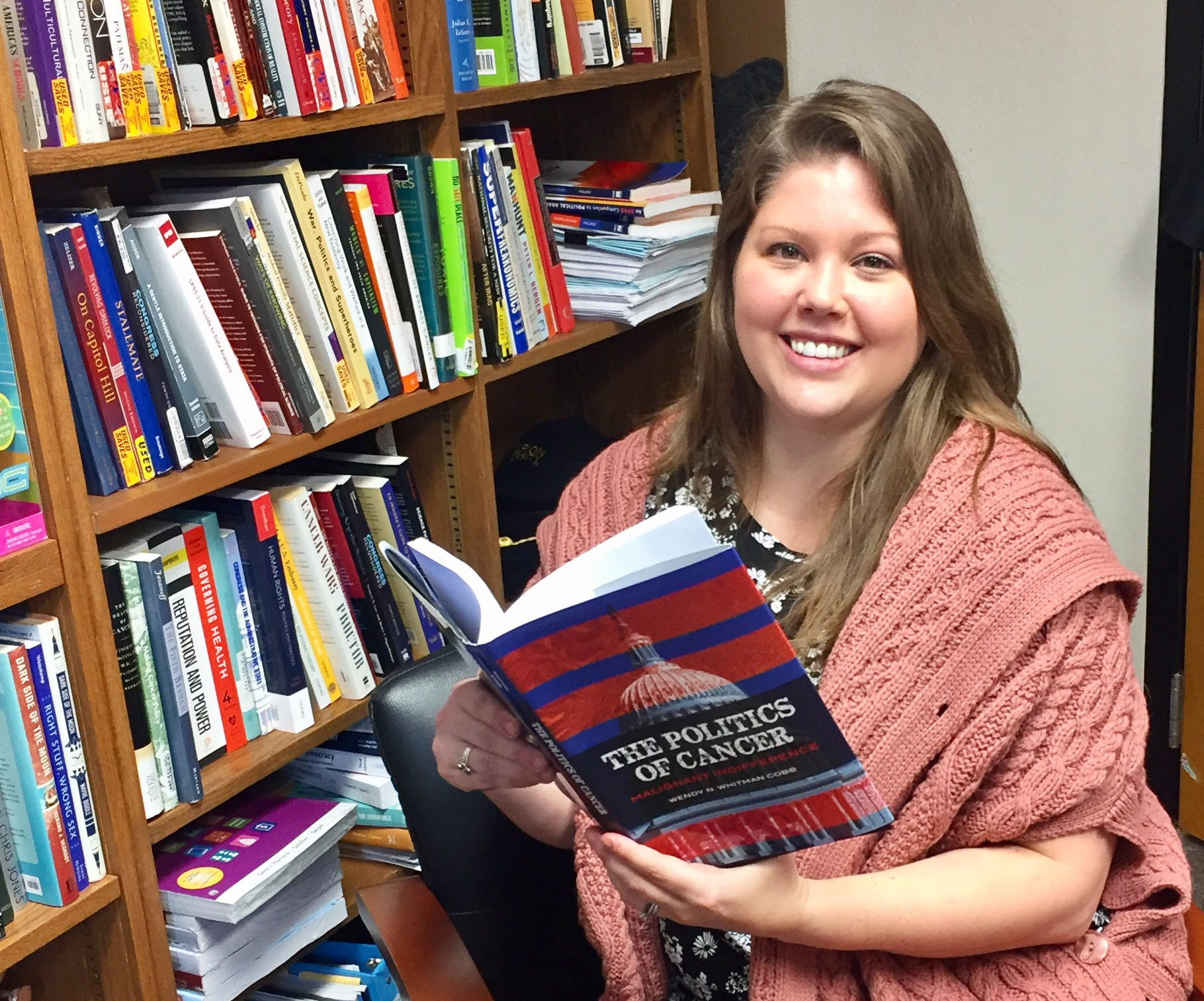 "Malignant Indifference": Assistant Professor of Political Science Dr. Wendy Whitman Cobb shows off her new book "The Politics of Cancer." In it, she analyzed the relationship between science and politics from social, scientific and economic lenses and how legislation has affected the fight against the disease.
Vicky Smith
Staff Writer
Assistant Professor of Political Science Dr. Wendy Whitman Cobb has written a new book on the ways government addresses cancer policy.
Publisher Praeger released "The Politics of Cancer: Malignant Indifference" in March of this year. It addresses such things as President Richard Nixon 1971 signing of the National Cancer Act and other similar policies enacted throughout the years.
Whitman Cobb said inspiration for her book partially stems from her father's battle with cancer.
"He was first diagnosed with kidney cancer in 2005," she said. "He had one of his kidneys removed and, at the time, was declared cancer-free. About three years ago, we found out the cancer had returned – that it had spread."
Today, her father is living what she says is a "very normal and full life" after oncologists found a clinical trial that proved successful, with the treatment reducing the size of his tumors by 50 percent.
"He works two full time jobs, just got a new puppy [and] hangs out with his granddaughter, my niece, all the time," she said.
In "The Politics of Cancer," Whitman Cobb analyzed various aspects of the relationship between politics and science, including social, scientific and economics elements, as well as the actions that the president, Congress, bureaucracies and interest groups take.
"Since I'm a political scientist, that's the perspective I came at it from," she said. "The argument I put forward is that because it takes so much from such different perspectives to fight cancer, it's very hard for the government to actually make a coherent, comprehensive cancer policy."
One example she gave of policy-related challenge pertained to the Environmental Protection Agency's (EPA) responsibility to ensure the environment remains free of cancer-causing substances like pesticides and harmful chemicals.
"[The EPA is] in the process of making regulations," she said, "and yet a lot of Republicans, including the current Trump Administration, are very anti-regulation. Reducing regulations like the Trump Administration wants to do could actually cause an increase in the number of environmentally linked cancers."
Whitman Cobb also gave examples regarding the government's projected fund fund allotment to cancer research.
"Science, including the National Institute of Health [NIH], has not fared very well under the current Trump Administration," she said. "The Trump Administration has proposed cutting the NIH and the National Cancer Institute budget by a few billion dollars, which will have a severe impact on research for cancer and cancer treatments in this country."
However, she added that Congress members from numerous parties have expressed criticism toward the proposed budget because the hospitals and universities that the funds support are located in their home districts.
"[The projected cuts] would be blocked revenue and possibly blocked jobs in their home district," she said, "and that's really the last thing any member of Congress wants to come home and tell their constituents."
Whitman Cobb believed Americans should educate themselves about the vital relationship between politics and science, since this relationship affects resources available to combat cancer nationwide. She said she hopes readers learn about this concept and about the strong political factors involved in cancer policy.
"We should be more aware of these and actively advocating on behalf of the science and behalf of this public health outcome," she said.
For this reason in part, she will be at the March for Science on April 22 at the Oklahoma State Capitol, a satellite of the national march in Washington, D.C.
"I don't usually get involved in politics," Whitman Cobb said. "I try to be a neutral observer, but I'll be attending the March for Science. I'll be marching for my dad."
For students who would like to make a difference at home, she said to start with an education about the impact politics makes on science in the United States.
"Beyond that, one of the best things anybody can do is simply call their congress [people] and say that they support funding for scientific biomedical research," she said.
"The Politics of Cancer: Malignant Indifference" is currently available on Amazon.com in hardcover and digital formats.
You may also like...