Trevino Performs with CU, Grade School Students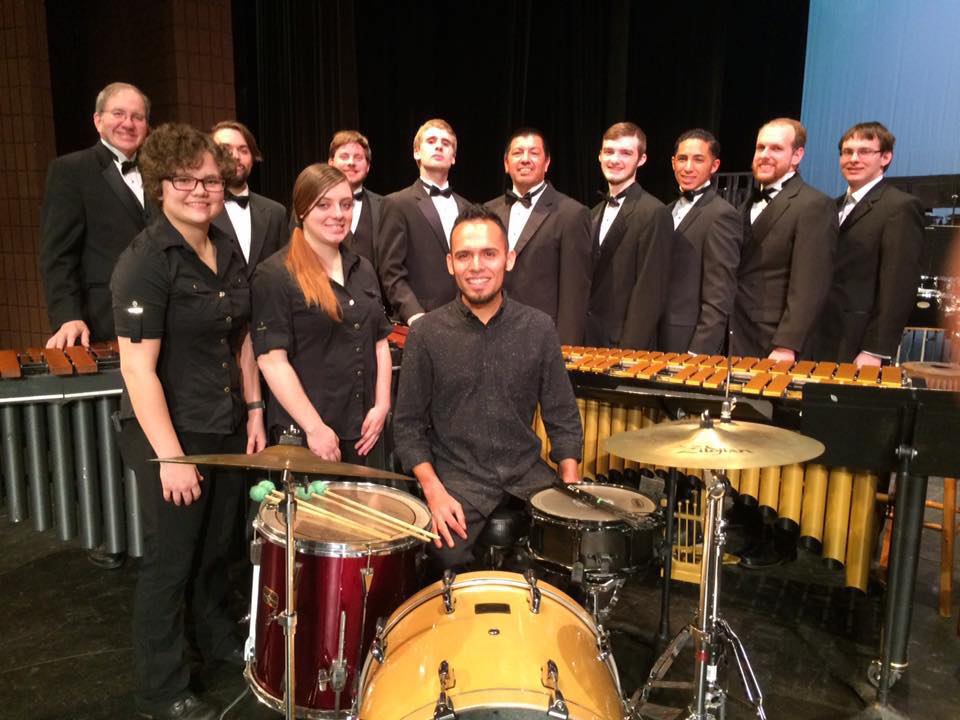 Vicky Smith
Staff Writer
Award-winning percussionist Ivan Trevino performed in two back-to-back concerts at Cameron University on March 30 and 31.
On Thursday, after more than 300 fourth and fifth graders from local elementary schools, including Freedom, Cleveland and Woodland Hills, performed a selection of Trevino's music in a children's concert at the University Theatre, Trevino rocked with the CU Percussion Ensemble.
The following night, Trevino starred as the featured guest performer at Cameron's New Music Festival in the McCutcheon Recital Hall.
The Cameron Lectures and Concerts Series funded the residency and performance of Trevino, whose music is world renowned.
Born in 1983 and a current resident of Austin, Texas, Trevino has headlined concerts across North America, South America and Asia.
James Lambert, professor of music and director of percussion, who studies at Cameron University, said Trevino arrived at Cameron University on Wednesday to rehearse with the students.
"He's very constructive and very engaging," Lambert said. "The students responded very well."
Lambert conducted the Percussion Ensemble, comprised of ten students, including Gus Echols, Jake Downing, Cheyenne Battiest, Paul Martin, Hesston Warden-Ivers, Malcolm Gehlbach, Peter Macias, Britnie Mendenhall, Tyler Pollock and Noah Polynice.
The students performed a selection of Trevino's pieces, including "Shared Space" and "PUNX," which is Trevino's play on the phrase "punk music" and a throwback to his high school days when he played on the drum set.
Lambert said his favorite Trevino piece is "Shared Space" because of its uniqueness.
"It engages so many textures with the minimal amount of instruments," Lambert said. "There's two instruments on stage: the vibraphone and the marimba, accompanied by cajón, which looks like a box. You strike it with your hands, and it sounds like a softer, muted drum set."
The percussion students also played other musicians' compositions, including Nathan Daughtrey's "Spiraling Young," Jesse Ayers' "Yobel," Lynn Glassock's "No Exit" and Pat Metheny's "It's Just Talk," arranged by Steve Houghton.
On Friday night, Dr. Gregory Hoepfner, professor of music at Cameron University, directed the New Music Festival, featuring Trevino as the guest musician once again.
Trevino lectured on the process he undergoes when composing music, as well as his ideas for each piece, and three students performed his work.
Gus Echols played "Anthem," both Echols and Jake Downing presented "2+1" and Britnie Mendenhall performed "Strive to Be Happy."
Lambert said during some downtime last week, Hoepfner took Trevino to the Wildlife Refuge, a place Trevino had never visited, and at the New Music Festival, Trevino shared his experience with the audience.
"He demonstrated on the piano how this (experience) might become a composition," Lambert said. "He had Gus Echols come up to the piano and improvise in the same style that Ivan Trevino had established on the piano. It gave a vivid demonstration of the process of how Ivan composes."
Lambert believes Trevino embodies a unique personality, which makes his music intriguing.
"Music is an outgrowth of the personality and the process of how a person hears and then improvises and then notates what they have heard," Lambert said, "much like examining perhaps a poet, who is inspired by an experience."
Lambert said he is overall pleased with the turnout of the concerts, which attracted a total of 400 to 500 people to the university, and he expressed his gratitude toward the Cameron Lectures and Concerts Series.
"This really enhanced all of the campus, (including) those who participated and those who came," he said. "We had many people who had come to the Thursday night event who also came again to the Friday night event."
To learn more about Trevino, visit ivandrums.com, and for more information about the CU Department of Music, visit cameron.edu/music.
Tags A&EVicky Smith
You may also like...