Smith, Abbott: Hall of Fame 2017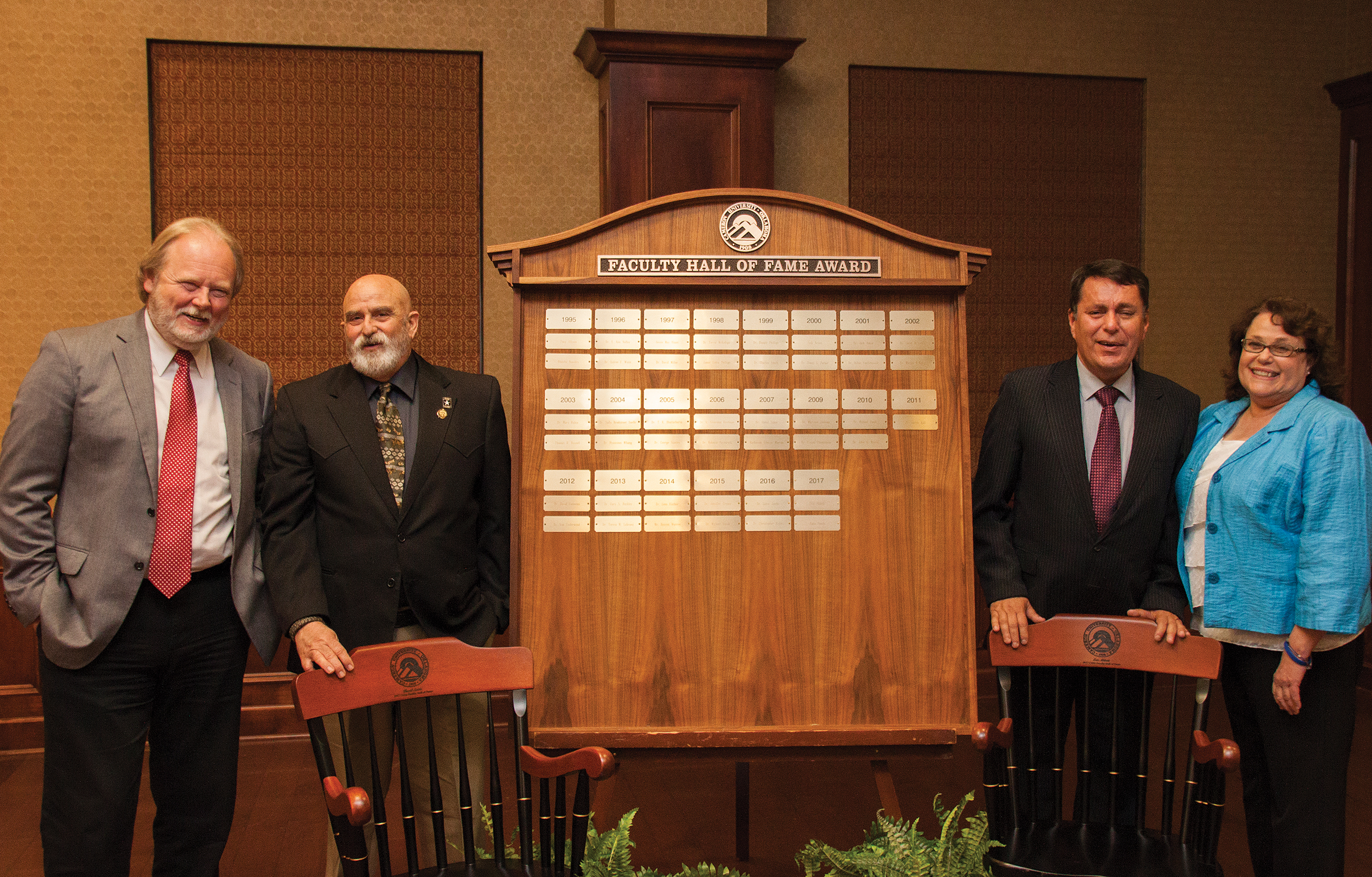 Hall of Famers: On April 11, the Alumni Association inducted two new members into its Faculty Hall of Fame. Alumni Association representatives Judge Emmit Tayloe (far left) and Rhonda Mahaffey (far right) stand next to instructor of Computing and Technology David Smith (inside left) and associate professor of Art, Music, and Theatre Arts Eric Abbot (inner right) around the Faculty Hall of Fame plaque.
Cheyenne Cole
A&E Editor
@cheyenneccole
The Cameron University Alumni Association inducted two new members to the CU Faculty Hall of Fame on April 11.
The association recognized Associate Professor of Art, Music and Theatre Arts Eric Abbott and Instructor of Computing and Technology David Smith for their dedication to students and the community.
According to Abbott's nominator, Abbott's sincere concern for every student is what made him an eligible candidate for the Hall of Fame.
Abbott, now in his eighth year of teaching at CU, said he found his passion for the theatre arts, particularly costume and makeup design, early in life.
During his graduate school assistantship at the University of Nebraska-Lincoln, teaching became a passion for Abbott when he realized how fulfilling it was to share his passion with others.
"I'm sharing something I love with other people who love it and want to know it," he said. "That's the cool thing about college – people want to be there."
As a professor, Abbott said he likes the fact that his job is not static. It gives him the opportunity to fulfill various roles, including teacher, supervisor, costume, makeup or scenic designer and more.
"My job is never the same," he said. "It's constantly changing and morphing. It plays to all of my interests."
He recently served as the costume designer for the Department of Art, Music and Theatre Art's production of "South Pacific" but often supervises students who want first-hand experience designing a play.
According to Abbott, his teaching methods are informed by reading and discussing with his colleagues how to better get students to take an interest in class.
"I try to make the class fun and interesting," he said, "because studies have shown that if people enjoy themselves, they tend to learn more."
In addition, Abbott sponsors Alpha Psi Omega (the National Theatre Honor Society) and the CU Society for Creative Anachronism (CUSCA), the medieval and renaissance club, and serves on the Lawton Arts and Humanities Council.
The individual who nominated Smith cited the instructor's willingness to help his students and accommodating open-door policy.
To ensure students grasp lesson material, Smith employs this open-door policy at his office, providing his students with the opportunity for one-on-one meetings and extra help.
Smith said this method is important because he's not only at Cameron to give a grade but to impart knowledge to students who should absorb as much from him as possible.
"If we can't make something work [individually]," he said, "we'll work on it together until we get it to work."
After 16 years of teaching at CU, Smith finds that watching former students succeed is one of the most rewarding aspects of the job.
"I love to be able to say, 'That's my student,'" he said. "I had a little hand in that [their success]. They [the students] had a lot of hand in that [their success] because I'm just a facilitator. They're the real reason that they're there. It was their drive – their determination to get somewhere."
Recently, Smith's interdisciplinary capstone course in which students develop software for local clients received attention in the community. This semester, the client is the United States Department of Defense at Fort Sill, familiar territory for Smith, a retired Commissioned Officer of the U.S. Army.
Smith said the course provides great experience for the students enrolled in the course.
"It is a hugely important thing for them to put on their résumé," he said. "It really is, and it's always exciting to watch them work."
Current and retired CU staff are eligible for the Faculty Hall of Fame. Submissions are accepted year-round at www.cameron.edu/facultyhalloffame
You may also like...