Sigma Tau Delta Awards, Inducts Members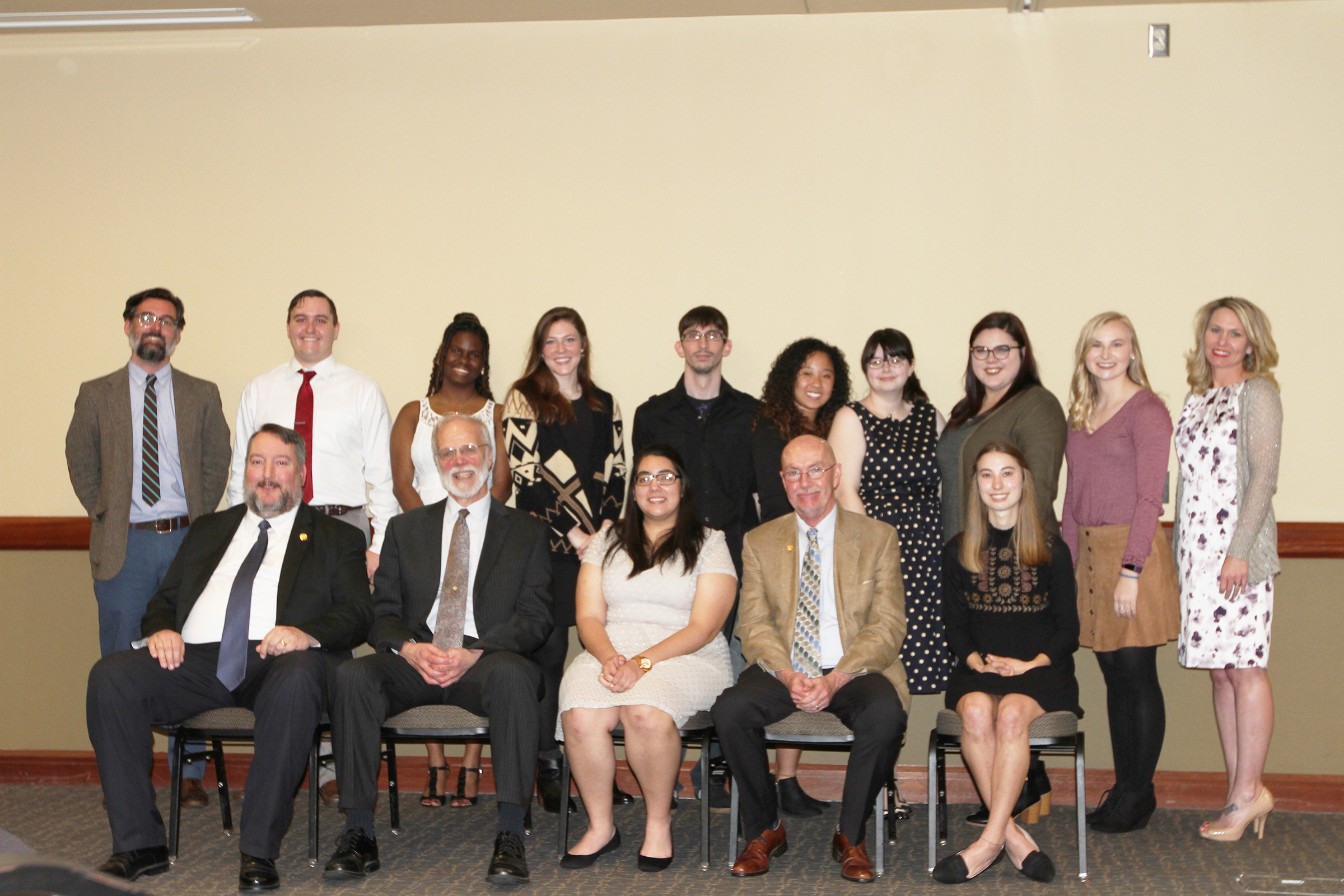 Honorable Composition: Award-winning members of the English honor society Sigma Tau Delta pose with their professors at the English Awards Banquet held 6:30 p.m. April 1 in the CETES Conference Center. The night included presentation of awards and scholarships, induction of new members and a poetry reading.
Cheyenne Cole
A&E Editor
@cheyenneccole
The Cameron English and Foreign Languages Department hosted their annual English Awards Banquet at 6:30 p.m. on April 1 in the CETES Conference Center.
English and Foreign Language faculty members presented students with various awards and scholarships, including the Leigh Holmes Prize for Creative Nonfiction, the Dr. John G. Morris Poetry Prize, the Lawton Shakespeare Club Award and English Scholarship, the Geraldine Burns Award and the Jessie Mae Hines Language Arts Scholarship.
Sigma Tau Delta, Cameron's English Honor Society, also inducted 15 new members and announced its 2017-2018 academic year officers.
Associate Professor of English and Foreign Languages Dr. William Carney, who is also the Director of Freshman Composition and the Sigma Tau Delta adviser, said the event can be inspiring to underclassmen.
"If you're a sophomore," he said, "and you see other people winning awards, our hope is, and this has been born out, that you'll try harder. Hopefully, you'll be able to see yourself winning it next year."
The honor society recently earned five-star organization status through performing community service and hosting various English-related events, such as poetry and prose readings.
Carney said Sigma Tau Delta also serves to connect English majors who are reserved or don't live on campus.
"Sigma Tau Delta gives our majors the opportunity to get to know people outside of class a little bit more," he said. "It creates a sense of camaraderie with our majors [who] can at times be a little bit introverted, and it gives them kind of a safe place to have fun with people."
Professor of English and Foreign Languages John Morris presented three students with the Dr. John G. Morris Poetry Prize, created in honor of Morris' late mother.
Senior communication major Sav Price won first prize for their poem, "Mi Hermano."
Price said they were honored and excited to accept the award from a Morris, a professor who has helped them in various ways.
"Dr. Morris has been such an influential power in my life in terms of poetry," Price said. "He was the first person to really believe in me, so it was a really humbling moment when he announced that I'd won."
Price said they felt pleased to read the award-winning poem aloud to the audience at the banquet.
"It was a really good feeling," Price said. "I got to read something that I created and could be proud of to a room of people who love literature."
Current President of Sigma Tau Delta Zoie Timothy inducted junior English literature major Jessica Allmon as the club's president for the 2017-2018 academic year.
Allmon said she joined the organization at the beginning of the fall 2016 semester to interact with people who shared her passion for English.
"Being involved in a group that their entire goal was to promote something I love seemed like a no-brainer," she said.
Since joining Sigma Tau Delta, Allmon said she has felt a deeper connection to her English classmates.
"I knew most of the people I had class with," she said, "but we didn't talk or anything, and suddenly we're going to meetings and showing up at events and sitting at bake sales together. It really helps you make friends and stay connected."
Allmon was excited to take on her role as president of Sigma Tau Delta.
"One of my big goals is one of my favorite charity events every year," she said. "Project for Awesome – and we attempted to do that this year. It was a little bit of a late notice, and we didn't get to be involved in it, but I hope that's something we do in the fall."
Like Cameron University's Department of English and Foreign Languages Facebook page for updates on department and Sigma Tau Delta events.
You may also like...