Sexual Assault Awareness: It's On Us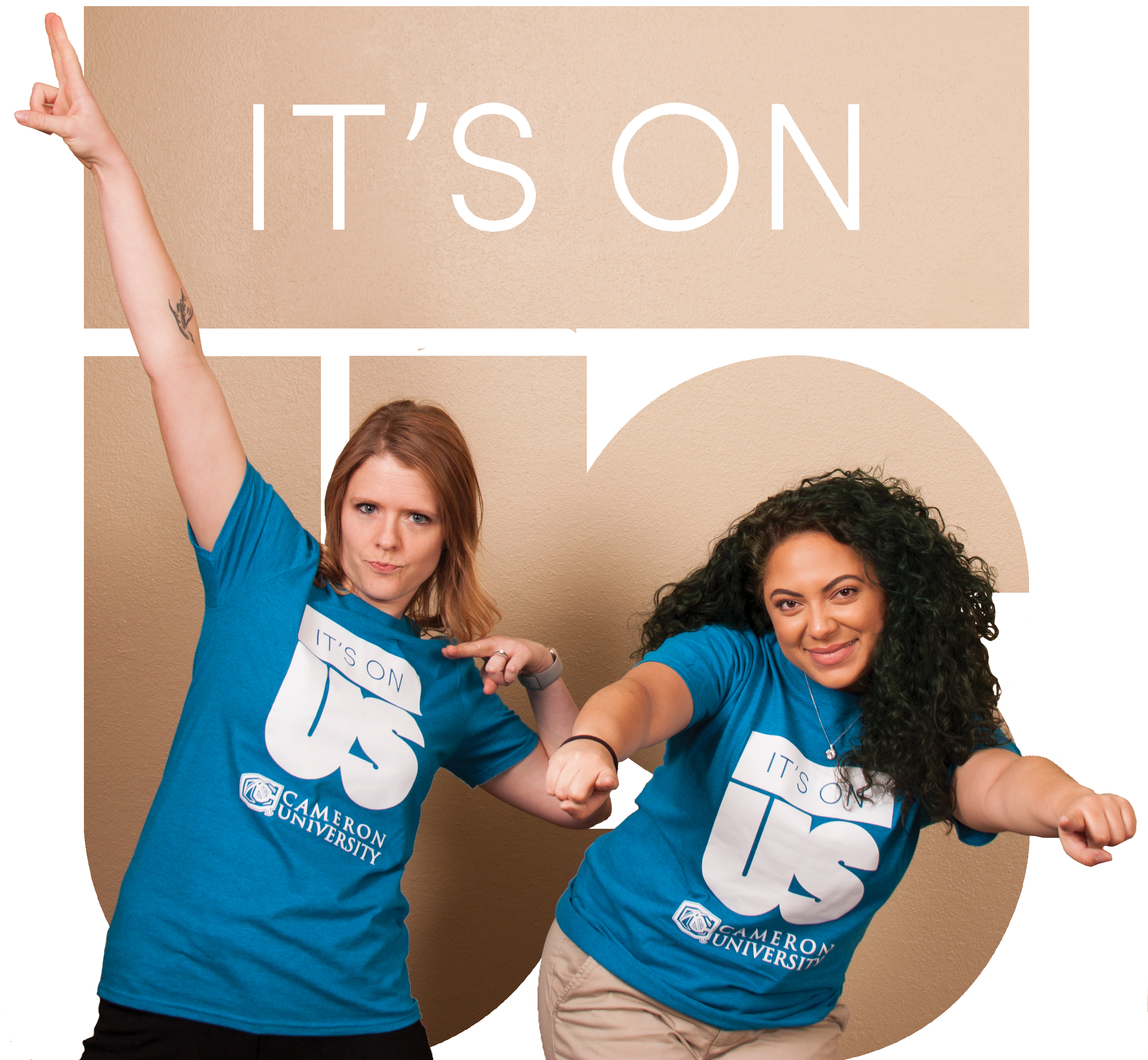 Cheyenne Cole
A&E Editor
@cheyenneccole
CU Student Services is participating in the It's On Us Campaign to end sexual assault on campus.
Cameron is working in partnership with the national It's On Us Campaign, with a slate of events taking place throughout April, nationally recognized as Sexual Assault Awareness and Prevention Month.
These programs are geared to educate students, staff and faculty about preventing sexual assault against all genders. Over the course of three weeks, each event will focus on a different aspect of sexual assault prevention.
According to the CU campaign's website, It's On Us promotes a prevention mindset regarding sexual harassment, assault and gender-based violence on campus while increasing awareness and encouraging reporting of and responding to such cases.
The first week emphasized sexual assault awareness, while week two stressed education in terms of consent and maintaining safety in relationships and when going out. The third and final week of the campaign will focus on taking action by being an active bystander during a sexual assault.
Cameron's Title IX Office works throughout the year to prevent sexual assault and provide resources for victims. Inclusion and Student Success Coordinator Olivia Polynice said she and Director of Student Housing Katie Hubbard wanted to team up to spotlight the subject in a bigger way and planned the campaign together.
"We felt that it was very important to have new programming for sexual assault," Polynice said. "We did a lot of research, went to a conference and have been planning this for the entire school year. We wanted something that would be more than just making our campus aware of it."
The Clery Act requires colleges and universities to disclose campus crime data. According to the National Sexual Violence Resource Center, sexual assault is pervasive on college campuses, with one in five women and one in 16 men experiencing sexual assault while in college.
However, 90 percent of these victims do not report the assault.
Polynice said the most effective way to lower campus sexual assault statistics is to employ the campaign's unique and effective "hold bystanders accountable" method, which encourages people to get involved when they see someone being sexually assaulted.
"By holding people and bystanders accountable," Polynice said, "we're taking away this sort of cold statistic and making it more personal. It's easier to be moved by something when you can make it personal."
Hubbard agrees that bystander intervention is key in preventing sexual assault.
"Our societie's problem with sexual assault exists because, for so long, people were not held accountable, called out for doing wrong, told that they were wrong or trained on how to intervene," Hubbard said. "When we start doing that, the stats on sexual assault will begin to change."
Polynice said she and Hubbard recruited Cameron students, faculty and staff to recreate the famous It's On Us celebrity PSA video to invoke a more personal feeling.
"Katie and I want everyone to feel connected to the campaign," Polynice said. "So that's why on the posters you see on campus and the videos on the website, you won't see random actors or celebrities for this cause.
"You will see real students, staff and faculty on our campus, promoting this month because it is on us to make this campus and community a safe place to be."
The It's On Us Cameron University Campaign Rally will cap off the month of activities from 2-5 p.m. on April 20 in the Bentley Gardens. Students can participate in a lip-sync battle, take the It's On Us pledge to prevent sexual assault and listen to Dr. Kimberly Dickman from the U.S Air Force Academy speak about sexual assault prevention and response.
The Lawton-Fort Sill community is also encouraged to participate in the events.
According to Hubbard, the campaign goal is to promote a year-round dialogue at Cameron about sexual assault and produce students who can and will prevent the crime when they see it.
"Our hope in the rally and the pledge is to visually see our community take a stand," Hubbard said. "This speaks volumes to survivors. In addition, we hope to create some sustainability with this program [by] getting numbers of passionate students to become bystander trainers on campus. We want these conversations to not only happen in April."
For more information about the It's On Us Cameron University Campaign, go to www.cameron.edu/itsonusaggies.
You may also like...