Sextortion Roundtable: the Internet and Sexual Assault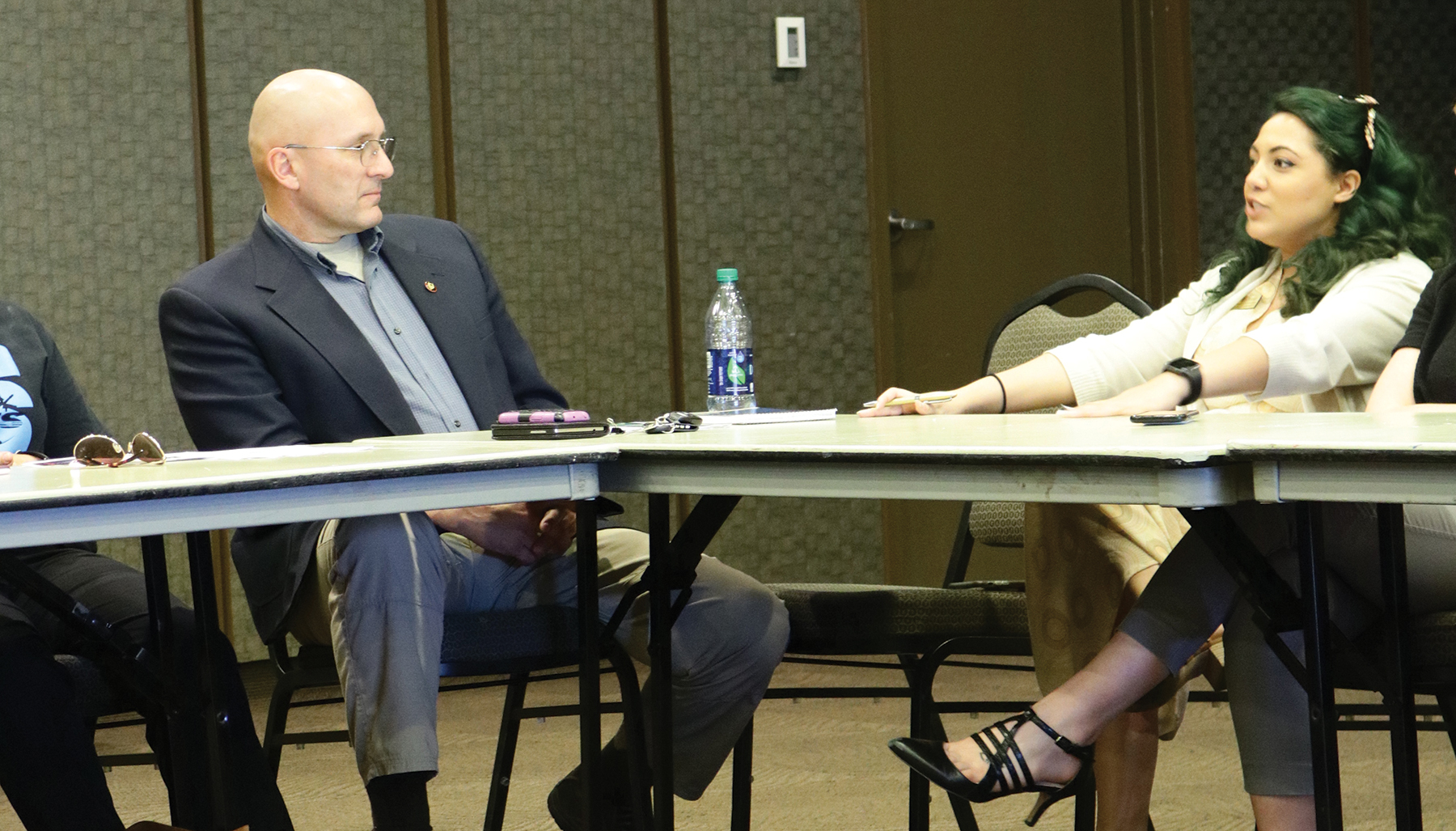 Social Media Presence: On April 10 in the Shepler Ballroom, as part of Sexual Assault Awareness month, Student Development and Student Housing hosted their Sextortion roundtable to discuss the underlying environment of social media that involves blackmail with sexual images and info.
Alexsis Page
Staff Writer
At 3:30 p.m. on April 10 in the Shepler Ballroom, Student Development and Student Housing hosted a Sextortion roundtable for an open discussion on sexual assault.
The workshop was part of Cameron's participation in the It's On Us campaign during April, which is Sexual Assault Awareness Month.
The It's On Us official website states that the program strives to recognize various types of sexual assault, to identify where these incidents may occur, to intervene when needed and to create an environment for prevention and survivors support.
Director of Student Housing Katie Hubbard and Inclusion and Student Success Coordinator Olivia Polynice organized the event and invited several guest speakers from the Sexual Harassment Assault Response Program (S.H.A.R.P) at Fort Sill.
Sextortion is a recently-coined term that occurred as a result of an increase in online interaction. It happens when a person uses sexual images or information as a form of cyber blackmail to extort a person in exchange for sexual favors, money or other valuables.
According to Hubbard, sextortion has a certain meaning for students in the context of sexual assault awareness.
"It's essentially talking about via social media," Hubbard said, "the Internet and how we in society tend to extort one another through sexual relationships, graphic pictures, or, you know, anything that goes online."
Polynice added it is important for students to have this information because they are close to going out in the real world.
"Our students here are the next generation," Polynice said, "so as much as we can do right now in such a formulaic time in students' lives to change the culture, it starts here."
The roundtable started with panelists discussing the many cases of sextortion they have witnessed or heard about during their time with S.H.A.R.P.
After that, they moved on to the reasons why men and women fall victim to the blackmail that comes with sextortion. Panelists mentioned that many college students are affected by sextortion even though most are unaware it is happening to them.
For men, blackmail can affect their careers. For women, it can lead to their bodies being shown around to the public and sometimes family members.
Students were able to ask questions as they arose while the panelist returned the favor by asking about the best way to give information to college students.
The panelists encouraged everyone to take action in ending sextortion.
There were a number of other events throughout April in conjunction to the campaign.
This year is the first that Cameron had events to spread the campaign's message. Organizers hope it will not be the last.
According to Polynice, the way for the campaign to be successful is if everyone gets involved.
"It takes us as a campus," Polynice said, "as students, faculty and staff to really change the culture on our campus."
To Hubbard, the campaign unites everyone to make a change for the future of Cameron.
"It's on all of us," Hubbard said, "to do whatever we can to make sure that this does not happen on our campus."
Tags Alexsis PageCU News
You may also like...