Setting Sail with 'South Pacific'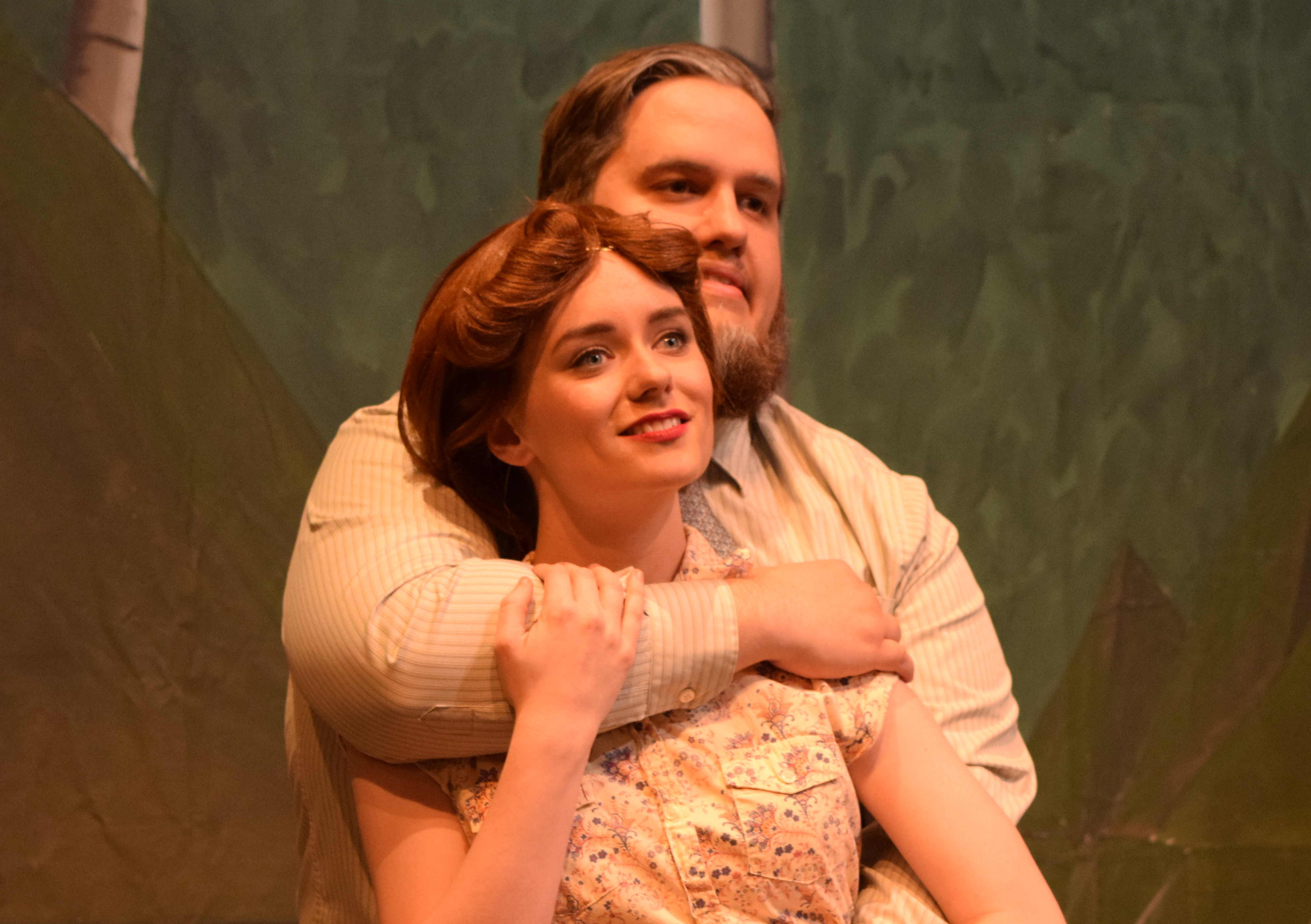 "Some Enchanted Evening": Emile (Kevin Slavin) serenades Nellie (Joy Christie) during photo call for CU's production of "South Pacific," debuting April 20.
Cheyenne Cole
A&E Editor
@cheyenneccole
Cameron University's Department of Art, Music and Theatre Arts is preparing for their final production of the semester, "South Pacific."
Based on a Pulitzer Prize-winning novel, the Rodgers and Hammerstein musical takes place on a South Pacific island during World War II and follows two intertwining love stories, each struggling to overcome prejudice.
Nurse Nellie Forbrush falls in love with French plantation owner Emile de Becque but struggles with the fact that he is the father of two mixed-race children.
A heartbroken de Becque departs on a dangerous espionage mission, while Nellie gets to know his children and begins to care for them.
However, she fears that Emile may not return from his mission.
The second story sees U.S. Marine Lieutenant Cable fall in love with a Tonkinese woman, but he hesitates to marry her out of his fear of social repercussions.
The musical includes several popular songs, such as "I'm Gonna Wash That Man Right Outa My Hair," "Some Enchanted Evening" and "There Is Nothing Like a Dame."
"South Pacific" director and Professor of Art, Music and Theatre Arts Scott Richard Klein said he is excited for audiences to see the finished product.
"It's been on my list for a long time," he said. "I like what it has to say about people and racism, so we finally pulled the trigger and decided to do it this year."
Freshman theatre performance major Joy Christie follows up her role as the title character in "Electra" with her portrayal of Nellie Forbush in "South Pacific."
Christie said as a Georgia native, it isn't difficult for her to become Nellie, a true southern belle and self-proclaimed "cockeyed optimist."
"I'm having to do a southern accent," she said. "Surprisingly, I don't have much of one, but it makes it easier because I've heard southern accents for most of my life"Nellie also goes through a wide variety of emotions throughout the show," Christie said, "all of which I can relate to."
According to Christie, as an actress, she experiences differences in preparing for a play versus preparing for a musical.
"For a musical," she said, "we have to have multiple rehearsals just for vocals and some just for choreography."
"Also, in musicals, the characters express their thoughts and feelings through songs, which means that the actors have to make the song they are singing just as believable and emotional as if they were speaking them."
CU students can watch "South Pacific" for free at 7:30 p.m. on April 20-22 and at 2 p.m. on April 23 in the University Theatre.
You may also like...