Ready to Rumble: Grading the Card from Wrestlemania 33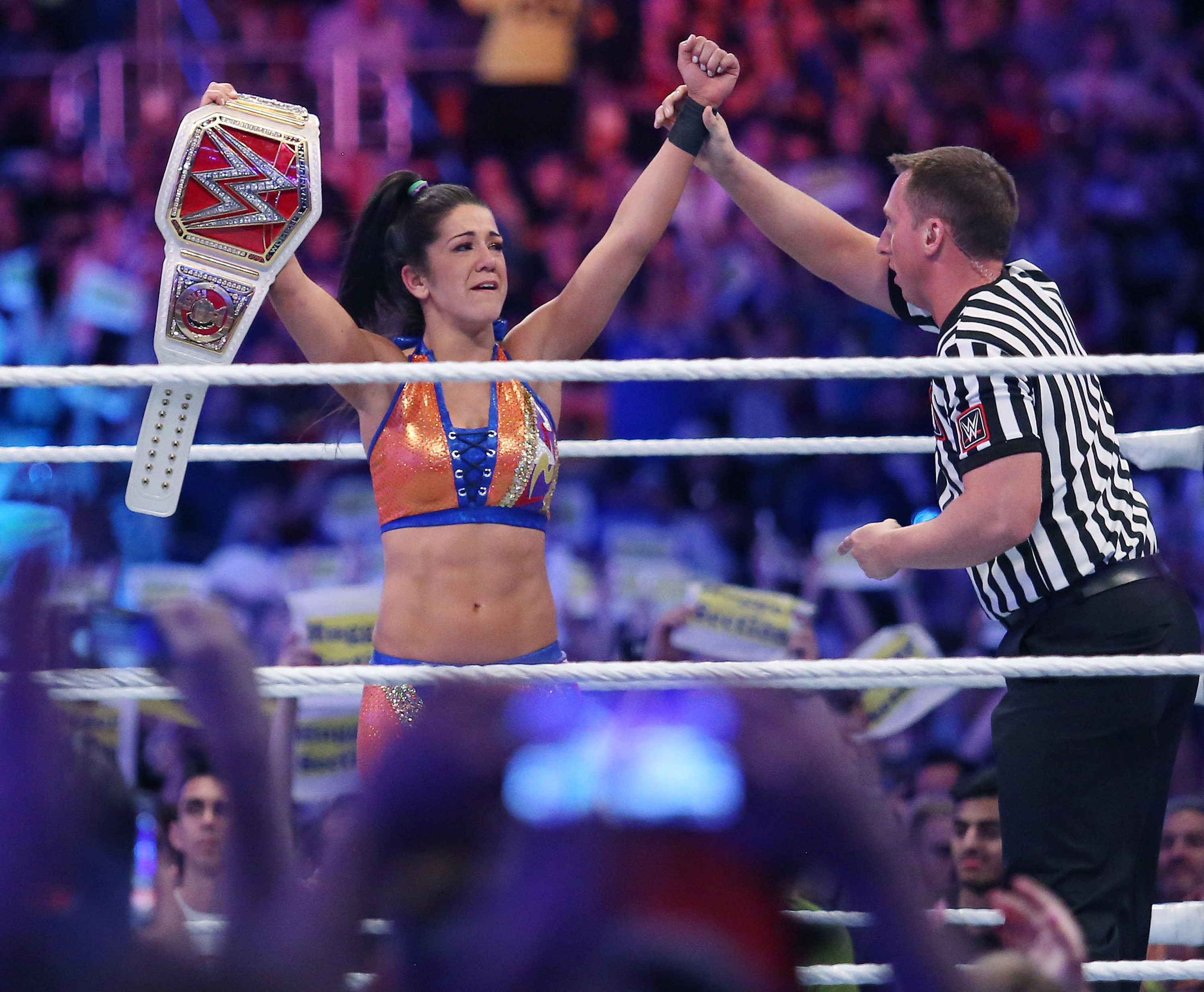 Bayley celebrates her win during WrestleMania 33 on Sunday, April 2, 2017 at Camping World Stadium in Orlando, Fla.
Jacob Jardel
Managing Editor
@JJardel_Writing
World Wrestling Entertainment (WWE) made its way to Orlando for Wrestlemania 33 on April 2 in the Citrus Bowl.
Former tag champions The New Day hosted the event in front of over 75,000 spectators and countless fans watching through pay-per-view and WWE Network.
Here is how the event turned out (spoilers ahead). Champions marked accordingly.
Neville (C) v. Austin Aries, Cruiserweight Title
The match featured great back and forth between the two, switching control on the ground and in the air seamlessly.
Both characters played their parts seamlessly, and the crowd loved it. The main downside was the somewhat cheap nature in which Neville reclaimed the title.
That said, this match was a great way to kick off the event. Grade: B+
Andre the Giant Memorial Battle Royal
This annual battle of massive proportions was exceedingly average.
Highlights included Dolph Ziggler's constant avoidance of elimination and a cameo from New England Patriot Rob Gronkowski that helped Mojo Rawley win the match, but the tournament was comparatively blah – especially with its anticlimactic use of the subplot between powerhouses Big Show and Braun Strowman.
Overall, though, the match was decent at best. Grade: C
Dean Ambrose (C) v. Baron Corbin, Intercontinental Title
The match featured champion Ambrose's signature breakneck style and Corbin's technical prowess and power. While not a bad match in terms of skill, the lack of energy and blase crowd reactions buried it into relative obscurity compared to other matches.
It goes to show how important chemistry can be, no matter the skill level. Grade: C-
Shane McMahon v. AJ Styles
Despite Styles' obvious dominance in the wrestling category, McMahon kept pace and gave the Phenomenal One a run for his money.
McMahon's freneticism and resiliency juxtaposed greatly with Styles' technical reliance, which shows how well the former could act and the latter could wrestle. But giving the win to Styles felt slightly cheap, given the flow of the match.
But that fact did not take away much from an otherwise great start. Grade: A-
Chris Jericho (C) v. Kevin Owens, United States Title
This battle between former best friends was a great finale to a fantastic rivalry. The two had great chemistry in the ring, and it showed throughout the match.
The ending was rather anticlimactic, though. Owens' match-winning apron powerbomb seemed like a letdown compared to the rest of the match and the rivalry. But that miscue was the only fault in an otherwise great match in-ring and in-story.
Hopefully, it starts a prominent title run for Owens. Grade: A-
Fatal 4-Way Elimination Match, Raw Women's Title
Raw Women's Champion Bayley made her 'Mania debut in major fashion, squaring off against Nia Jax, Charlotte Flair and Sasha Banks in one of the evening's best matches.
Though Jax dominated the first few moments, the other three competitors ganged up on her to eliminate the powerful Jax. When facing each other, the women's athleticism shone through in a great match with only one drawback: missed opportunities, namely the lack of an alluded-to blow-up of a Bayley-Banks friendship.
Otherwise, this match was a great showcase of a great women's division. Grade: A
Fatal 4-Way Tag Ladder Match, Raw Tag Team Titles
What started as a triple threat gave life to the biggest pop of the night: the surprise return of the Hardy Boyz to a raucous ovation from the Orlando crowd.
The duo showed why they made this match type famous, with fantastic stunts culminating in Jeff Hardy's Swanton Bomb from a ladder onto ladder-bound Sheamus and Cesaro. Matt Hardy eventually claimed the belts to take them away from champions Luke Gallows and Karl Anderson.
Hype or not, this match was a great push for the tag division on Raw. Grade: A
John Cena and Nikki Bella v. The Miz and Maryse
This match was underwhelming, to put it lightly.
The first half was Miz and Maryse doing heel things and hamming it up with taunts. The second half featured good back-and-forth that led to a somewhat rushed and very predictable ending. That said, Cena's proposal to Bella brought in a good bit of real-life sentiment to an otherwise heavily scripted event.
The story was great. The match? Not so much. Grade: C-
Seth Rollins v. Triple H
With great entrances come great responsibility for a good match, and these two did not disappoint.
The Game focused heavily on Rollins' injured leg, while the Architect wrestled the match of his life against his former mentor. Minus a few hokey moments, mainly the Pedigree power struggle and a flop that sent Triple H's wife Stephanie McMahon through a table, this contest was a for sure match of the night candidate.
Needless to say, this storyline culminated brilliantly. Grade: A
Bray Wyatt (C) v. Randy Orton, WWE Title
Never has a once-heated rivalry culminated in a fashion so underwhelming.
The action itself was good, near excessive finisher teases and all. But some of the moments that accompanied Wyatt's taunts were gimmicky, and the push to give Orton the title is a questionable decision at best, especially with the momentum he had built up previously.
Whatever WWE Creative was thinking, it did not work. Grade: D
Goldberg (C) v. Brock Lesnar, Universal Title
The powerhouses traded signature moves in a decent if unoriginal wrapup to the epic rivalry, with Goldberg landing four spears and a jackhammer interspersed throughout Lesnar's 10 suplexes and two F5s. The match was quick and dirty, even if it was one of the duo's longest matches.
In a way, it was highly underwhelming, especially to cap a rivalry.
But it was an exciting match for only using four moves. Grade: B
Six-Pack Challenge, Smackdown Women's Title
This match really got the runaround from WWE booking.Unfortunately, it showed in the performance.
While champion Alexa Bliss, eventual champ Naomi and fellow competitor Becky Lynch wrestled well with high energy, Natalya, Mickie James and Carmella failed to live up to expectations. The match as a whole felt gimmicky, rushed and overall bland.
It was a poor expression of the show's women's division. Grade: D
Roman Reigns v. The Undertaker
While the old wrestling adage "go out on your back" urges retired competitors to lose their final match, this match made an addendum: "not like this."
Some viewers could see this match as a way of showcasing the Undertaker's weakness while upping Reigns' stratospheric potential. However, the match set-up was weak, and Reigns already has an excessive push. Even with Taker's resilience, the match felt wrong.
Undertaker deserved better. Grade: D-
Tags A&EJacob Jardel
You may also like...