Power Players: Aggies Split Series against West Texas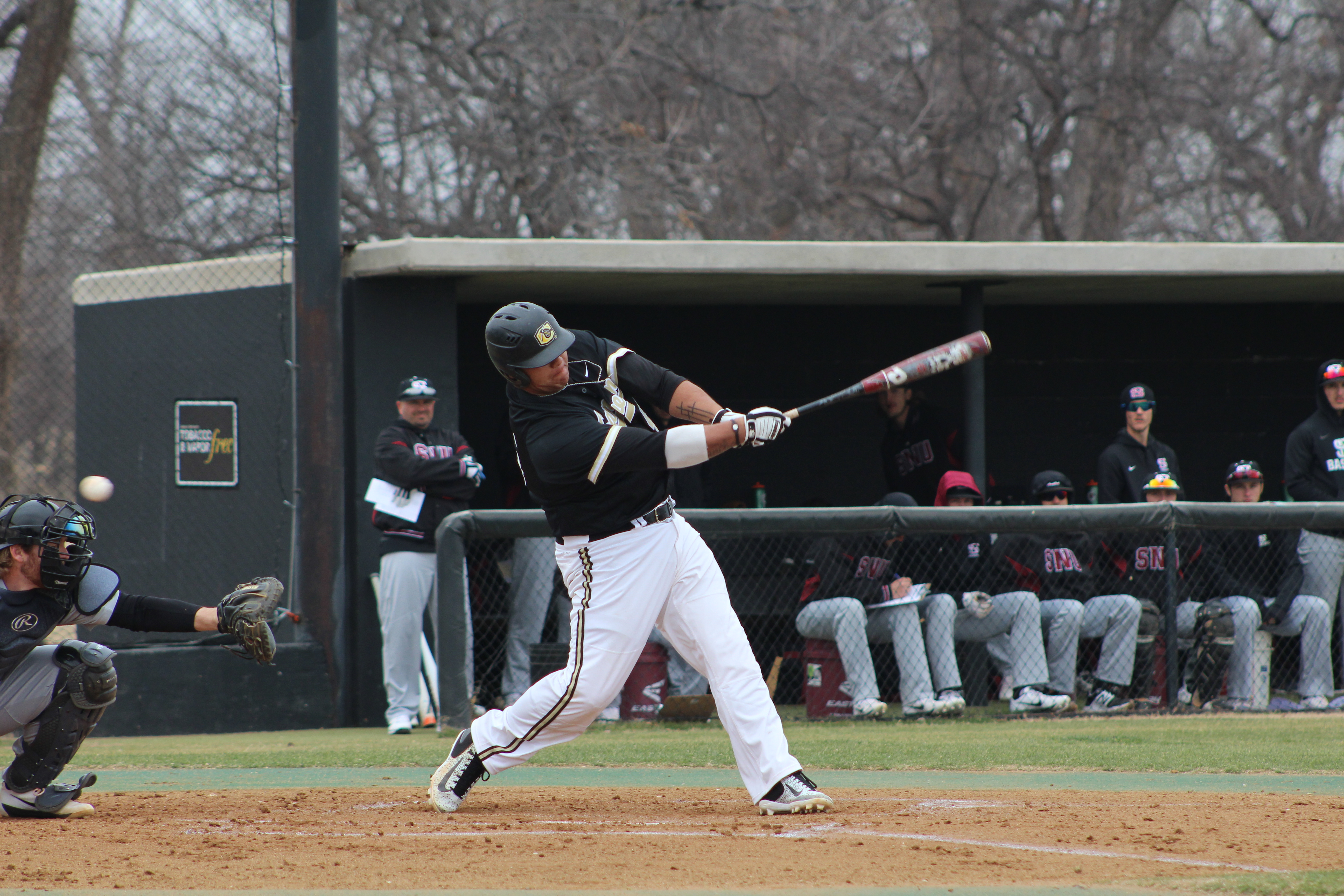 Hitting the Diamond: Cody Knight takes a cut at a ball. Knight homered two times in Cameron's series split against West Texas A&M on April 15 at McCord Field.
Markel Turrell
Staff Writer
The Cameron baseball team split a pair of games against No. 16 West Texas A&M on April 15 at McCord Field.
After rain led to the cancellation of Friday's scheduled doubleheader, the Aggies played a crucial twinbill.
Game 1
The Aggies started off slow in the opener.
After neither team scored in the first, West Texas A&M had a big second inning behind five walks from Cameron pitchers.
After the Buffs scored the first run of the game on a walk, Adam Adkins hit a two-RBI single to left field scoring Jimmy Cubillos and Aaron Vallance.
Luis Amaro continued the scoring with a single to right field scoring Nick Canas for a 4-0 lead.
The Aggies climbed back into a game in the third with first baseman Cody Knight's long two-run homer to left field. But standout pitcher Marshall Kasowski held the Black and Gold at bay, holding CU scoreless for the next two innings.
The Buffs gained a run back in the fifth on a Vallance single to right field, scoring Chad Brown for a 5-2 lead.
The Aggies started their comeback in the sixth.
With two runners on in the bottom of the frame, Cole Williams doubled in two runs, scoring Leno Ramirez and Bronson Pulgados to cut their deficit to 5-4.
In the seventh inning, the Black and Gold did what they have done all year: finish a comeback for another crucial win.
Shortstop Micah Kaaukai singled through the left side to start things off. Then two batters later, Cody Bower got a hold of a 3-2 pitch to hit a walkoff two-run blast to left field, giving the Aggies for a 6-5 victory.
Knight, Williams and Bower had two RBI each in the victory. The CU bullpen came through in the clutch. Gaige Vines relieved starter John Millan and pitched a strong 2.2 innings with a strikeout. Blake Welch contributed a perfect 2.2 innings with two strikeouts.
Game 2
Cameron started off the scoring early with a quick two runs in the first inning. Bower continued his strong hitting with a single up the middle, scoring Kaaukai.
Knight added to the Aggie lead with an RBI single to left field to score Tom McGarry.
WTAMU got a run back in the next inning on a Chad Brown double. In the fourth, the Buffs took the 3-2 lead on a passed ball and an RBI groundout.
West Texas A&M extended their lead to 5-2 on John Baiada's sixth inning double to center field. But in the bottom of the frame, Knight put the Aggies within a run on a solo homer to left field.
Bower had another RBI opportunity in the eighth when he hit the ball up the middle, but Vallance's diving stop kept it in the infield. Bower was out at first, but he drove in Kaaukai to cut the lead to one. McGarry moved up to third on the play.
The Aggies were unable to tie the game, as the next two batters would strike out.
The Buffs put the game out of reach in the ninth on Adam Adkins's two-run homer to help West Texas take the game 7-4.
The Aggies stayed in the game behind Andrew Garza's strong pitching performance. He pitched a strong 3.1 innings with four strikeouts while only allowing two earned runs.
Garza said that he felt good on the mound while he was out there.
"I was really loose and knew [my teammates] were ready to give it their all behind me," he said, "and that helped me feel comfortable out there."
He said he wanted to use this momentum to have a stronger outing next time.
"I felt I could have done some things a little better out there that could have helped us in that second game," he said. "All I can do now is improve on those mistakes I had and keep getting better."
He said the split against a nationally-ranked West Texas team gave the team some needed confidence heading into the postseason.
"That game was big for us," Garza said. "They're a good team in conference and taking one from them only helps get a step closer to our goal of making the tournament."
After the doubleheader, the Aggies move to 24-15 on the year and 5-7 in Lone Star Conference play. West Texas A&M improves to 27-9 on the year and 8-2 in conference.
The Aggies will be out of play until they face Tarleton State for a four-game series on April 28-30 in Stephenville. A strong showing will be crucial for Cameron's NCAA tournament hopes.
For more information on Cameron baseball and other Aggie sports, visit CameronAggies.com.
You may also like...