Page to Debut Final Short Film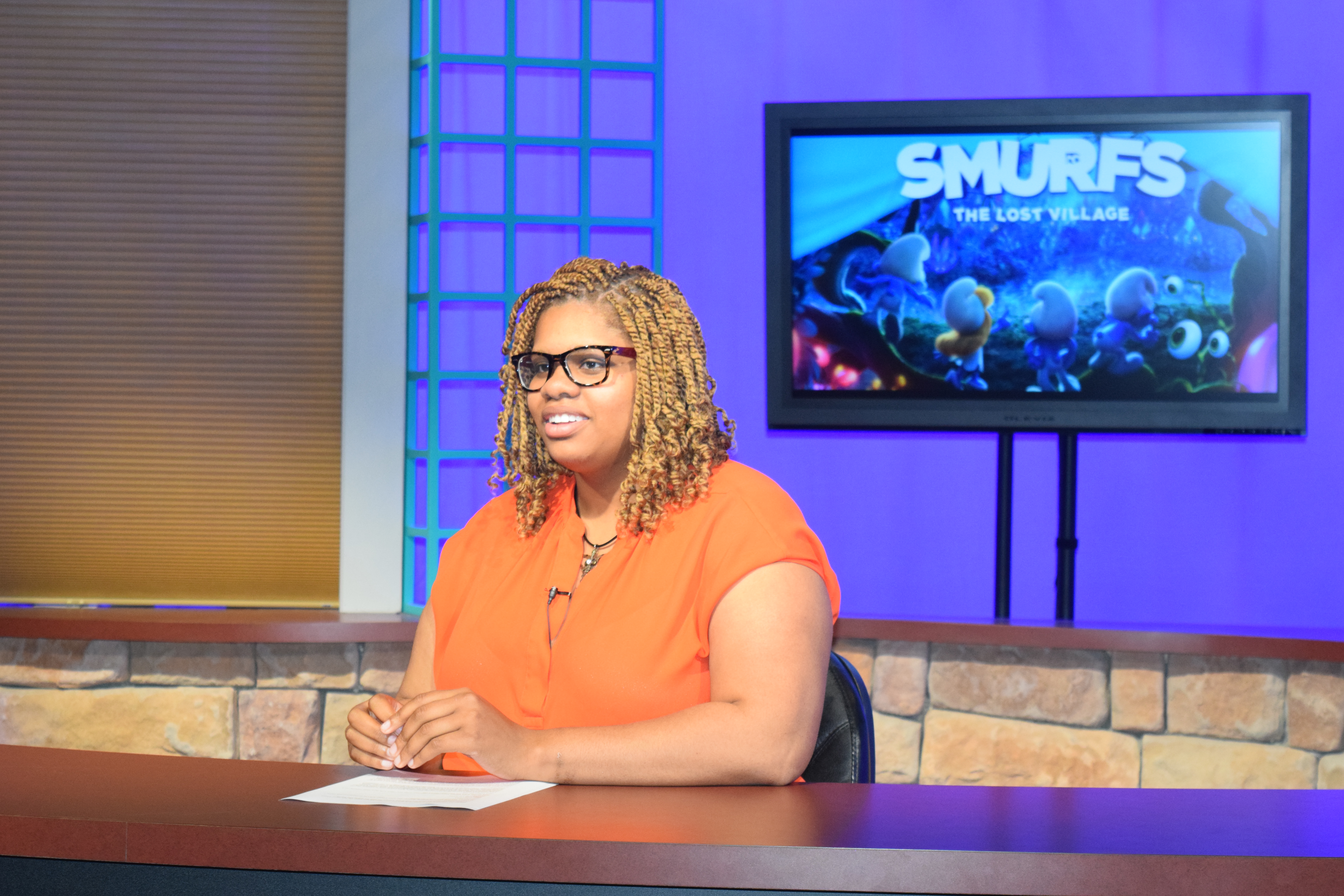 Last Hurrah: Senior journalism and media production major Alexsis Page reviews "Smurfs: The Lost Village" on her final episode as the host of Film Geek. Her final student film "Stay Breathing" premieres at 7 p.m. on April 25 in the CUTV studio.
Zayna Haliburton
Staff Writer
Senior journalism and media production major Alexsis Page is wrapping up her third short film titled "Stay Breathing," which is set to premiere at 7 p.m. on April 25 in the Academic Commons TV Studio.
For the Film Geek host, the thriller is a departure from her previous two comedic works.
According to Page, she got parts of the idea for the film from the movie "Don't Breathe" and wrote her script over winter break.
Page said her story explores a complex male character as he experiences an internal struggle.
"On the outside," Page said, "he looks like a regular person, but on the inside he has his own struggles that he's dealing with."
Page said the hardest part about putting the film together was listening to her instinct.
"Within filming a couple days, I decided to add another character and change some of the scripts," she said.
"I am a good film maker, and I need to go with what is right."
These instincts helped Page when she submitted her first film, "Typical Tuesday," into the Bare Bones International Film and Music Festival, where she earned nominations in the Student Comedy and O.K. Soil Film categories.
She said she wants to submit "Stay Breathing" into film festivals as well.
"I feel like dramas have a little bit better chance of getting in," Page said. "Things that make you laugh are kind of subjective to the person, so it kind of depends on what you think comedy is."
Junior journalism and media production major and Film Geek Director Kerry Schoonaert worked behind the camera to ensure that Page got the shots she needed for the movie.
Schoonaert said she is excited to see the final production once it is complete.
"There's different elements that are having to be done for the movie to come together," she said.
"There's different editing techniques being done, so it's going to be interesting to see what is different from her comedies to this more serious film."
Page said the best part about creating the film was the way everyone came together to get the job done.
"I had a lot of people that were willing to try different things," Page said. "I even had actors who are in the film who aren't typical actors and they were all game for whatever was going to come."
Page said she plans to continue making films after graduation.
"Films are my passion," Page said. "So I do hope to one day continue to work in the film industry."
Page added that a support system is a key factor in the success of aspiring filmmakers.
"Even if you're not sure about your vision," Page said, "it's nice to have people there to help you out and do what they can to make a good product.
"Also prepare as much beforehand because things don't always go as planned."
You may also like...