Leadership Summit: Overcoming Generational Bias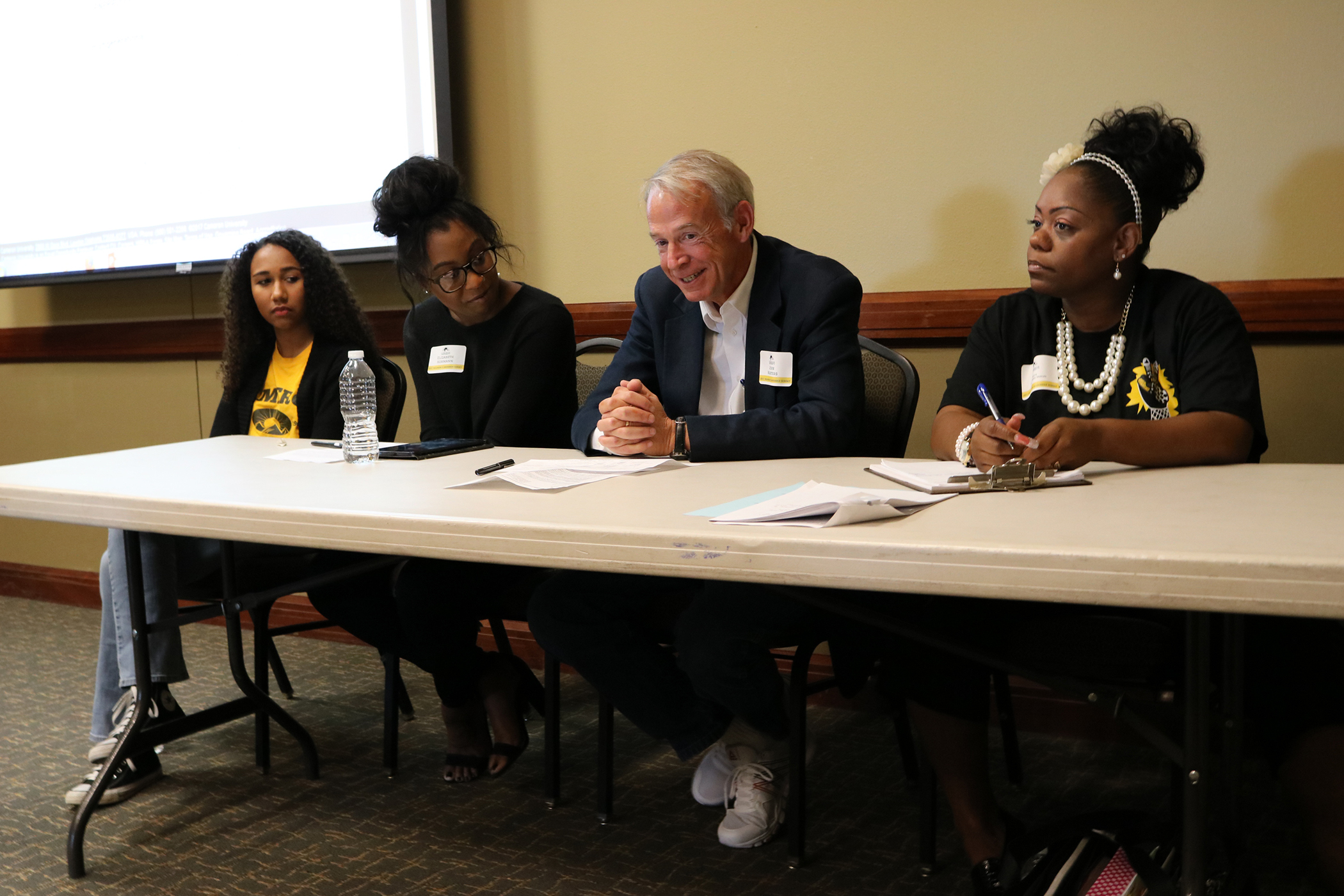 Inclusion Panel: During the last workshop of the Inclusion and Leadership Summit held at 9 a.m. on March 31 in the CETES Conference Center, a diverse panel of students and faculty discussed generational differences.
Zayna Haliburton
Staff Writer
Cameron University hosted the 2017 Inclusion and Leadership Summit at 9 a.m. on March 31 in the CETES Conference Center.
The one-day leadership conference gave students, staff and faculty the chance to learn about social action in the 21st century. The conference consisted of workshops, panel discussions and breakout sessions.
The Office of Student Development and the CU Diversity Diplomats hosted the first workshop which covered cultural competence.
Inclusion and Student Success Coordinator Olivia Polynice said the focus of this workshop was to help students learn how to interact with people from different areas. It provided some things to do or to avoid when communicating effectively with people from different areas and cultural backgrounds.
Polynice led the second workshop about "clicktivism," or activism over social media. The workshop taught how people can be social activists online and how they can engage better with each other outside of social media.
To Polynice, both are important to taking action.
"Clicktivism is great as a form of adding to activism, but it can't stand alone," she said. "It has to add to something because without the interpersonal type of relations that you build with activism or with communication, then clicktivism would be nothing."
The final workshop covered generational differences. Polynice said this workshop was a combination of the entire day's lessons.
"We learned about different cultures, new age type of activism, but in generational differences," she said, "[like] what are the differences and similarities between Baby Boomers all the way to Generation Z.
"[We examined] how does that change our interaction in the classroom, workforce, and how do we translate what we learned into our daily interactions."
Polynice said it is important to learn how to engage with people of different age groups.
"Our perceptions are a lot different," she said, "and the more we can understand another person's perspective really does change the way you see something. It may not change your opinion, but it may change the way you interact with someone for the better."
The final workshop also consisted of a panel discussion featuring five CU students and faculty of different ages. They discussed their opinions on generational differences.
Senior Elizabeth Hormann was one of the five panelists. She discussed her opinion on generational differences in the classroom compared to the workforce being a problem.
She said she doesn't see age differences themselves as a problem in some cases.
"I think the problem lies in perception more than interactions," Hormann said. "I think that people have stereotypes [about other generations] that may not be true."
Hormann said people focus more on the differences and not of the similarities.
Polynice said she hopes this conference allowed for students to be able to engage with one another on a more personal level.
You may also like...