Fighting Back: Self-Defense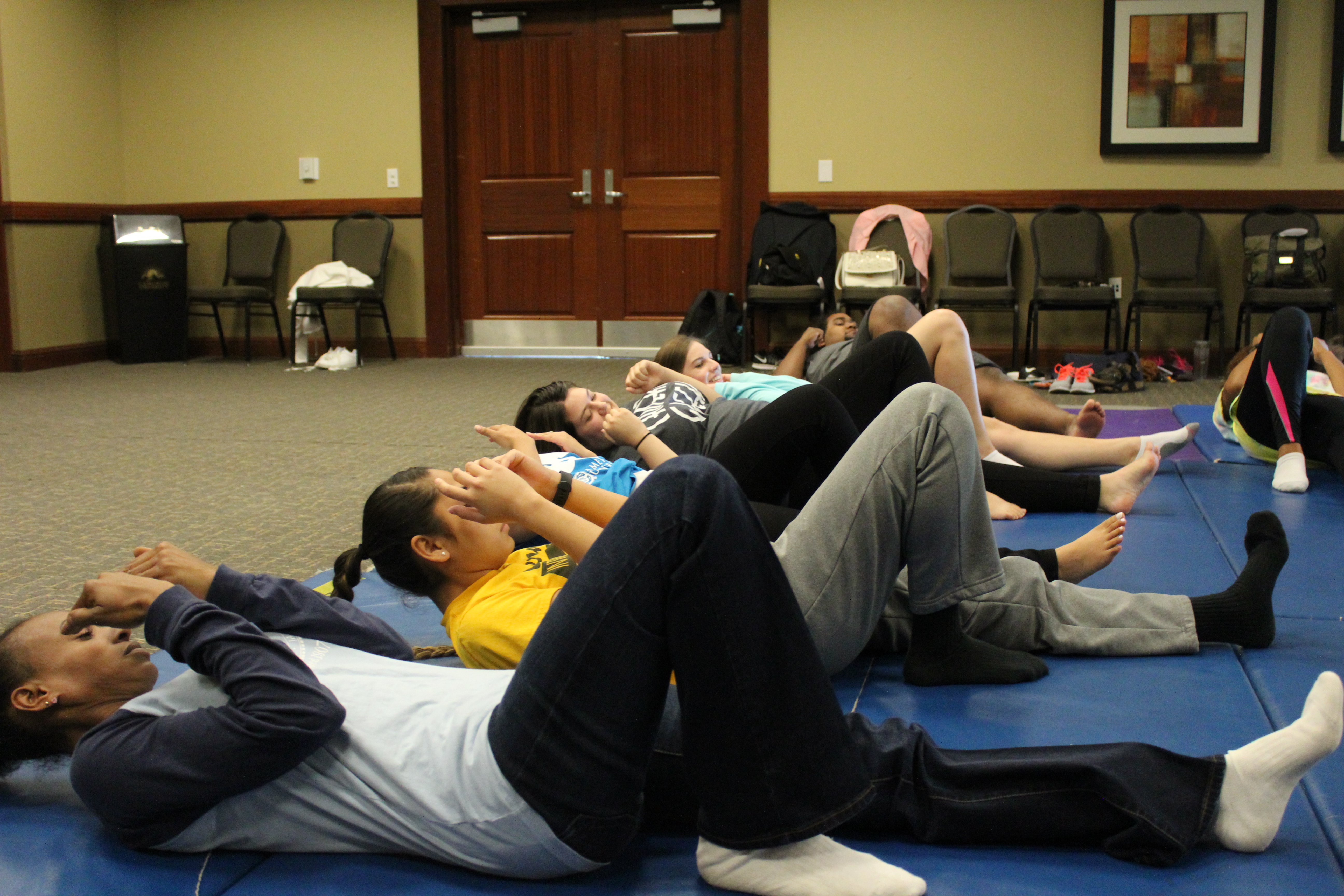 Zayna Haliburton
Staff Writer
Members of the Cameron community attended a self-defence class at 5 p.m. on April 11 in the CETES Conference Center as part of the schedule of events in recognition of Sexual Assault Awareness Month.
Reserve Judge Advocate officer and Civilian Attorney Captain Michelle Kalas led the class, teaching students and faculty how to defend themselves in dangerous situations.
Kalas said she teaches Krav Maga, a combative system developed in the Israeli defense forces, and also trains in Brazilian Jiu Jitsu.
She said there are a variety of potential assault scenarios individuals can find themselves in. Although there is no surefire way to predict, there are basic principles to try to use.
"Try to get to a better position so you can use some self-defense techniques," Kalas said. "We did work our positioning to try to be able to get up, get away [and] runaway. [Getting] up off the ground is basically your goal with sexual assault self-defense."
Kalas said environmental and spatial awareness are key aspects to self-defense.
"Even in other scenarios where there is just people coming in and entering your space," she said, "you want to stay aware and stay ready to go if somebody does get too close and try to attack you."
Kalas added that parking lots are the number one areas where women are likely to be abducted. Also, women who run with a ponytail are common targets because their hair makes for an easier grab.
Kalas said there are other preventative measures one can take to prevent such assaults.
"The number one thing that I would recommend is [to] get your keys out before you leave the store or wherever you're coming from," she said, "and have your keys in your hand ready to go."
Kalas said this tactic prevents women from fumbling in their bags. The keys can also serve as a weapon. She added keeping purses zipped and enclosed allows one to use it as a weapon.
Kalas said not bending over into a trunk to put groceries away is another good precaution to take.
"That's just another moment when someone will try to come and attack," Kalas said. "It's very easy when you're bent reaching into the back of your trunk to push someone into the trunk."
Kalas said to wear hair in a bun or down loosely with a headband while running. Having a buddy can also help.
Freshman Sarah Slaybaugh said the class was very informative.
"I liked that the exercises, and the drills we did were simple," she said. "You can apply it if you actually got attacked. I thought it was very useful."
Women interested in improving self-defense skills can take part in afree one-hour course at 1 p.m. on Saturdays at Dreadnought Brazilian Jiu Jitsu located at 1912 NW Lawton Ave.
You may also like...