Programming for Success: Capstone Students Design Software for Dept. of Defense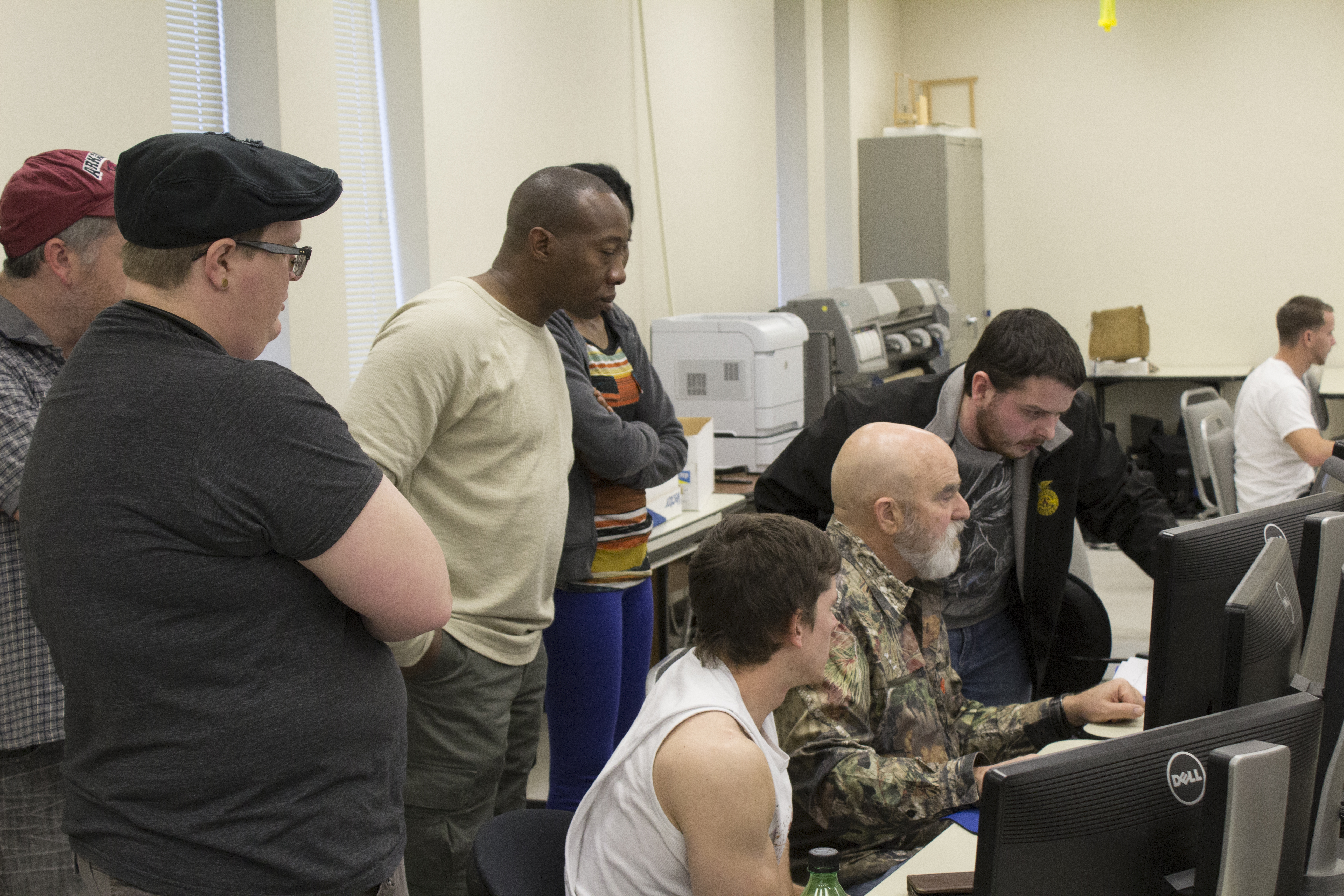 Vicky Smith
Staff Writer
Cameron University students enrolled in a spring interdisciplinary course are in the process of developing a web application for the United States Army Department of Defense at Fort Sill.
The capstone classes for information technology (IT), computer science (CS), multimedia (MM) comprise the interdisciplinary course. English students are also a part of the project as part of their internship.
Once the students complete the web applications, Cameron University students will have contributed to the technical organization of the United States Army Department of Defense.
Instructors Dave Smith, Dr. Chao Zhao, Dr. Abbas Johari and Dr. William Carney, operate the class as though it is a software company. They serve in virtual positions such as chief executive officer, chief information officer, chief knowledge officer and chief data officer.
Smith assigned two students to be project leads whose duty is to collaborate with two separate groups of students, who are building two different versions of the same product.
Psychology major Randy Wolfe, the project lead for team two, said several subgroups, including a database team management team, a CS team, a security team and a MM team, comprise the main group.
"Database is the backend," he said, "and the CS team [is] doing the web portion. That's the front end."
Although Wolfe may receive instruction from his professors, he and his fellow classmates are responsible for facilitating communication amongst themselves.
"The instructor is not in here telling you how to do it," he said. "If you have a question, you can go to the instructor, but it's really up to the students."
Senior information technology major Ayo Kumni, the assistant project lead for team two, said her primary job is to fulfill administrative tasks.
"We have to make sure everyone working is putting in hours and getting virtual pay for what they do," she said.
Dakotah Chander, a junior management information systems major, serves as an IT lead, a position for which his previous classes prepared him.
"I took Database last semester, so that helped significantly," he said. "Other than that, I've had a lot of knowledge in different operating systems and just basic knowledge of computers."
After both products are complete, client Linda Paridon, a supervisor and process improvement lead for the FIRES Division of CECOM Army Materiel Command on Fort Sill, and her decision chief will decide which version they like best. Alternatively, if they desire, they can choose to
combine the two versions into one.
Paridon said the product is a web application that will process library assets.
"Employees in the organization can use it to help them do their work, to drive process improvement efforts [and] to help new employees … understand how they work in the organization," she said.
According to Paridon, both versions of the web application must meet to the same standards.
"They only have four and a half months to complete the project and to be able to handle all the requirements," she said. "Both teams, I've heard them talking, and they're all working together.
They're taking pride in the school. They're taking pride in their project."
She said this project is significant because students gain hands-on experience as opposed to reading about project management without a context.
"They are doing virtual dollars," Paridon said, "so they are telling us, 'We've already spent 18,000 dollars worth of your money.' They relate that to the real world, and this is a real-world project."
She said this project is an asset as students make their way into the job market. Their experience in working on this project will demonstrate their ability to operate within a team and use soft skills to communicate with others.
"Hopefully we'll have some employees in the future who want to work for the Army," she said.
As the students work, Paridon provides them with feedback as questions or obstacles arise.
"It's just a pleasure to work with the class," she said. "They're our future leaders, and I just love to see the growth in them and the smiles when they solve something."
You may also like...