Unmatched: Dominance in the Open Era of Tennis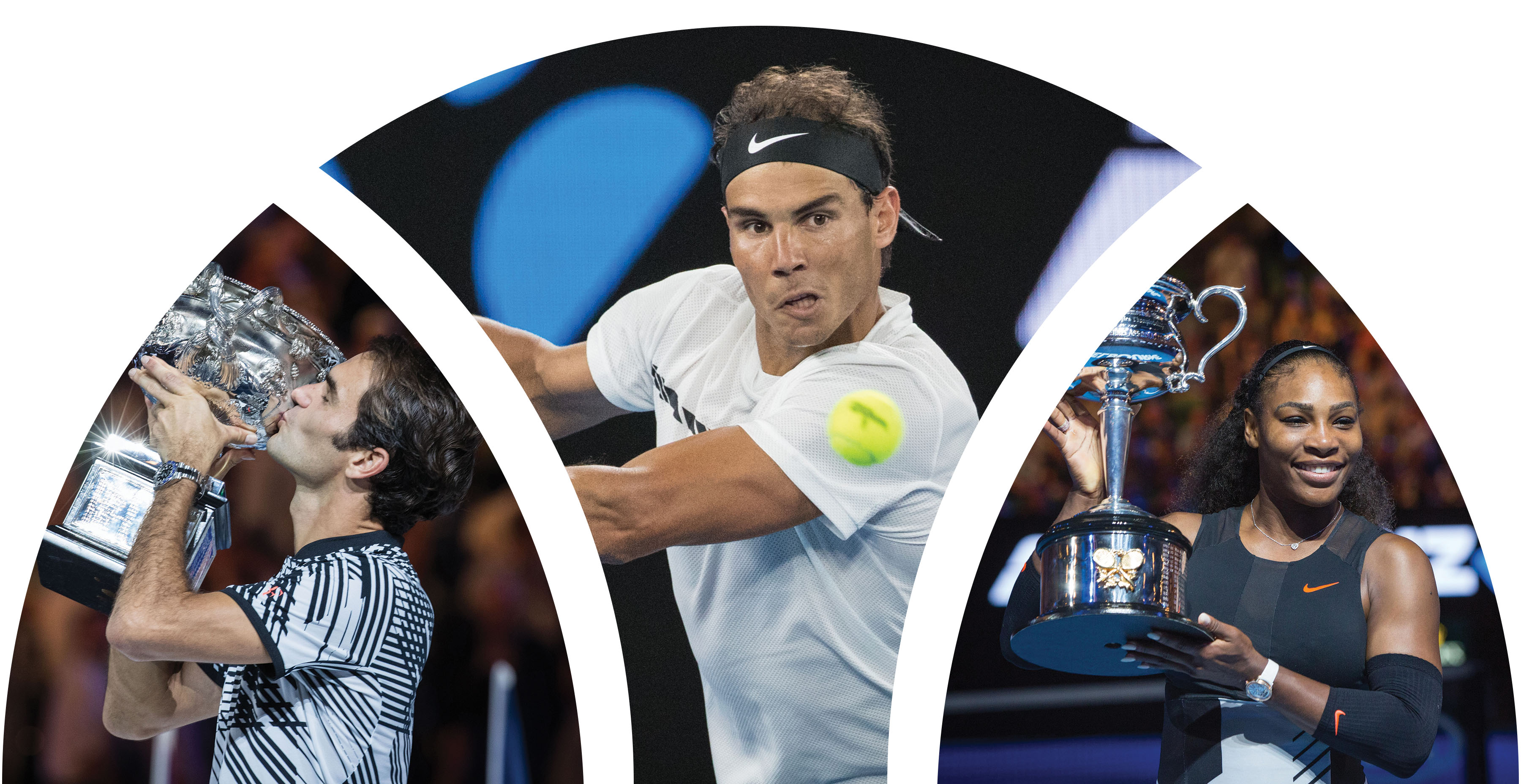 Jacob Jardel
Managing Editor
@JJardel_Writing
One thing was clear after the 2017 Australian Open finals: Fans are witnessing the greatest generation of tennis ever.
Tennis diehards talk an almost unseen parity in both the men's and the women's draws with anybody in the Top 10 or Top 20 capable of pulling off a win. It is hard to dispute that argument because this lineup of players is truly one of the deepest of all time.
But there are three people – all of whom competed in their respective Aussie Open finals – who truly define the greatness of this generation.
In one final, Serena Williams defeated sister Venus for her 23rd Grand Slam title, the most in the Open Era and one shy of Margaret Smith-Court's all-time record. In the other, veterans Roger Federer and Rafael Nadal met for the 22nd time in a tournament final, with Federer taking home his record 18th major title.
The three competitors combined for 55 career major titles in their careers and have made a valid case for the mantle of greatest of all time. They were all, at one point, atop their respective tennis rankings.
As of Jan. 30, though, only Serena holds the top spot, overtaking German Angelique Kerber for the ranking. Nadal moved up three slots to the sixth position, while Federer moved into the 10th spot.
The men's Top 20 easily boasts the deepest field in tennis in a long time, keeping both Nadal and Federer from reaching the mountaintop of the rankings once again. Sitting atop the rankings is Andy Murray, the greatest British men's player in 80 years.
But second-ranked Novak Djokovic is no pushover, either. He once held the top spot in the rankings for 223 weeks, amassing 12 Grand Slam titles in the process. Of active players, only Federer (18) and Nadal (14) have more titles.
Sprinkled throughout the rest of the Top 20 are rising stars and some of the most consistent players in tennis today.
Players like Milos Raonic, Kei Nishikori and Stan Wawrinka represent some of Federer and Nadal's greatest competition in recent time. Meanwhile, young guns like Nick Kyrgios and Lucas Pouille look to carry on the torch when the two greats retire.
On the women's side, the field below Serena contains a variety of greats like Kerber, Madison Keys and Simona Halep – all of whom have beaten Serena at some point in their careers. There are a variety of other young up-and-comers ready to watch the throne when Serena finishes her career.
Until then, though, Serena, Federer and Nadal all add onto some of the most storied careers in tennis history.
Beyond the on-court achievements are legacies almost unrivaled in the sport of tennis.
According to a 2012 Bleacher Report piece, the Williams sisters helped usher in an era of power in women's tennis. Since then, both have been models of success and longevity. ESPN W's Johnette Howard said their careers have a legacy that supersedes their on-court accomplishments.
"On their way to elevating the game in every way," Howard said, "the Williams sisters have written a story that strains belief."
But Serena has built a legacy all on her own. Patrick Smith of The Australian added that, at this point, Serena's only major competition is history and the nerves that come with it. Otherwise, her position as the greatest woman tennis player is assured.
"She will play on," Smith said. "She will take over Court's record. She will play until no one even needs to ask who has been the greatest."
Many tennis experts have made similar assertions about Federer. When on the verge of tying Pete Sampras for most Grand Slam titles, tennis legend Jimmy Connors commended him for his all-round talent.
"In an era of specialists, you're either a clay court specialist, a grass court specialist or a hard court specialist," Connors said, "or you're Roger Federer."
This all-around excellence has propelled Federer to a record 302 weeks atop the professional rankings in addition his 18 major titles. But the defining moments of his career have come against one equally legendary opponent in Nadal.
Much of Nadal's career accomplishments appear in regard to his rivalry with Federer – and for good reason, since this rivalry is arguably the greatest in the history of the sport. No two players were so dominant for such a long stretch, especially when competing against each other.
But Nadal's accomplishments stand in their own merit. On top of the 14 major titles, Nadal has won Olympic gold twice and notched 81 consecutive wins on clay courts – his most successful surface.
Nadal's success is one that nobody could ignore, especially not his counterpart in tennis' greatest rivalry.
"My toughest opponent would have to be Rafa," Federer said. "The way he plays against me makes it extremely difficult for me. I've played way too many clay court matches against him – that kind of scarred me, I think."
And with neither player slowing down any time soon, it appears the men's draw will have more Federer/Nadal matchups to remind fans of just how great this generation is.
You may also like...