Random Acts of Kindness: Spreading Love on Campus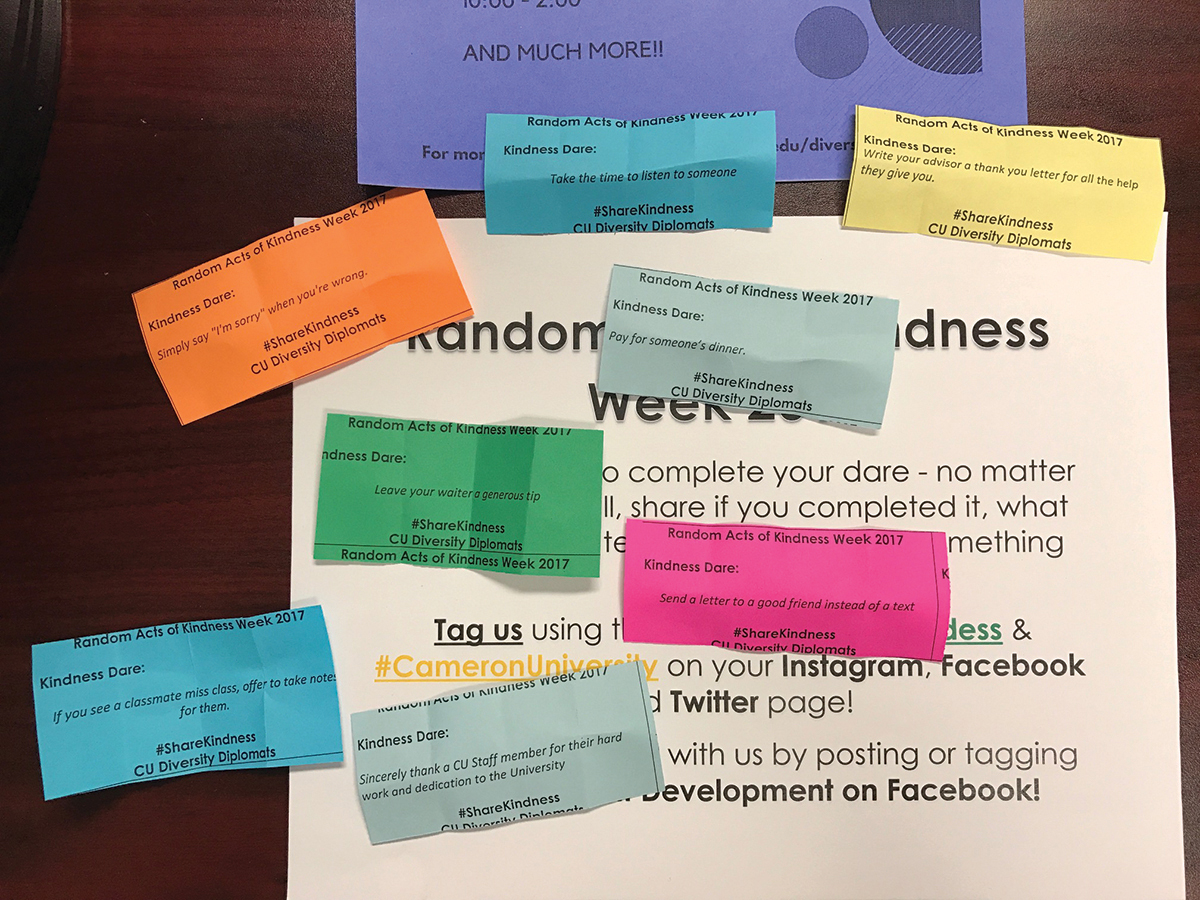 Dare to Care: Students randomly picked kindness dares from Diversity Diplomats to do during Random Acts of Kindness Week.
Haley Berry
Staff Writer
Cameron University Diversity Diplomats held a week full of positive influences during Random Acts of Kindness Week from Feb. 13-17.
Students, faculty and staff had the chance to stop by the McMahon Centennial Complex, Nance Boyer and the Shepler buildings to draw "kindness dares" out of a jar to carry out during the week.
Students received kindness dares on pieces of paper promoting a positive act for a person to complete for a recipient.
These small gestures were as simple as opening a door for someone, having a calm conversation with someone who does not agree with your beliefs or getting to know someone new in a class.
The Office of Student Development encouraged participants to take pictures and share their story on social media using the hashtag #sharekindness after completing the kindness dares.
Students also had the option to sign a butcher paper board located at the RAK tables to share how they carried out their kindness dares.
While also an advisor for the CU Diversity Diplomats, Inclusion and Student Success Coordinator of Student Development Olivia Polynice said the organization wanted to promote a positive message using the goodness of people's hearts.
"This week is so important to us," Polynice said. "With the divisive things we see in politics and different negative events we see in our world, we really wanted to do something that enticed people to be thinking about others."
The event took place during the bustle of Cameron's Homecoming week. However, Polynice said getting people involved with Random Acts of Kindness Week did not seem to be a problem.
"We know people get caught up in Homecoming events," she said, "so we wanted to do something passive, something that people can just pick up and go on about their day. It still plants a seed in people's minds to do something for someone else along their way."
Junior animal science major Jancy Jeffus said being active in Random Acts of Kindness Week during Homecoming week gave participants a little more motivation to make someone feel special.
"[Homecoming is] a time where the whole campus can gather and have fun," she said. "And around Valentine's Day – a holiday of love – I feel this is the perfect time to be thinking about not only those on campus but [also] those in our surrounding communities."
Random Acts of Kindness Week was a national event, going beyond the campus level of activity.
To become a person that strives to carry out random acts of kindness daily, known as a "RAKtivist," go to randomactsofkindness.org to sign up and see other kind acts happening in other areas.
Kindness is encouraged to be carried out every day, and not just limited to one week.
You may also like...