NyAsia Jones: Miss Black CU 2017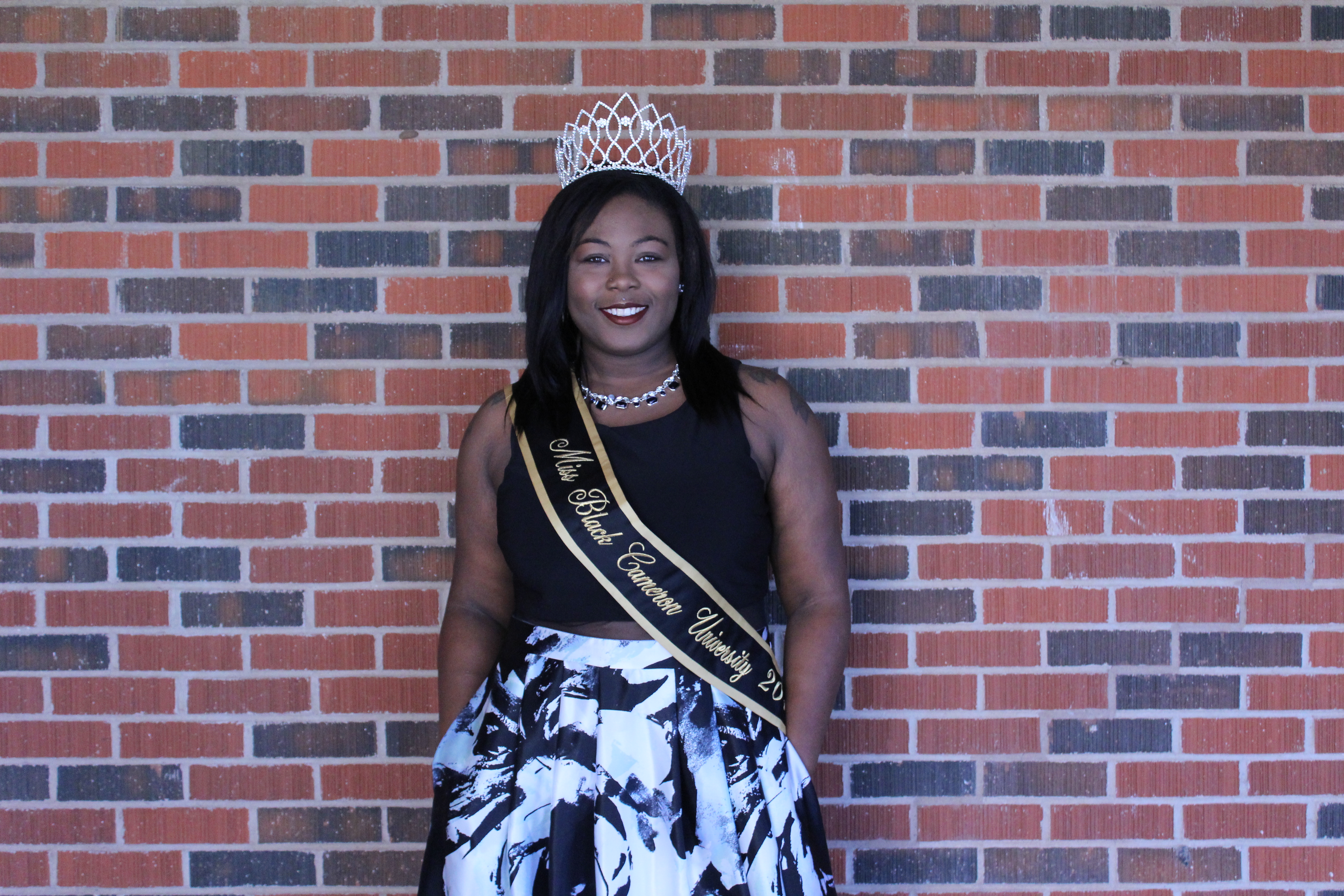 Vicky Smith
Staff Writer
Aggies, friends and family cheered as freshman NyAsia Jones, wearing a smile and crown, earned the title of Miss Black CU 2017 at the 38th Annual Dr. Valree Wynn Miss Black CU Pageant at 7 p.m. on Feb. 4 in the University Theatre.
An allied health science major, Jones and three other freshmen vied for the crown and a $1,500 academic scholarship. The other contestants were Tiara Patterson, Nichelle Lehman and Brianna Mallory.
As the winner, Jones will remain involved on campus, as well as educate the community about her platform "Suicide Prevention."
The pageant included five segments: fitness wear, talent, ambassadorial wear, evening gown and on-stage question.
After Jones danced to the opening number "Black Girl Magic," she took center stage in her fitness wear.
"I was a football player," she said. "and I spray-painted my football and put little rhinestones on it to make it look cute."
After scoring applause from the crowd, Jones transitioned into the talent segment, singing "She Will Be Loved" by Maroon 5.
"I always admire that song," she said. "I dedicated it to my friend Rebecca because she is always like 'No one is going to love me,' and I'm just like, 'No. No.'"
The song, Jones said, complimented her platform, "Suicide Prevention."
"I want to raise awareness on the warning signs [of suicide]," she said. "One of my good friends – he had fell victim to suicide the day after Christmas of 2016."
Jones said her friend's passing hit her hard because she never perceived him as having suicidal tendencies.
"He was always such a happy person," she said. "You would never think that he would do something like this."
According to Jones, she had decided upon her platform long before his passing.
"I've always had a concern for people who were possibly suicidal," she said. "44,000 people a year end up committing suicide.
"A lot of people think that that's the only solution when it's not. It's really sad."
After uplifting the audience with "She Will Be Loved," Jones switched roles for the ambassadorial wear, in which she portrayed the first African-American woman first lady of the United States, Michelle Obama.
Jones said during the evening wear segment, she had the opportunity to showcase her unique sense of fashion.
"Everyone flipped out over my dress," she said. "When I put my hands in my pockets, everyone was like, 'It has pockets.' They were so excited."
Jones revealed even more of her personality when answering the judges' question, "What was one of the lessons you've learned in preparing for the pageant?"
"I just said, 'No matter how much you may think that you can't do something, go ahead and do it anyway,'" she said. "'You will end up surprising yourself and everyone around you who may have doubted you.'"
Jones said she was nervous to participate in the pageant because of her shyness.
"My friends were like, 'You should really do the pageant,' and I was like, 'Me? Nah,'" she said. "I really surprised myself. Literally, when they called my name, my face dropped."
Jones hopes her participation in the pageant can be an encouragement to others who are nervous to try a new task or hesitant to remain true to themselves.
"Because of my piercings, I thought that I wouldn't have won," Jones said. "My director actually told me … 'They saw your piercings. That's so cool. That's so different.'
"I'm like, 'Cool – different won.'"
Some people, Jones said, suggested that she remove her piercings prior to the pageant, but she declined.
"I'm going to still be myself," she said. "I'm still going to be Nyasia at the end of the day."
She said her experience in the pageant has given her the confidence necessary to serve as a role model for others, beginning with her five-year-old cousin Sonalee.
"My aunt was like, 'Sonalee really needed that [your win] because she kept saying, 'Mommy, I can't be a princess because I'm not white.'
"I told her, 'You can be a princess because NyNy is a princess.'"
Jones said Ja'lyn Yarbrough, the pageant director and Miss Black Oklahoma USA 2017, motivated her to compete in the Miss Oklahoma Pageant.
"I know she wants me to start practicing now," Jones said. "She wants me to compete in 2018, so I have a lot of time to prepare."
For more about Jones' life on camera but off stage, visit her YouTube channel "NySheSings."
You may also like...