Now Open: Affinitee Lawton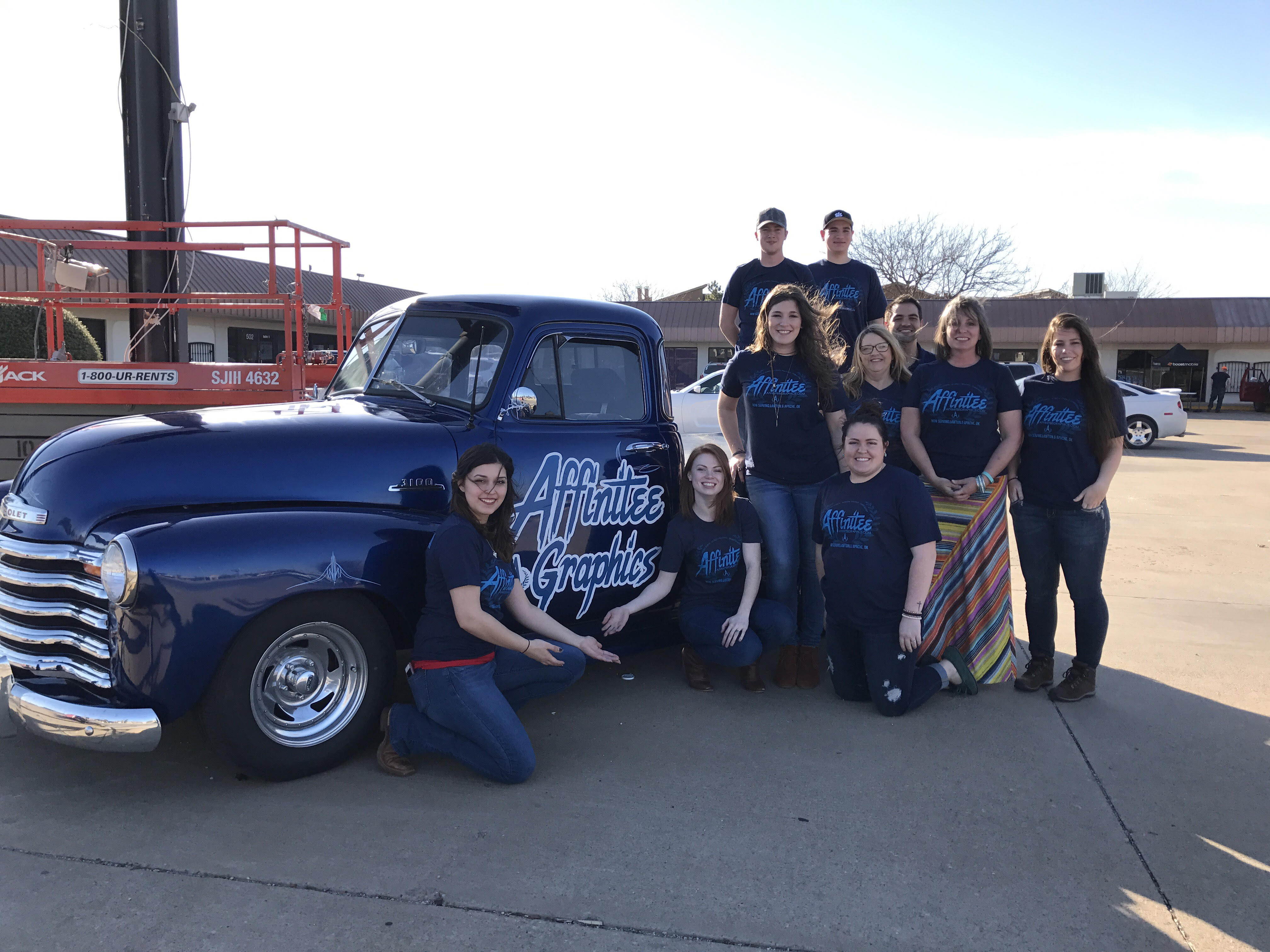 Cheyenne Cole
A&E Editor
@cheyenneccole
At 4:45 p.m. on Feb. 10, Affinittee Graphics invited the Lawton community to celebrate the grand opening of their new location at 502 NW Sheridan Road, Suite 6A.
The business provided cupcakes and cookies throughout the event. Guests spun a wheel for the chance to win a t-shirt and entered their names to win various coupons from Affinitee Graphics.
The Lawton Fort Sill Chamber of Commerce joined the owners of Affinitee Graphics, CU alumni Matt and Katrina Thompson, for the ribbon cutting ceremony, which signified the opening of the business' second location.
Regional Marketing Coordinator Kaylee Jones said the ceremony served as a formal introduction to the Lawton community after spending their first years in Apache.
"We already have so many clients that we work with here," Jones said. "We just really want them to know we are here, we can help you [and] we can meet your needs. Come out, meet us, have some fun with it."
Jones said the second location will give Affinitee Graphics the opportunity to be more involved in the Lawton community.
"For us," Jones said, "I think it will help us just to be more involved because that's always our goal – to find a need and help people, to be able to bring their idea to life, even if it's a piece of art that they have that they want to see recreated in a t-shirt or if it's a fundraiser that they'd like to assemble for their kid, for their team."
Katrina said she wants Affinitee Graphics to provide great, customizable and affordable service to Lawton customers.
"I hope that we can offer our services to the Lawton community and be able to provide quality service," Katrina said. "We'd like to be able to get to know the community even more."
Matt said the decision to expand the business to Lawton was based on a need to be closer to customers.
"We tried to compete in the Lawton market," Matt said, "fairly successfully, but we had to do it by delivery. We're in Apache, and sometimes that feels like the other side of the world. […] When we're here, they can come to us, and we can be more readily available to them to meet their needs in a different way."
Matt said a goal of the business is to provide Lawton with more art and culture.
"A lot of the networking organizations like the Chamber [of commerce]," Matt said, "the Independent Business Alliance, Lawton Proud, there's a strong push in all those organizations to bring culture and art to Lawton, so we felt like we could be a key part of that."
Before graduating from Cameron, the Thompsons started the screen-printing, embroidery and graphic design business out of their home in Apache in 2013.
Then, in 2014, the couple expanded Affinitee Graphics to its first official location in Apache.
According to Matt, the business name represents Katrina's love for art and graphic design.
"Affinity is kind of a strong passion or liking for something," Matt said, "and graphic design and art is something she's [Katrina] very passionate about.
"We want to be able to help other people accomplish their passions. To send us an idea, a dream that they have of something and us help them accomplish that dream."
Recently, the U.S. Small Business Administration nominated Matt and Katrina for the Young Entrepreneur of the Year Award for their success with Affinitee Graphics.
Visit affiniteegraphics.com, oakshirt.com or go to Affinitee Graphics' Facebook for more information about the products and services they offer.
You may also like...