New Year, New CKI Officers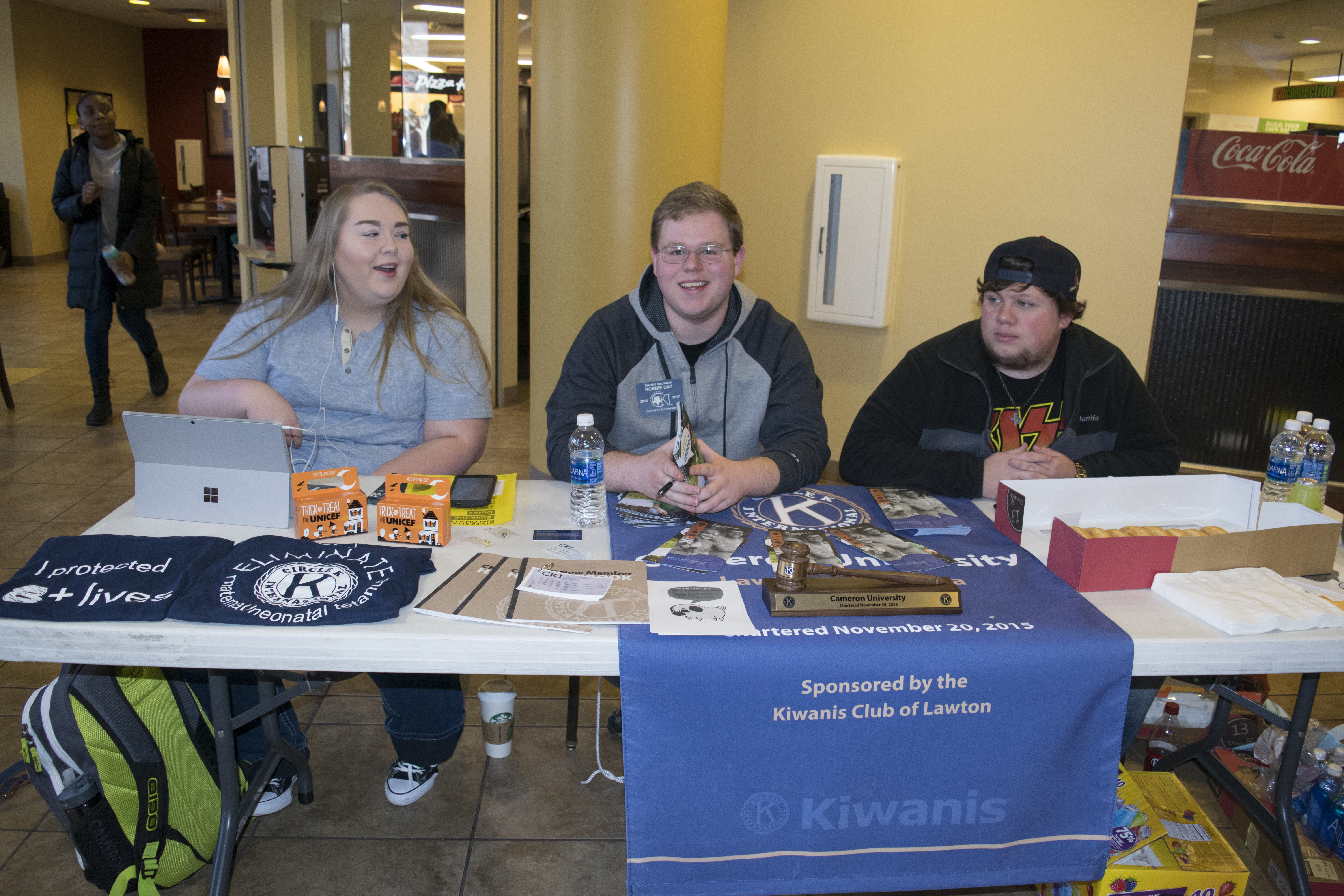 Promoting the Club: (left to right) Treasurer Candace Craig, District Secretary Robbie Day, and Vice President Hunter Collins promote CKI at the spring organization fair.
Stacie Larsen & Christopher Reif
Collegian Staff
Cameron University Chapter of Circle K International (CUCKI) held their first pinning ceremony in celebration of their newly elected officers and new members from 2 – 4 p.m. on Jan. 22 in the Wichita Room.
This semester's elected officers include President Raven Youngblood, Vice President Hunter Collins, Secretary Stacie Larsen, Editor Talitha Simpson, and Treasurer Candace Craig.
CUCKI founding President and current District Secretary Robbie Day and Red River Lt. Governor Jesica Rios, recognized the new officers and members for their involvement in the organization.
Sophomore criminal justice major and Lieutenant Governor of the Oklahoma CKI District Megan Williams said this involvement from district officers was a great experience.
"It was like a two-in-one deal," she said. "We got to pin the officers and welcome them into a new year and also got to welcome in the new members with a pin that they get to keep as memorabilia."
Youngblood, a freshman and elementary education major, said she joined CKI after learning about the organization during freshman orientation.
"I was in Key Club in highschool," she said, "and this [organization] is the collegiate version."
As a newly-elected officer, she said her hope for CKI is not only to increase student involvement, but also the understanding of what the club stands for and how important it is to the community.
"It's a very young organization," Youngblood said. "It just started in 2015. We [need to] get out there and serve and put our names out there so people will understand that when there is a need, CKI will be there to help."
Youngblood said she plans on handling stressful situations by surrounding herself with people who love and support her.
"CKI is a family," she said, "and that family right there in itself helps with the stress and actually makes the stress worth it."
According to Williams, CKI as a whole is the largest student lead organization at the collegiate level with organizations in countries such as Panama, Canada and France. She said the purpose of her job is to charter more schools in the region.
"I chartered a chapter at USAO," she said, "and they chartered with 51 members. That was a huge accomplishment, not just for me, but for them. They did an awesome job."
She also chartered an organization in Southwestern Oklahoma State University. According to her, this process takes a tremendous amount of work. Her job is to help make that process run smoothly.
"Another thing [I do] is making sure that I'm the bridge and the connection between the district and the club." Williams said.
According to Williams, the purpose of CKI is to help better the community.
"What sets us apart from other organizations is that we are more involved in service," she said. "It is one of our main focuses along with fellowship and service."
Youngblood said that being part of the organization has enhanced her communication skills and affected her on a personal level.
"When I came to CKI, I realized there's so much more that goes into not only the volunteer work but also the organization as a whole," she said. "I've learned that communication is definitely key when you are in a board position.
"CKI has definitely helped me grow as far as maturity because it put me in a place of leadership but also in a place of responsibility."
Youngblood said she and other newly inducted officers are hard at work planning community service events that will benefit not only the students involved but also the university and local community as a whole.
She believes that collaborating with other organizations is vital in creating a sense of fellowship amongst the community and growing CUCKI as a whole.
"[When] I moved here to Lawton," Youngblood said, "I didn't have any friends other than my roommate who moved here with me. I've met a lot of friends through CKI."
Youngblood also added organizational growth is not the only upside of joining.
"It's a lot of fun," she said "and not only that, the feeling you get when you're [performing] all kinds of service is incredible.
You may also like...