Homecoming 2017 … A Storybook Ending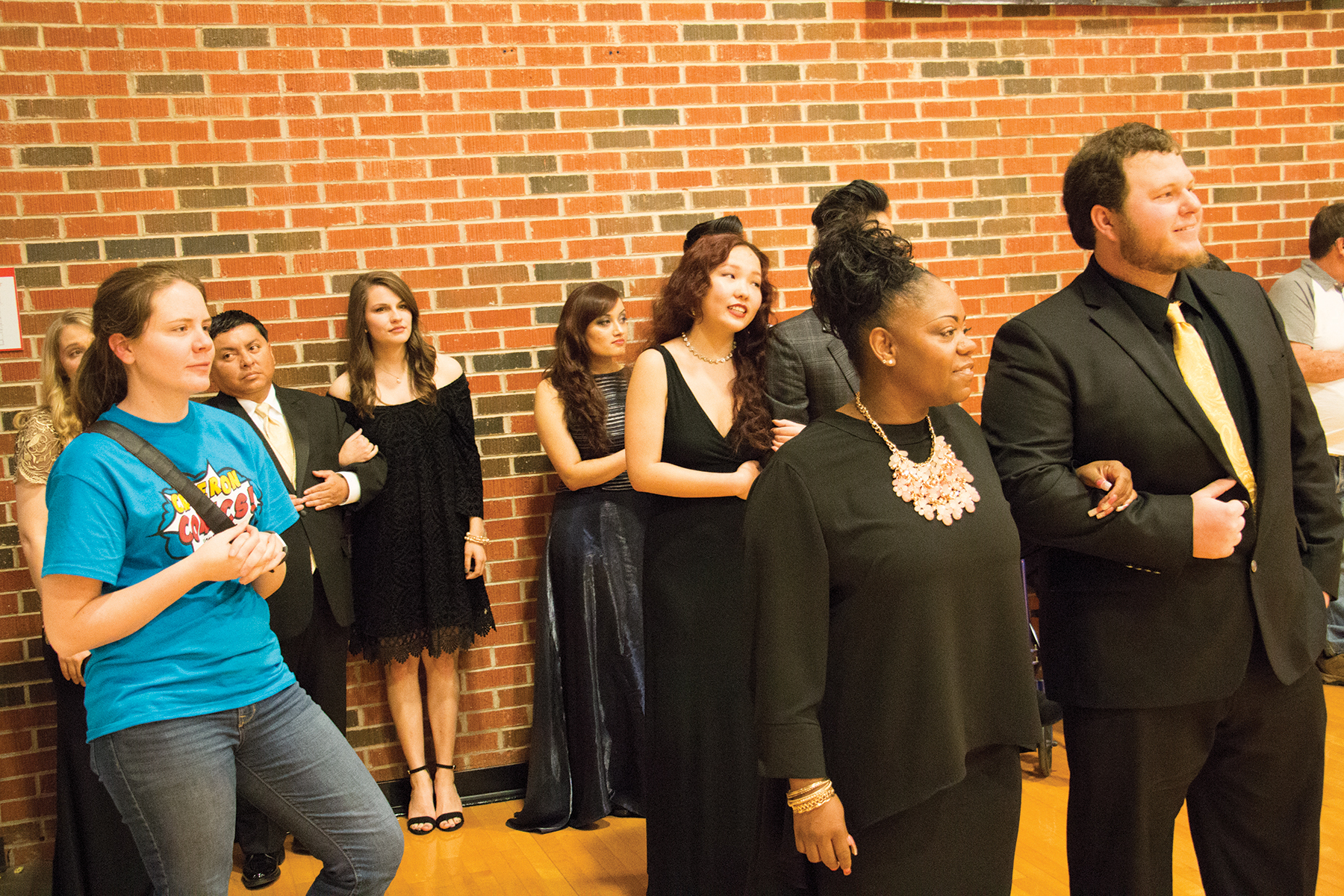 Jacob Jardel
Managing Editor
@JJardel_Writing
The Cameron community turned the page on another Homecoming celebration with the coronation of the university's newest Homecoming King and Queen.
After a week of voting, the final panel of the storyboard featured senior biology major Sujana Rupakheti and senior chemistry major Brandon Schmidt winning the crowns during halftime of the men's basketball game on Feb. 18.
The first runner-up queen and king were Savanna Sanders from Alpha Phi and Jashmon Rana from CU International Club. Second runners-up were Sarah McCoy from Baptist Collegiate Ministries and Curry Coleman from Model United Nations.
The remaining king candidates were Jared Stokes from Beta Beta Beta and John Mizhquiri from Financial Management Association. The other two queen candidates were Rose Bataa from International Club and Novia Hernandez-Henley from Model UN.
Schmidt represented Health Professions Society, while Rupakheti represented the Honors Student Society – an organization in which she and Schmidt are both active. Both of them also said the win was a surprising affair, especially for Schmidt.
"I still think, 'How did that happen,'" Schmidt said. "I have the sash and the crown hanging in the room, and I look at it every day. It's like, 'That really happened. I'm Homecoming King.' So it's still a little unreal."
Rupakheti said she has also experienced awkward moments, especially when professors have referred to her as "Your Majesty" during class. However, she added that it still feels good to have won.
"I have been giving and taking thanks because all of the people in the Science Building and all the people I know of [who voted] for me," she said. "I have been thankful to them. I would not have worn the crown that day if they had not voted for me or supported me."
Schmidt and Rupakheti shared a similar path to the crown. Both were organizational nominees in 2016, interviewing for the spot. However, neither made it into the "Top Ten" that comprised the court.
Rupakheti used that experience when campaigning for this year's title.
"I tried to find out the reasons why I was not selected," she said, "and I tried to improve in those areas. I came again this year, and I was selected. I was happy."
Schmidt also drew on his experiences from the previous year, using them to ease the anxieties he once had.
"I felt like the interview went a lot better than last year," he said. "I think I gave better answers, and answers came more naturally to me. I just had more experiences than I had last year. I grew more."
He said that it still felt awkward after finding out that he made the "Top Ten."
"It was a little embarrassing," Schmidt said, "because I'm not the one known to do this. I'm more into studying."
In contrast, Rupakheti's reaction consisted of two mindsets.
"The first thing I did was tell my parents [and…] my roommates and close friends," she said. "Then, because we had to campaign and collect as many votes as we could, I asked my parents the best way to campaign."
The campaigning culminated in the coronation ceremony – and the nerves that came with it while standing at center court in the Aggie Gym. For Rupakheti, this feeling compounded the nerves she already felt throughout the week.
"Out of all those candidates, it's a pleasure to be selected as a [top] candidate," she said. "We all [in the] 'Top Ten' are winners. But I was like, 'Please don't announce my name as first runner-up, because I really want to be Homecoming Queen.'"
According to Schmidt, the nerves were a bit delayed.
"When we were in the back, I wasn't nervous," he said. "But by the time they announced the second runner-up, my heart was beating out of my chest. Right when they announced my name, it was just like an explosion of happiness."
For him, that feeling continued into the foyer of the gym after the ceremonies concluded.
"I kind of felt like a celebrity," he said. "All these people wanted to take pictures, shake my hand, [and] tell me congratulations. Inside, I was feeling like this is still just me. This is still just Brandon.
"But, as Homecoming King, I thought, 'This is real. This is exciting. This is nerve-wracking. This is awkward,' because I don't know what to do. I'm just standing there. Overall, it was pretty cool being back there, taking pictures with Sujana and everyone else."
Rupakheti said she felt like she was a part of the shows she remembered from when she was growing up.
"When I first walked in with the crown on my head, I was feeling like a real queen or a real princess," she said, "because I had a crown, and I was wearing a gown, and people were cheering for me. That was a real royal feeling."
For her, though, this royal honor was more than just the crown-and-gown feeling.
"I think being Homecoming Queen is a real prestigious award," Rupakheti said. "My name is going to be [the trophy] now. If I come back here after 20 years, no matter where [I go], I made a memory here."
Schmidt made a similar statement about the honor.
"It's by far one of the top accomplishments," he said. "I'm glad to be Homecoming King."
Now that Homecoming is over, both said that they are hitting the books for their future careers. For Rupakheti, that means preparing to apply to a graduate program in the biology field, a discipline for which she has a deep passion.
"I will not be happy in any other field," she said. "So now, I'm so determined – no matter what."
Schmidt will also prepare his applications for a post-Cameron education, opting to go into the surgery field.
"That's my passion," he said, "being in the operating room and watching surgeons go inside."
You may also like...