Athletics Inducts New Members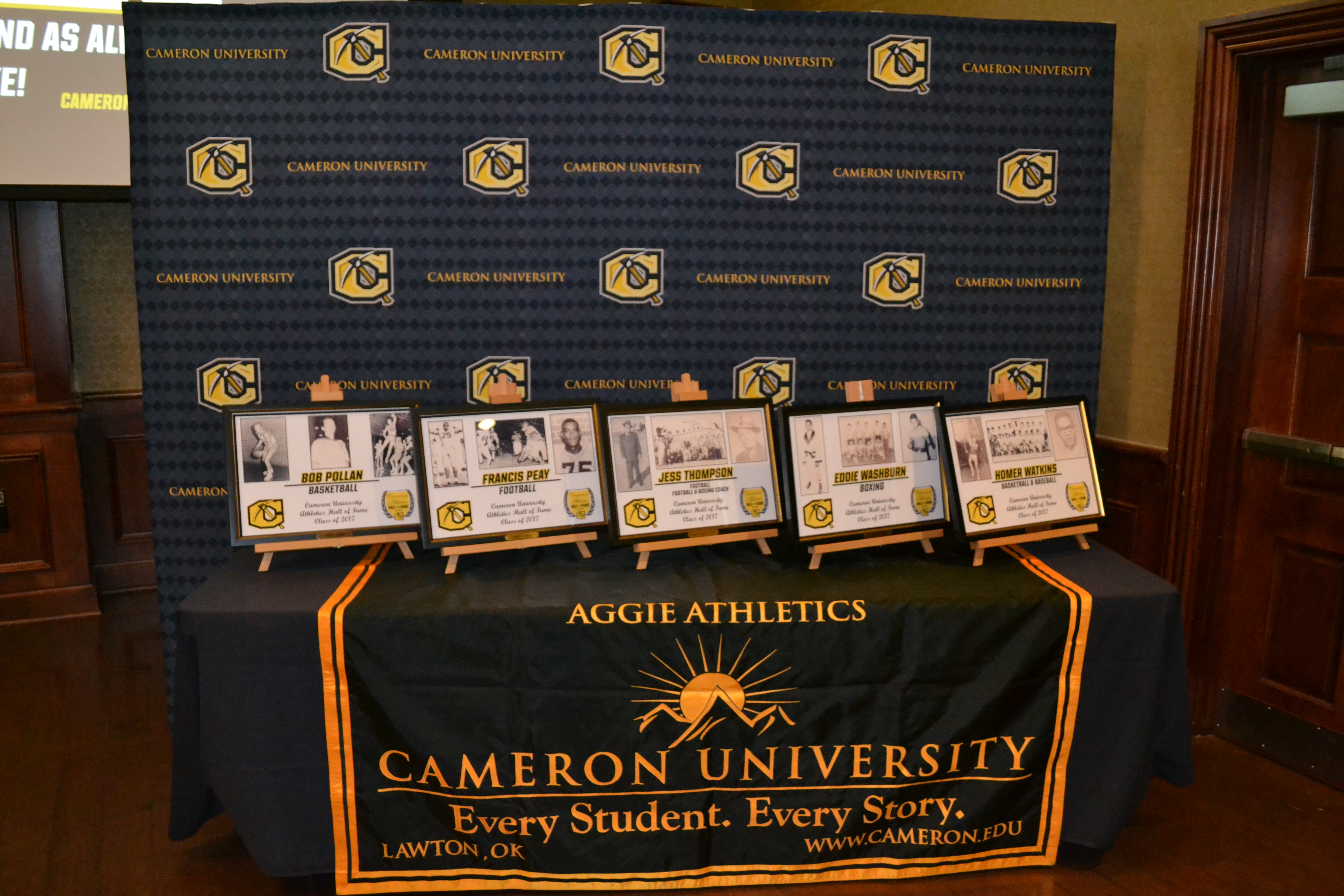 Hall of Famers: Five new members inducted into the CU Athletics Hall of Fame include CU alumni Bobby Pollan, Francis Peay, Jess Thompson, Eddie Washburn and Homer Watkins on Feb. 17.
Robert King & Collegian Staff
Cameron University Department of Athletics hosted the Tenth Annual Athletics Hall of Fame induction ceremony for homecoming week at 7:30 p.m. on Feb. 17 in the McCasland Ballroom.
The Cameron Athletics Hall of Fame welcomed five inductees at the ceremony, reaching a total of 62 members.
According to the Cameron University Athletics' website, to become a member of the Hall of Fame, individuals must first be nominated on the basis of their academic acheivements, moral character, collegiate athletic participation and impact on the university.
Athletic Director Jim Jackson said that individuals become potential nominees five years after their eligibility to compete has expired.
"We have a seven-panel committee that votes on the nominations," Jackson said.
The five new members include Bobby Pollan, Frances Peay, Jess Thompson, Eddie Washburn and Homer Watkins.
Bobby Pollan
Pollan played basketball from 1958-1960 and averaged 14.6 points per game during his sophomore year.
In 1959, Pollan's team finished sixth in the national tournament. The following year, his team finished third after he scored 81 points in the four games of the tournament.
Pollan said he realized the honor of being in the Hall of Fame by the end of the night.
"People congratulating me made it more important," Pollan said. "It is great memories more than anything else."
Francis Peay
Peay attended Cameron from 1963-64 as an offensive right-tackle for Hall of Fame coaches Leroy Montgomery and Charlie Dean. He was in the second round of the 1966 NFL draft. He played for the New York Giants, Green Bay Packers and Kansas City Chiefs. Wayne Littlefield accepted the award for Peay.
Littlefield said he remembers Peay as a hardworking and dedicated student athlete.
"I went to find him in the gym one day," he said. "He worked out harder than anybody I had ever seen. I could tell that he was probably going to be an All-American because he worked so hard."
Jess Thompson
Coach Jess Thompson served three stints at Cameron in the 30s, 40s and 50s as a teacher, administrator and coach of football and boxing.
His 1940 football team was undefeated and ranked number one nationally. He coached at high school, college and professional levels.
He also served as a Scout and the Director of Player Personnel for the New York Jets and the Houston Oilers.
Thompson's nephew Gerald Lee accepted the award on his behalf.
Eddie Washburn
Eddie Washburn attended Cameron from 1948-49. Fellow inductee Coach Jess Thompson coached Washburn.
During his 13 year boxing career, he was a two-time State Golden Gloves champion and the first welterweight to wear black and gold.
He had a 54-6 amateur record and 14-0-2 as a professional boxer.
Faye Winkler, his widow, accepted the award on his behalf.
Homer Watkins
Homer Watkins, the first African-American student-athlete at Cameron, played both basketball and baseball for Cameron State Agricultural College from 1948-49.
He led the Aggies in basketball with 16.5 points per game.
The same year Homer led Aggie baseball to the first ever Junior College National Championship.
Because Watkins was not able to attend the ceremony, his family accepted the award for him from his former coach, Ted Owens, who is also a member of the Hall of Fame.
Students and community members who would like to see photos and read the biographies of the members can visit the Athletic Hall of Fame.
Jackson said the Athletic Hall of Fame is located in the Aggie Gym.
"We hope one day that we will have a Hall of Fame building," Jackson said.
Anyone can submit nominations for future inductees into the CU Athletic Hall of Fame through the athletics website at www.cameronaggies.com.
You may also like...