Tennis Icon Helvey Steps Down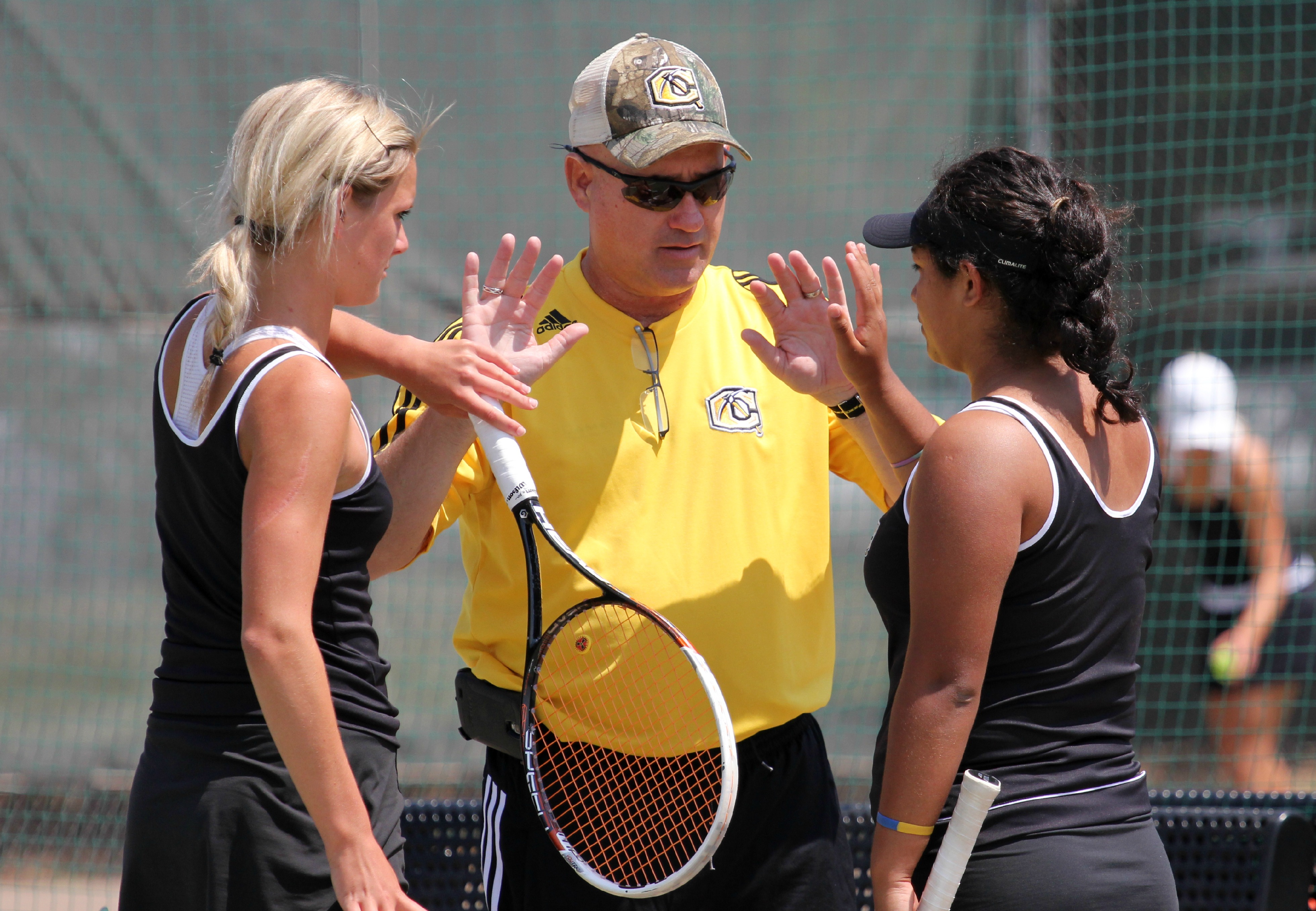 Courting Success: Head Tennis Coach James Helvey high-fives two of his players during a break in their match. Helvey announces his resignation after spending more than two decades with Cameron.
Joel Frambes
Managing Editor
@JoelPolel2
On Jan.11, head tennis coach James Helvey officially announced his resignation, ending his 24-year career at Cameron University.
Helvey started his coaching legacy at Cameron in 1993 as the head of the men's tennis program. In 1999, he took the reins of the women's tennis program following the resignation of former women's tennis head coach Joe Jones.
Over those two-and-a-half decades, Helvey has ended each season with winning record for both the men's and women's teams.
As the men's head coach, Helvey's team has appeared in the NCAA South Central Regional Championships 21 times, winning the title in 2008 and 2013-16, advancing to the NCAA National Tournament where the Aggie men made it as far as the Elite Eight in 2015.
As the women's head coach, Helvey recorded 13 visits to the NCAA postseason, winning the Regional Title in 2011, 2012 and 2016. In his last season with CU Tennis, the Aggie women advanced to the Elite Eight in the NCAA National Tournament, where he claimed his 800th career win.
A press release from Cameron University Athletics listed the many accolades Helvey has achieved over his years at Cameron: "named the Intercollegiate Association (ITA) National chair for Division II men's tennis in 2007-present, ITA National Coach of the Year in 2008, South Central Regional Coach of the Year Eight times, LSC Coach of the Year five times; won Four Lone Star Conference Championships; coached eight All-Americans, 36 academic All-Americans, multiple All-LSC performers, four LSC Players of the Year, eight LSC Freshmen of the Year, four LSC Academic Players of the Year, two LSC Sportsmanship Players of the Year, three LSC Newcomers of the Year; and recorded an overall personal record of 802-393."
In recognition of Helvey's accomplishments, the CU Athletic Department held a reception from 3-5 p.m. Jan. 12.
During the reception, close friends of Helvey, students, faculty, President John McArthur and Dr. Karla Oty joined Aggie tennis supporters to bid the long-time coach goodbye. Helvey gave thanks for everyone's support.
He explained his reasoning for taking a job as Head Tennis Professional at the Arlington Tennis Center and leaving Cameron so suddenly.
"The opportunity presented to myself to go in a little bit different direction as a career," Helvey said, "but it also presented as a chance for me to get back near my home where I grew up. My family is there and my parents, who I want to be able to help take care of.
"The timing is not the best for the tennis program, because I would never want to abandon my team. It just presented itself to be a good move for me, and I needed to do it. It was time."
Also, Helvey expressed that though he may be retiring as head coach, he isn't cutting ties with Cameron Tennis.
"I still have hopes and dreams to win a national title here," he said, "and if I can't be the one coaching it, I want to be the one cheering for it. I'll never give up that dream."
Helvey also said his support for Cameron mostly shows itself through his coaching and molding of players into successful students and well-adjusted adults.
"At first inclination, a lot of coaches would say, 'I won this title, I won that title,'" he said, "but my biggest accomplishment I feel like is I've got great kids. I've got kids graduating. I've got kids who have moved on – they've got families, they've got careers."
Because he focuses on growing his players as people, Helvey said the reputation of Cameron Tennis is respectable, and he hopes the next coach maintains the teams' integrity.
"Cameron Tennis is very well known around the country in the tennis community," he said. "That's one thing I'm really proud of. I could drive down to Vernon, TX, and they don't know Cameron Tennis, but in the tennis world, Cameron's got a really good name, and I want that to continue."
Helvey had one final message for his student-athletes, reiterating a lesson he teaches to them from the very start of their time in the tennis program.
"Every kid I have I tell them in the first meeting, 'This is temporary. Forty-eight months from now, it's over. What you do now is going to impact what you do the rest of your life, so get ready for it. You don't have time to waste,'" Helvey said. "But at the same time, we're going to compete, we're going to train hard, and we're going to have fun along the way."
You may also like...