Discussing the Intersections of Service and Justice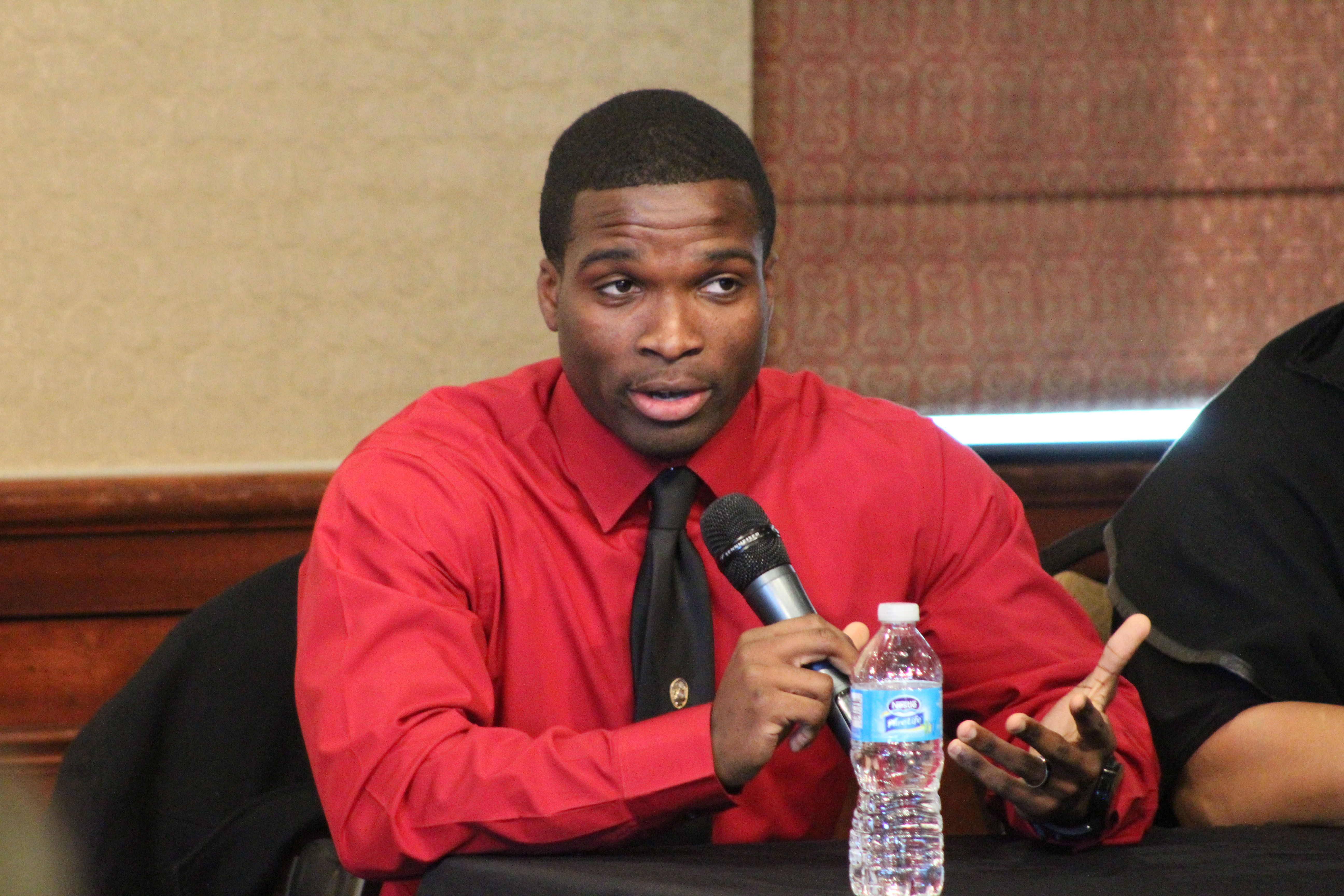 Connecting with the Community: Lawton Police Sergeant Tim Jenkins responds to a question during the Martin Luther King Jr., Day discussion panel. He and the other panelists addressed social justice and emphasized the need for proper communication between law enforcement and their communities.
Jacob Jardel
Voices Editor
@JJardel_Writing
During the annual Dr. Martin Luther King, Jr., Day Celebration on Jan. 16., in the MCC Ballroom, Maryum Ali highlighted topics such as service, social justice and community connection.
While on campus, she led a panel discussion about the importance of these topics and the places were they intersect.
The panel also consisted of Lawton Police Sergeant Tim Jenkins, Instructor of Social Sciences Rick Lowe and St. Paul School of Theology's Dr. Stan Basler. The four panelists answered questions from the crowd and from moderator Dr. Willie Smith, chair of the MLK Day Committee.
Most of the questions addressed the social unrest involving marginalized communities, in particular the rift between black communities and police forces. All panelists agreed that the topic was too multifaceted for simple answers. But Ali mentioned that many of the problems start with flaws in the system that provide blocks to justice for all.
"Our Constitution is supposed to give us equal rights," she said, "regardless of race, culture, gender [or] religion. But there are a lot of blockades to that."
Basler added that the root of this problem could be in our cultural approach.
"There is talk about working for the common good," he said. "I think that's not a focus for our culture. It's just sort of a battle for who gets what. The nature of the system is divisive, as is so much of what takes place in our culture."
All the panelists reiterated this point when it came to the nature of the prison system, particularly in regard to privatized prisons. Ali mentioned that one of the biggest flaws of American corrections involves its inability to properly rehabilitate inmates.
Jenkins agreed with this sentiment, emphasizing the impetus to change the pattern.
"We as a country have to figure out how to make [the rehabilitation process] a public thing," Jenkins said. "We have to figure out a way to help these people in prison so that, when they get out of prison, they can contribute to society."
For all the panelists, finding a common ground among the public was one of the biggest keys for moving forward with equality. Lowe elaborated that establishing similarity is one of the most important steps.
"The more common experiences we can share, the more common ground we have to learn," he said. "We've got to find a way to pass on the heritage and what we learn … It is very important to recognize where each side is coming from."
According to Jenkins and Ali, this process starts at home. While Jenkins emphasized the importance of respecting authority and properly reporting their indiscretions, Ali passed on a lesson she learned from her father, the late boxer and activist Muhammad Ali.
"Whatever you learn in this house impacts the globe," she said. "The basics of how you're communicating and dealing with each other in your own house is a good place to start before you can be a social activist and teach someone else."
Maryum talked more about her father's influence to the press after the panel discussion. According to her, one of Muhammad's greatest traits was the selflessness he exhibited, even after attaining a great level of celebrity.
"He could have just been this rich boxer [who said], 'I do not have to fight for my people, justice or inequalities,' and he didn't do that," she said. "I think that is really what people love about him, whether you like his stance or not."
She added that his influence helped her develop a calling to help people in whatever way she could, mentioning some of the biggest lessons he taught her while growing up.
"Be a person of service. Be a woman of faith and good values. Love your family [and] people," Maryum said. "Know that you are equal and everyone's equal to you. Be who you are. Stand up for who you are. Don't be apologetic about who you are."
She concluded her time with the press elaborating on the intersections of her father's selflessness, King's activism and their shared want for justice – particularly as it applies to students in a small city.
"It was about service for Martin Luther King – and ongoing service," Maryum said. "As students are learning their field, maybe use what they're learning to go out and volunteer in their target areas.
"A university can be a wealth of knowledge, volunteerism and service for a small town."
Tags CU NewsJacob Jardel
You may also like...