CU Grads Earn Award Nomination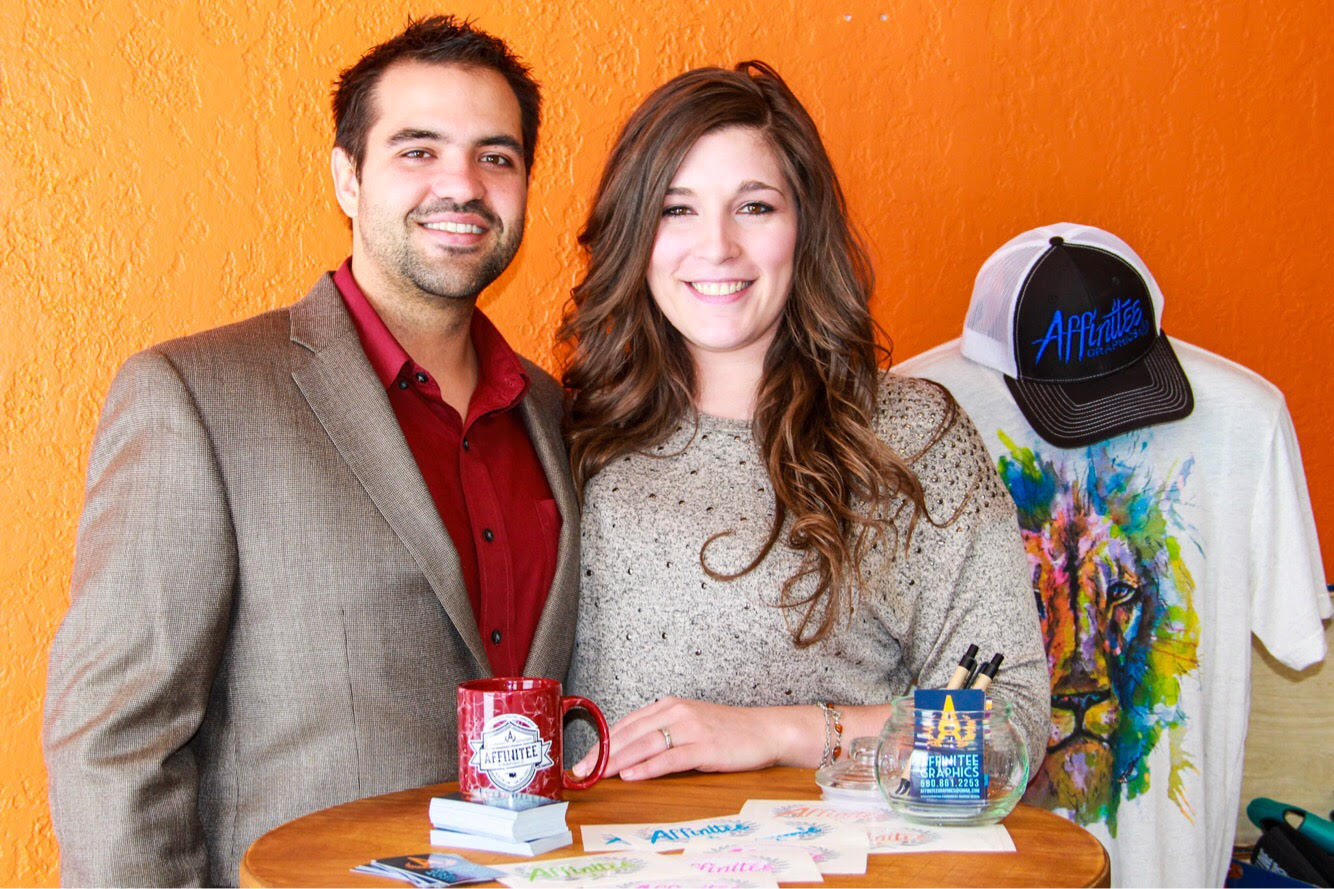 Business Booming: Cameron graduates Matt (left) and Katrina Thompson recently received a nomination for the Young Entrepreneur of the Year Award from the U.S. Small Business Association. The couple started Affinitee Graphics in 2012 as they were finishing their time as Aggie students, building it from the ground up.
Cheyenne Cole
A&E Editor
@cheyenneccole
The U.S. Small Business Administration (SBA) has nominated two Cameron graduates for the Young Entrepreneur of the Year Award for their local business.
Graphic designers Matt and Katrina Thompson began their screen-printing and embroidering business Affinitee Graphics at their home in 2012.
To be eligible for the award, nominees had to be under 30 years old and their business had to demonstrate a pattern of growth in several different areas, including financial growth and number of employees.
Katrina said she feels like she's living her dream, and the nomination gave her an opportunity to think about Affinitee Graphic's journey from the beginning.
"You realize how far things have come and how different it is now," she said. "It's exciting to see how much this hard work has paid off and to have these different doors open and these different opportunities come to us and the different connections we've made with people."
Matt said he feels honored to be nominated for the award and that Affinitee Graphics reached these milestones organically.
"We weren't doing this to win an award," he said. "We were doing this to grow our business. There are a lot of awards that come along with that, but they're not formal. You have a lot of financial and future life benefits. That's what we were striving for."
Since opening the business, Matt and Katrina have expanded Affinitee Graphics to locations in both Apache and Lawton and established an online presence.
Katrina started Affinitee Graphics to fulfill her internship requirement for the graphic design major at Cameron.
She felt that in the long run, starting a business would benefit her more than working at an internship.
"I love the challenge," she said. "I love being able to work towards something, and it pushed me to be more than what I am and to be able to have opportunities to grow and do more. I love to learn. This business has given me the opportunity to do that."
Affinitee Graphics' most popular products are custom shirts that unify different groups in the community such as sports teams, schools and fundraisers.
Matt said Affinitee Graphics' goal is to leave a positive impact on the world by helping the community and bringing those groups together.
"We have the opportunity to do a lot of things that benefit us and the community and the people around us and our families," he said. "It's cool to get involved in so many different organizations."
Katrina said the she and her husband work together to find solutions at Affinitee Graphics.
"We lean into each other," she said, "and in an area that I may not be as confident in or as good at, he excels at and vice versa."
Matt said he uses an important business strategy he learned in his communication and public relations classes at Cameron to accomplish difficult tasks.
"When we approach these daunting tasks," he said, "we formulate it out. We've got hundreds of lists, goals, objectives, strategies and tactics. It's the thing that connects a vision, a dream, an idea into action."
Matt and Katrina are always looking for ways to improve their business, setting goals each year.
Recently, Affinitee Graphics added a new feature which allows individual users to create, design and buy their own custom t-shirt on oakshirt.com, a division of the business.
Matt's advice for anyone who has a vision for a business is to act on it.
"If you have a dream," he said, "go for it. Whatever you want to accomplish, don't wait until it's all perfect. Do it when it's not."
Visit affiniteegraphics.com or go to Affinitee Graphics' Facebook for more information about the products and services they offer.
You may also like...