Women Fall in UCO Battle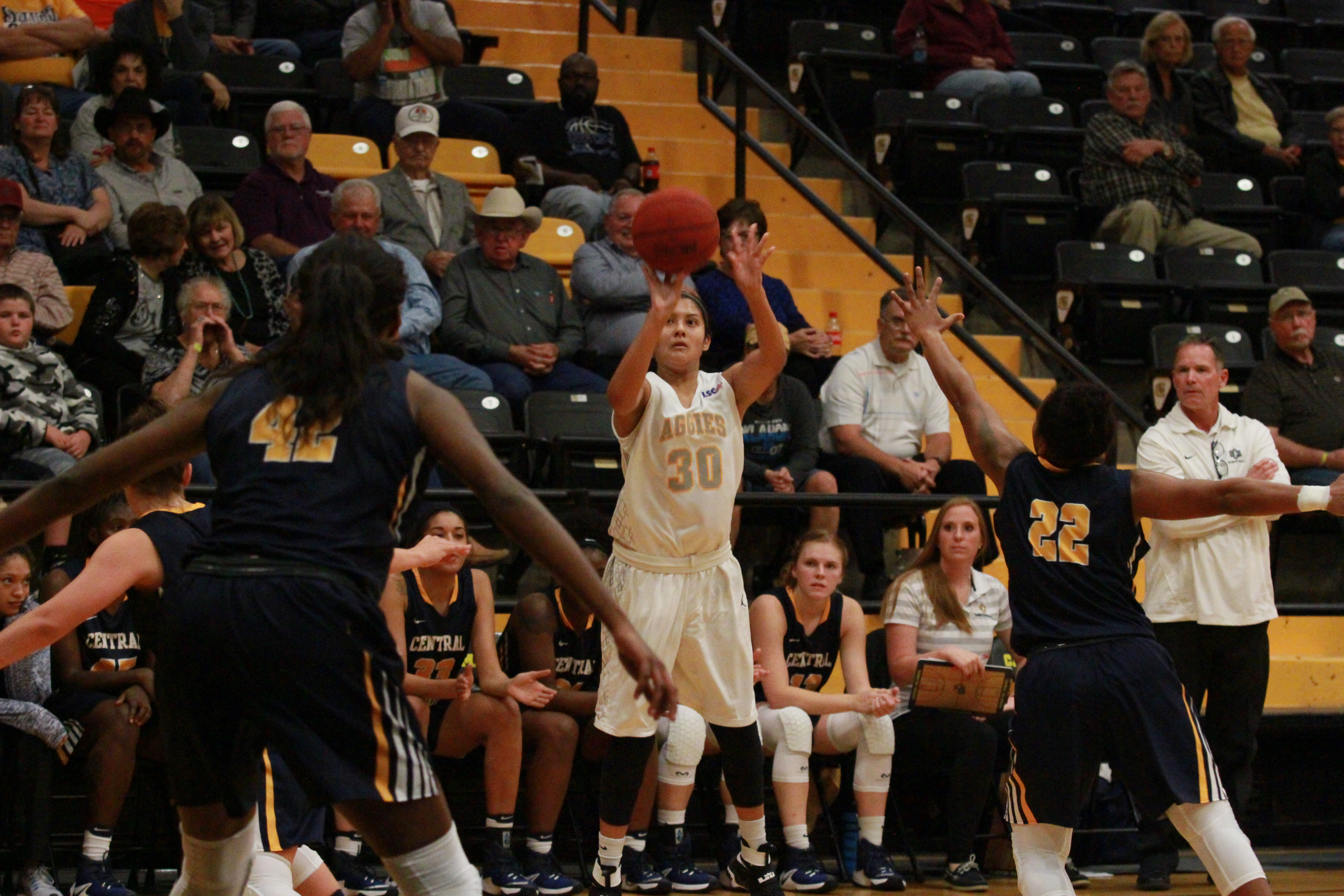 Krista Pylant
Copy Editor
@KristaPylant8
After trailing for the entire first half, the Aggies sparked a strong second half comeback with outside shooting but fell short of the win against Central Oklahoma 72-65 in CU's home opener Thursday evening.
Missed free throws proved costly for the Aggies as they shot 2-for-10 from the line, but the charity stripe is where the Bronchos thrived as they shot 20-for-22 in the game.
The Aggies got off to a slow start, shooting 4-for-15 from the field in the first quarter while UCO inched to a 12-8 lead.
UCO would break for their largest lead of 15 in the second quarter after shooting 45 percent from the field and made all five of their free throws to end the half leading 39-24.
The Aggies missed both of their first half free throw attempts and committed ten turnovers, which UCO cashed in for 11 points. Each team recorded five steals with Hill forcing all five for the Aggies for a total of seven in the game.
Jamie Bonnarens opened the second half with a steal for a layup which spurred a 9-2 run for the Aggies in the first two minutes. Cameron continued to chip away the Bronchos lead making five three-pointers in their explosive third quarter where CU outscored UCO 26-17.
The Aggies came within one point of UCO at the 2:44 marker as Charron Montgomery drained the deep ball to make the score 49-48.
The Bronchos inched away to a three point lead and with three seconds left made three free throws for the 56-50 advantage.
Cameron got their first lead of the game at the 5:30 marker in the final quarter after Bonnarens made two straight goals to put the Aggies up 60-59.
The Bronchos took back their lead and kept it as CU missed five of six shots in the final two minutes for UCO to win 72-65.
Overall, the Aggies shot 27-for-72 on the floor and went 9-for-24 from beyond the arc while UCO shot 25-for-63 from the field and 2-for-15 from out deep.
Both sides notched 44 rebounds.
Montgomery led the Aggies with 18 points while Bonnarens contributed 13 points.
Ava Battese and Savanna James also scored in double figures posting 11 each, with James adding ten rebounds for her second double-double wearing the black and gold.
UCO's Melinda Murillo led the Bronchos with 28 points bringing her team to 4-0 while the Aggies drop to 1-2 overall.
Cameron will remain on the road for their next five contests starting with a stop at Oklahoma Christian on Saturday.
You may also like...