Trip of a Lifetime: CU Community Celebrates Local Student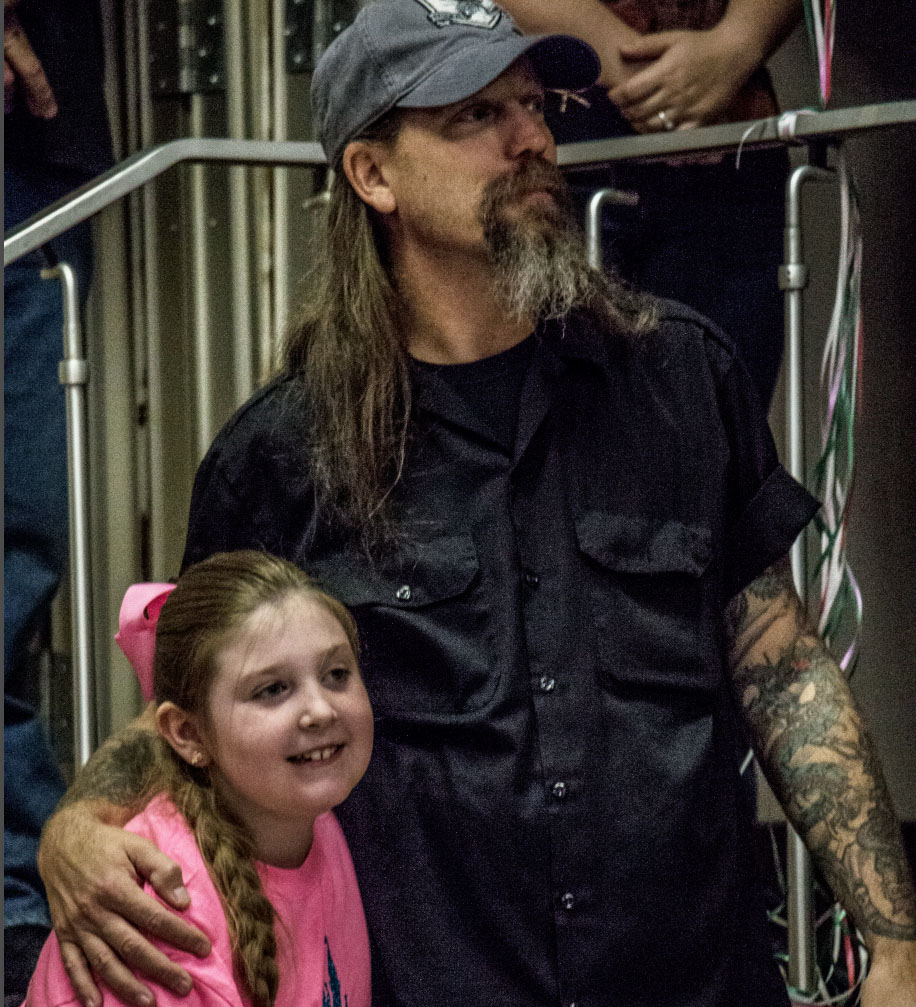 107.3 Popcrush selected third-grader Holly Helton (featured left with Town Square Media Brand Manager Don "Critter" Brown) for an all-expense paid trip to Disney World.
Vicky Smith
Managing Editor
@pinkwritinglady
At 1:30 p.m. on Nov. 16 at Pioneer Park Elementary School, Cameron Aggies joined together to congratulate third-grader Holly Helton on her all-expense paid trip to Disney World.
The local station 107.3 Popcrush selected Helton, in addition to 49 other children with disabilities across the nation, to go Disney World as part of the Kidd Kraddick Morning Show Kidd's "Kid's Trip to Disney."
Although eight-year-old Helton knew her grandparents were going to take her to Disney World, she was unaware that the purpose of the assembly, coordinated by her school and Town Square Media, was to celebrate the free trip.
Popcrush Digital Managing Editor Tanika Gentry invited Cameron University organizations, as well as McArthur High School cheer and football teams to the event.
Since she thought the sole purpose of the assembly was to recognize Mickey Mouse's 86th birthday, her Disney World send-off came as a surprise.
What also surprised Helton was the presence of Cameron Aggies, of whom she is a huge fan.
Aggies who were in attendance included the Cameron Women's Basketball Team, the CU Spirit Team, Ole Kim and the sorority Alpha Phi.
Alpha Phi sorority member Katelyn Robertson, a senior elementary education major, was dressed up as Snow White.
Other sorority members dressed up Cinderella, Belle and Elsa. Additional characters included Mickey and Minnie Mouse, Shrek, Olaf and the Goodwill Logo.
Sophomore psychology major Emily Copeland, who is also a member of Alpha Phi, said she was excited to be a part of the event.
"I haven't done anything like this before," Copeland said. "It feels awesome."
CU Spirit Team member Allyn-mykle Holbert, a junior sports and exercise science major, felt similar excitement about the surprise send-off.
"It's an awesome feeling to be able to give back to the community, especially for a great cause like this," Holbert said. "They [children] look up to us, so it's always nice to give back to them."
From the community, Helton also received a 100-dollar gift card to JCPenny and a bucket of toys from the Wal-Mart located on Sheridan, among other prizes.
You may also like...