Speaking with Passion: Speech and Debate Wins Awards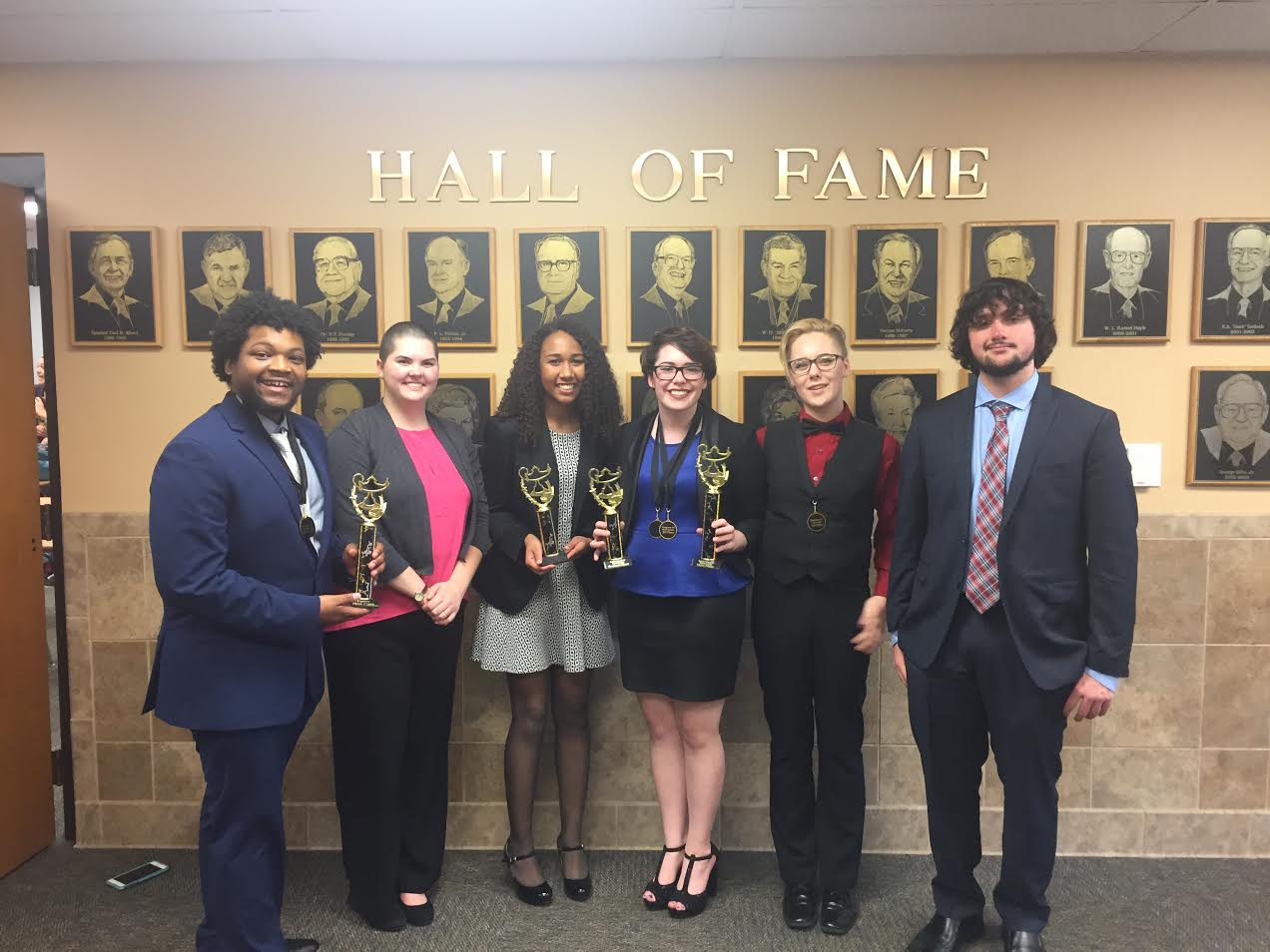 Succeeding in Tournaments: In October, the Cameron University Speech and Debate Team competed in two tournaments, in which they received individual awards and contributed to team points. The students above (left to right) include Kris Mayfield, Rachael Row, Isabella Chandler, Sav Price, Dallas Strong and Teague Fox.
Cheyenne Cole
Staff Writer
Cameron University's Speech and Debate Team competed in two tournaments during October.
At both tournaments, Cameron students won many individual awards as well as contributed to overall team points for the team.
Derryberry Tournament
At the Derryberry Tournament at Southwest Baptist University, Cameron Forensics finished fourth in debate sweepstakes, individual event sweepstakes and overall sweepstakes.
The team competed against 19 schools from six states.
This year marks senior journalism and media production major Savanna Sanders' fourth season with the team.
She is the vice president of the team and won first place in Dramatic Interpretation, sixth place in Poetry and third place in Persuasion at the Derryberry Tournament.
Sanders said the best part of Speech and Debate is growing and bonding with other members of the team.
"It's a very different activity that only people who do it understand," Sanders said. "I can explain all day long what we do, but until you do it, you don't get how much work goes into it."
Sophomore Kristopher Mayfield won sixth place in Programmed Oral Interpretation, third place in Poetry, first place in Open Public Forum and third place in Bright Young Scholar.
Instructor of Communication and Director of Forensics Sarah Collins said speech and debate prepares students for life after college by teaching them marketable and enhanced communication skills.
"I'm very passionate about the tools and the skills that it gives students," Collins said.
"It gives them the ability to learn to advocate for issues that they care about. It really helps them refine and define their voice, which I think is very important."
Collins said she enjoys seeing the students work as a team.
"For me the most rewarding part is when the students on the team go from being focused on their individual events and being successful individually to being team-minded and team-focused," she said.
Carl Albert State Tournament
Cameron's Speech and Debate Team competed against 13 schools from four states at the two-tier Carl Albert State Tournament.
Cameron placed third in debate sweepstakes on the first day and won second in overall sweepstakes on the second day.
Senior Sav Price was Tournament Champion in Impromptu, sixth place debater in International Public Debate Association, won fourth place in Programmed Oral Interpretation and second in Informative Speaking.
Collins said she was pleased with the individual and team performances at the tournament. "Overall for Cameron to receive a sweepstakes awards with only 6 students competing was outstanding," Collins said. "I am proud of their continued work."
On the second day of the tournament, Mayfield finished fifth in Programmed Oral Interpretation, fourth in After Dinner Speaking and was Tournament Champion in Poetry.
Freshman Teague Fox earned sixth place in Impromptu Speaking at the second day tournament.
Collins said the Speech and Debate Team is an enhancement to the Communication Department because it is an educational opportunity for students.
"While I enjoy when the team wins a lot," Collins said, "for me, it's when they get it or when they find something that they're super passionate about, and they learn to advocate for that. The goal is always education."
For more information about the Speech and Debate Team, email Collins at scollins@cameron.edu or call 580-581-2555.
You may also like...