ROTC Competes at Ranger Challenge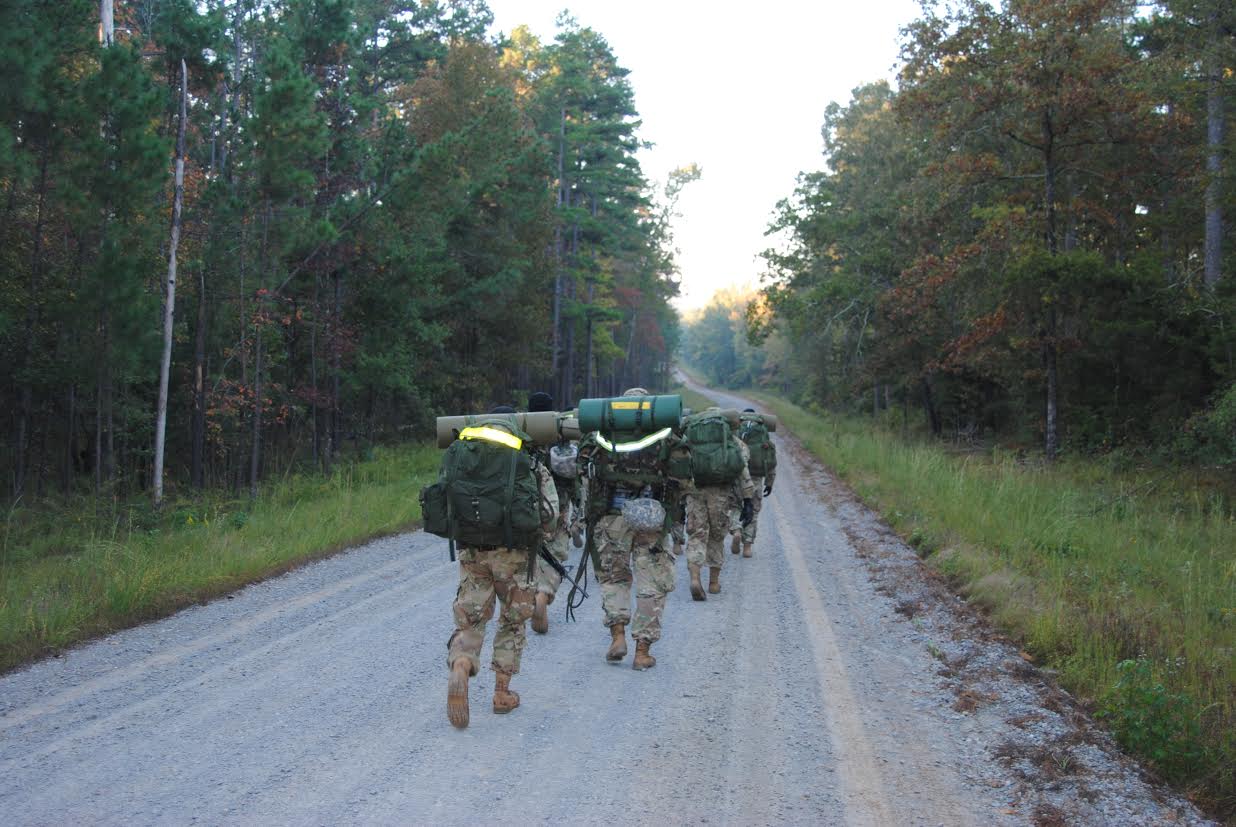 Jonathan Vann
Staff Writer
From Oct. 21-23, 11 of the Cameron ROTC program's cadets participated in the Ranger Challenge at Camp Robinson, Arkansas.
The Ranger Challenge is a rigorous nine event, two-day competition that challenges cadets not only in their mental and physical endurance, but also their leadership abilities.
The first day of the competition consisted of three events, which include a timed 6.2-mile ruck march with a 45-pound ruck sack, the negotiation of an obstacle course and the assembly and disassembly of various weapons, including the M-16 rifle.
At the Engagement Skills Trainer range, the cadets had to get into various firing positions and attempt to hit multiple targets on an enlarged computer screen.
The second day consisted of six lanes. There was a lane that included the application of proper communication etiquette.
There was tactical combat casualty care (TCCC), where soldiers had to apply proper medical procedures to wounded soldiers.
Other lanes included identifying proper hand grenades, a leader's reaction course of countering improvised explosive devices (IEDs), which consisted of getting equipment from one point to another, and finally, a one rope bridge, which required the cadets to tie off a static rope from one side of a creek to another, and then rappel cross the creek with their 45-pound ruck sacks.
Andres Berber, an MS IV cadet who participated in Ranger Challenge competitions in previous years, said the team may have rucked up to seven miles on day two, with their farthest station being a little over two miles and their shortest being a little over one mile.
Berber also said this Ranger Challenge was the second toughest he has been a part of.
"It was not the easiest; it was not the hardest," Berber said, "but it was a good training experience for the MS II and MS III [cadets]."
Brandon Crisp, an MS II cadet, agreed that the training experience was beneficial, and it provided him with various skills that would be useful in the future when he commissions.
"This was a good team building experience," Crisp said, "and you really get to learn how to work as a team and learn different skills that can be used in the future."
To prepare for the competition, the cadets went through a rigorous two-month training regimen and selection process.
Physical Training started at 5:30 a.m. on Monday through Friday, and the cadets participated in various activities, such as sprints, muscular endurance and 4-6 ruck marches.
The morning physical sessions also included hands-on training for the one-rope bridge, TCCC, counter IEDs and hand grenades.
There were 15-20 cadets who underwent assessment and evaluation during the two-month long training process, and the top 11 participated in Ranger Challenge.
Before they left for Ft. Robinson on Oct. 21, some of the selected cadets were quite enthused and confident that they would succeed in the competition.
"I can see us doing pretty well," said Pete Ellis, an MS II cadet. "We have been putting the work in and working hard, so I can see us doing pretty well."
After the totaling of points, Cameron University placed fourth out of ten total teams that included representatives from other prestigious schools, such as Oklahoma University, Oklahoma State University and University of Arkansas.
CU placed first in the 6.2-mile ruck march and TCCC event.
This year's placement in the challenge is consistent with the performances of the past. Cameron University came in third in the Ranger Challenge last year.
Tags CU NewsJonathan Vann
You may also like...