Ole Kim Part II: Mascot in Life, Friend in Spirit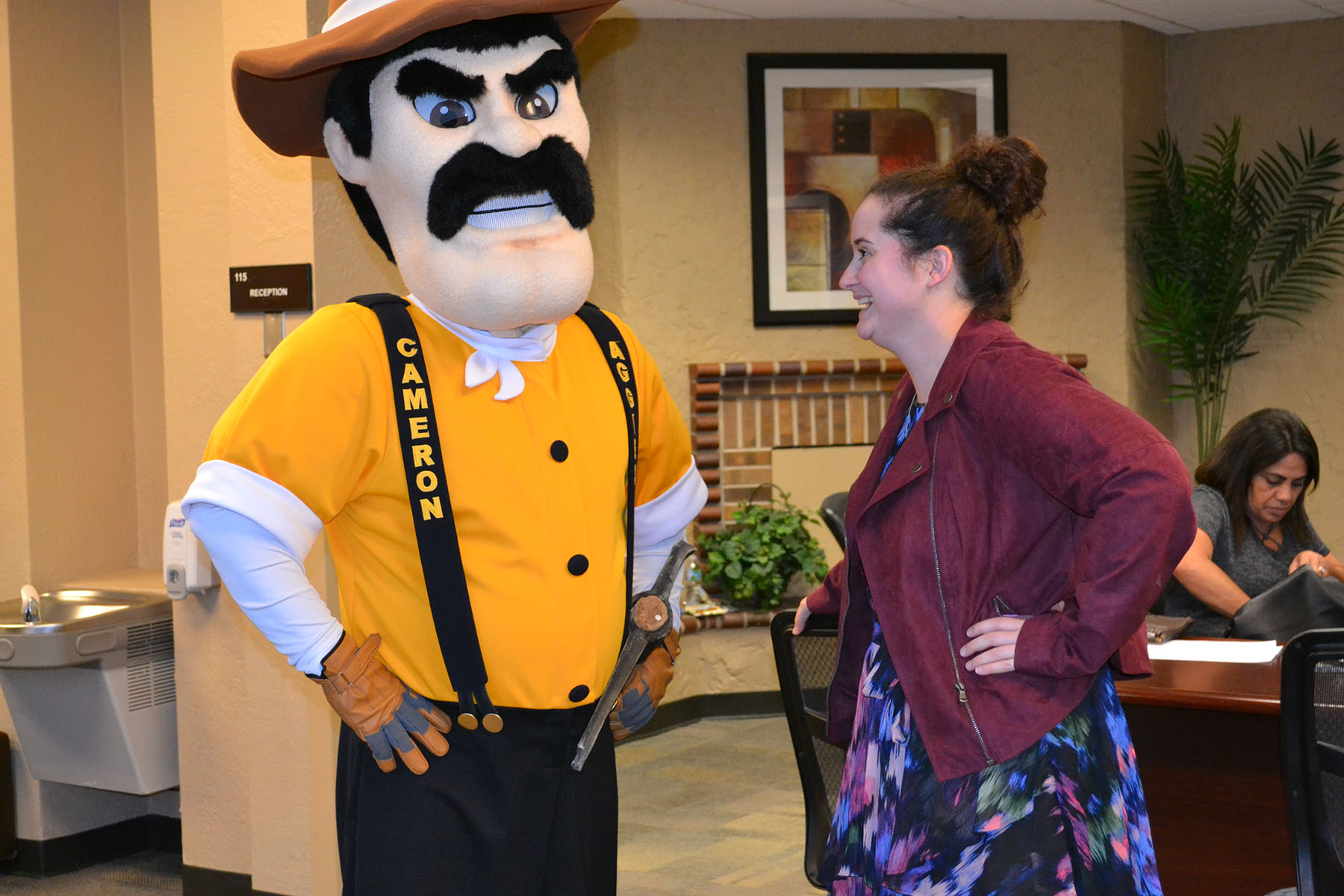 Stacie Larsen
Staff Writer
There is an adage that "Actions speak louder than words." For Ole Kim, this statement couldn't be more true.
Cameron Senior Director of Public Affairs Keith Mitchell said Ole Kim's function is to promote school spirit, and to lead by example. He said that's one of the reasons why they brought Ole Kim back in 2004.
"I was a student at Cameron in 1988-89," Mitchell said. "If you look at when I was a student here and into the 90's up to around [the year] 2000, there was not a lot of school spirit. We did have sports; we did have activities but you didn't see students wearing Cameron apparel.
"To see Ole Kim at an event, and to see students wearing Cameron apparel or things with Ole Kim on it now, I know that Ole Kim has served his function—to help bring back spirit to the university."
Mitchell said the main reason behind changing Ole Kim's appearance in 2004 involved a legal aspect. He had previously looked too much like Oklahoma State's mascot, "Pistol Pete."
"They were also an agricultural high school," Mitchell said, "and we had shared the same board of regents.
"So, making him more than just a cowboy—making him a soldier, making him a prospector, making him a student, not only does it give him a well-rounded life and a well-rounded history, it also provides several distinctions to other university mascots."
Coach Ryan Flood, the Cameron Spirit Team head coach and the strength and conditioning coach, said they are trying to continue the awareness of Ole Kim. Prior to last year, there had been one other iteration of Ole Kim since 2004.
"Last year, we had major changes with his look and personality on campus," he said.
Ole Kim received a superior mascot award at the Universal Cheerleaders Association and Universal Dance Association College Spirit Camp at Texas State University in San Marcos this past summer.
Flood said Ole Kim is more than just his outside appearance.
"If you look at his background and his story," Flood said, "it says that he goes to every class, helps coach every team, and graduates with every student—that's what it is.
"He tries to help the student experience at Cameron continue to be the same. The spirit of Ole Kim is alive and strong. He is now what a college mascot should be."
Spirit Team member Sydney Evans said Ole Kim is always up for a good time and goes to all of the Spirit Team events.
"He's like a friend," Evans said. "He has a secret handshake. He takes pictures with all of us. He likes to pick on his—he takes his pick axe, and literally picks on us. He pokes us and gives us high-fives.
"Not a lot of people get the opportunity to get as close to him as the Spirit Team, considering he is part of the spirit team. It's pretty cool. It's like we know him on another level."
Cody Gardner, a former Cameron student and current Advisement Specialist at Cameron, said she met Ole Kim during freshman orientation in August 2008.
She said she saw him around campus and at games, where he would often sit by her.
"I'm Ole Kim's best friend," Gardner said, "and he is my best friend. He brings a positive and lively attitude to where he is and to the students around him.
"I remember when I finally got to graduate—there was Ole Kim right beside me just like they said he would be. It was a monumental moment."
Gardner said, as a Cameron employee, she has helped host Aggie Escape, a freshman orientation camp, many times with Ole Kim by her side.
She also said she has noticed a change in Ole Kim over the past two years.
"He has had a little more pep in his step," Gardner said, "He's been more energetic, and physically he's sleeker. He did some working out or something—he looks nice.
"I will always see him as Ole Kim—the guy who hugged me every time or gave me a high-five."
Mitchell said Ole Kim has a Facebook page and actively posts about upcoming events such as games, theater performances and student activities.
"He's showing them [students] there's more to this university than just going to classes, taking tests, doing homework and then going home to watch TV. We want our students to have a wonderful quality of life while they're here because that will help them become more successful."
You may also like...