Ole Kim – Part 1: Mascot, Mustache, Legend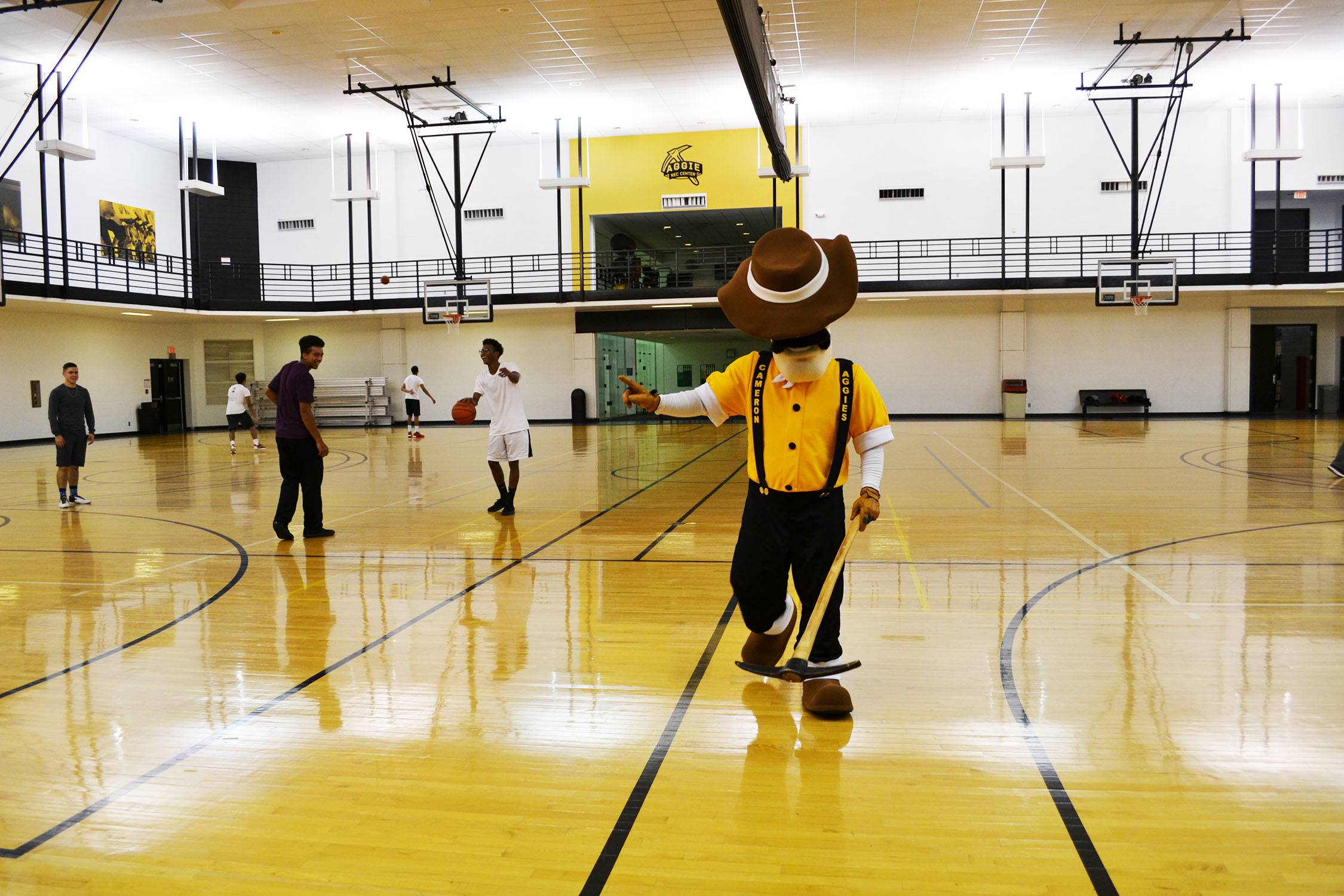 Stacie Larsen
Staff Writer
At 11 a.m. on Oct. 31, Cameron students, faculty and staff gathered in the MCC in celebration of Ole Kim's 52nd birthday.
Cameron's Senior Director of Public Affairs, Keith Mitchell, said the concept of Ole Kim originated in the early 1950s after members of one of Cameron's extra-curricular clubs started wearing jackets that had a cowboy on them.
Mitchell said in 1955, the illustration of a cowboy on a bucking bronco appeared on the Wichita.
"Later on, they drew their own version of the cowboy," said Mitchell. "but he started to change. He was a little bit older. He had a mustache."
Mitchell said that in order to give the cowboy a name, the "Cameron Collegian's" Press club sponsored a contest named "The Cowboy" in 1960.
Cameron Alum B.W. Jolly, who graduated in 1916, won with his submission about a Cowboy named Ole Kim.
"He talked about the early days of Cameron," said Mitchell, "when there wasn't development all around. There was a ranch across the road—it's Cameron property now, but it was called the Circle K Ranch and Wolf Creek ran through it.
"This cowboy that was on the ranch in Wolf Creek rode up to the college one day and talked to the President of the University. He said he wanted to be a student at Cameron. He wanted to improve himself. That cowboy was Ole Kim."
Mitchell said that during the 1964 football Homecoming game, different organizations decorated floats for the parade. The Cameron Press Club decided to make a paper mache of Ole Kim to go on their float.
"However, they didn't it finished in time," he said. "They got the head done but not his body. "They didn't know what to do, so Press Club student Jeanne Deasautel dressed up like a cowboy, put on the paper mache head, grabbed a shotgun and rode in the parade. It was Halloween 1964. That's how Ole Kim arrived at a birthday and an age."
Up to the 1992-93 academic year, the university went through three more other iterations of Ole Kim's costume over the next two decades as each one wore out.
Mitchell said after Ole Kim IV wore out, they put it in a closet and went a long time without a team mascot.
Mitchell said there was another problem; Cameron started out as an Agricultural high school that developed into an Agricultural college, which eventually turned into four-year university.
"We had all kinds of degrees you can earn," he said, "and there was a feeling among the student body, a division as it might be."
Mitchell said there were those who were traditionalists and wanted Ole Kim as the team Mascot, and there were those that believed they shouldn't be Aggies anymore since the college was no longer just an Agricultural school.
"We didn't know what our future was going to be," Mitchell said. "When Cindy Ross became President, she said what [she] kept hearing in the community was that we really needed to settle this issue about what we are going to be."
Mitchell said they held focus groups around the University asking students, faculty and alumni if they should keep Ole Kim and stay the Aggies.
After a division in opinion once again, it was decided to bring Ole Kim back.
"We felt it was really important," Mitchell said, "that we have some kind of thread that we could connect the start of the university up to the modern day university—something that was common to all the students.
"We contracted with a costume making company and started doing more of a back story of Ole Kim. He was no longer just the cowboy who came riding up to campus who wanted to be a student."
Mitchell said the new Ole Kim, along with his backstory and new logo, was unveiled during Cameron's 2004 Homecoming weekend celebration.
Ole Kim's story is based on historical facts.
"He started out as an Army officer in the Calvary on Ft. Sill," Mitchell said. "When his time was up, he decided to become a prospector because we had a gold rush in Oklahoma up in the Wichita Mountains in the early 1900s. That's why he carries a pick axe. He was hard working and wanted to be successful.
"The gold rush was short lived, so he needed to find something else to do. He then took the job as a cowboy on the Circle K Ranch because he wanted to stay in Southwest Oklahoma."
Mitchell said Ole Kim attends Commencement every year and is the last student to walk across the stage to receive his diploma.
"He is a non-traditional student," he said, "and a man of many talents. He embodies the typical Cameron student."
The new Ole Kim's story continues in next week's issue.
You may also like...